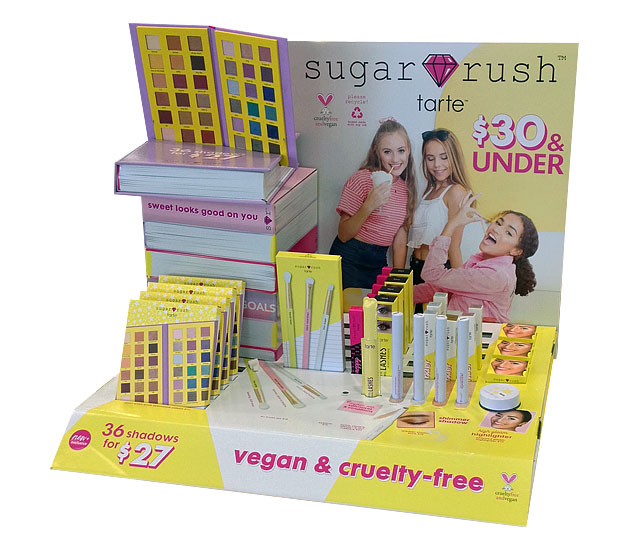 Brand loyalists of Tarte Cosmetics were thrilled when the company announced the release of its new cosmetic line Sugar Rush earlier this year. The affordable line was created for the Gen Z generation with products that are completely vegan and cruelty-free……best of all, they all cost under $30. Powered by glitter & good vibes, the brand is represented by a group called the Sugar Squad who help promote the skin-care and makeup products to like-minded consumers.
"At Tarte, we've always believed that you shouldn't have to choose between beauty that works and beauty that's good for you," Kelly says in the Sugar Rush press release, which indicates that the brand has its sights set on young adults (or anyone who feels like one). "For Sugar Rush we went straight to the source, taking inspiration from Gen Z'ers in our office and in our lives to deliver products that are sweeter without the icky bad stuff, but most importantly — fun!"
Sugar Rush was recently spotted at Ulta promoting some of their newer products with this great shelf display. The Sugar Squad dominated most of the visuals on the header card which highlighted the $30 & Under price incentive. Smaller images alongside the products were informative and blended well with the overall theme. Really like how the brand repeated the vegan & cruelty-free copy on the display as well as the stack of books that were printed with marketing themes on the spines.
Sources include:
tarte cosmetics
allure.com