Popon is pleased to bring you our 19th installment of cool POP displays, trends and ideas. Our vigorous store checking schedule presents us with numerous interesting examples of designers and brands coming together to deliver outstanding promotional materials that we like to share with our audience of dedicated POP professionals.
As always, if you are interested in showcasing some of your unique designs and promotions, do not hesitate to contact us for more details.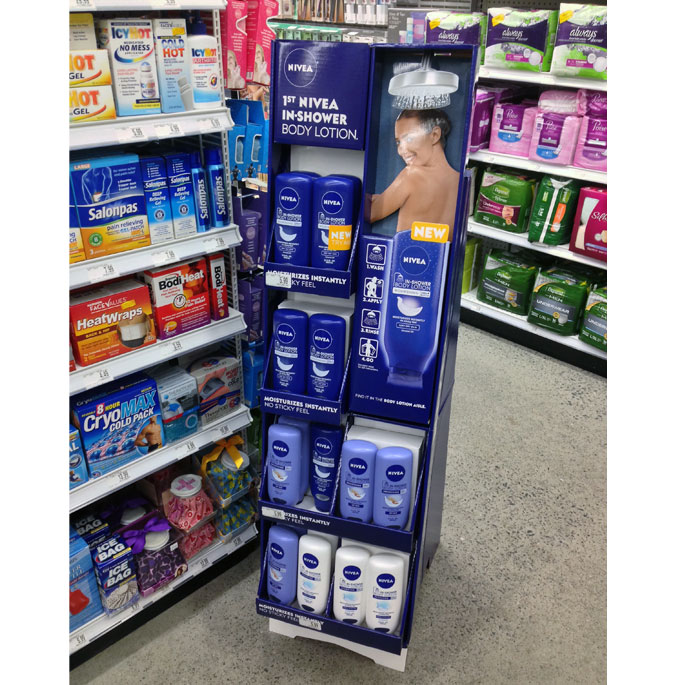 Nivea Pampers Shoppers With In-Shower Body Lotion
Beiersdorf, makers of global skin care brand NIVEA, is making a splash at major retailers with a new product called In-Shower Nourishing Body Lotion. Designed to revolutionize daily skin care, In-Shower's patent pending formula conveniently absorbs into wet skin in seconds while bathing, providing 24hr+ of moisturization.
The brand was recently spotted promoting the new product line in store with this floor display. On the top right, several layered die cut pieces were used to create visual interest and provide shoppers with a quick message about product usage. The dimensional shower head, which was printed on plastic, actually dangled and moved as shoppers engaged with the display. Adjacent to a large bottle tip-on, the brand wisely printed the four-step How To Use It process, completing the story and marketing message.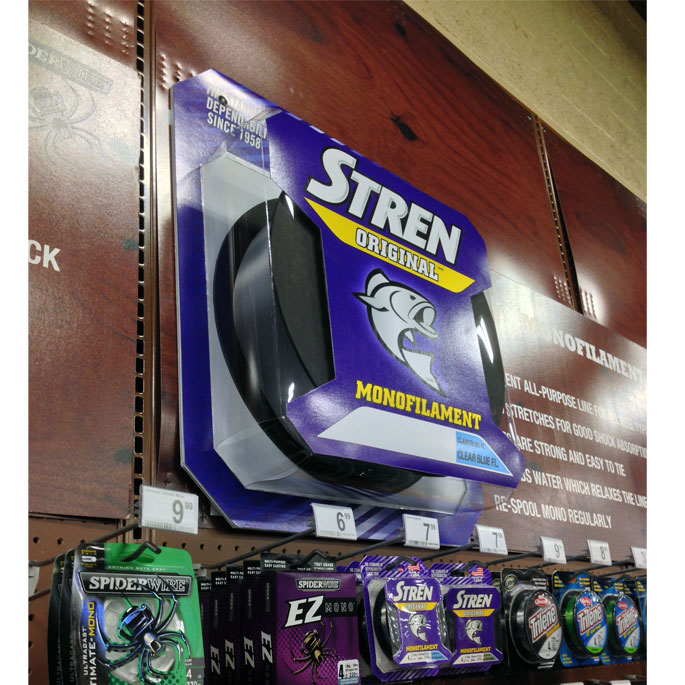 Stren Product Replica Dominates The Category With Wall Sign
Stren has become the standard of dependability in the world of fishing line. No other line is as widely acclaimed as Stren Original and its distinct purple packaging. Brand claims include – It casts effortlessly, ties a great knot and offers the perfect balance of strength, sensitivity, suppleness and abrasion resistance to give fresh and saltwater anglers the upper hand in any fishing situation.
Stren was recently seen dominating the Monofilament category with this larger-than-life packaging replica found hanging on the wall in Gander Mountain. Reproduced in great detail, the over-sized POP appeared to be constructed using a foam board substrate and folded plastic that represented the vacuum formed product compartment on the packaging.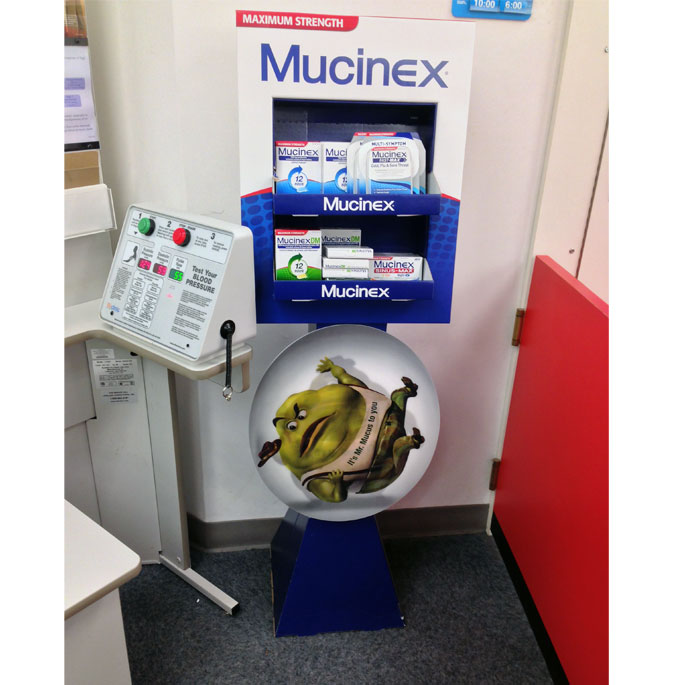 It's Mr. Mucus To You Floor Display
Reckitt Benckiser and Mr. Mucus are making an appearance in Walgreens pharmacies with this space saving floor display. A small, curved base supported several maximum strength skus in a corrugate tray printed with simple messaging. The feature that caught our eye was the large, round holographic-like (not sure of exact process used) Mr. Mucus character that was affixed to the base. The dual-motion tip-on was definitely a disrupting attention-grabber.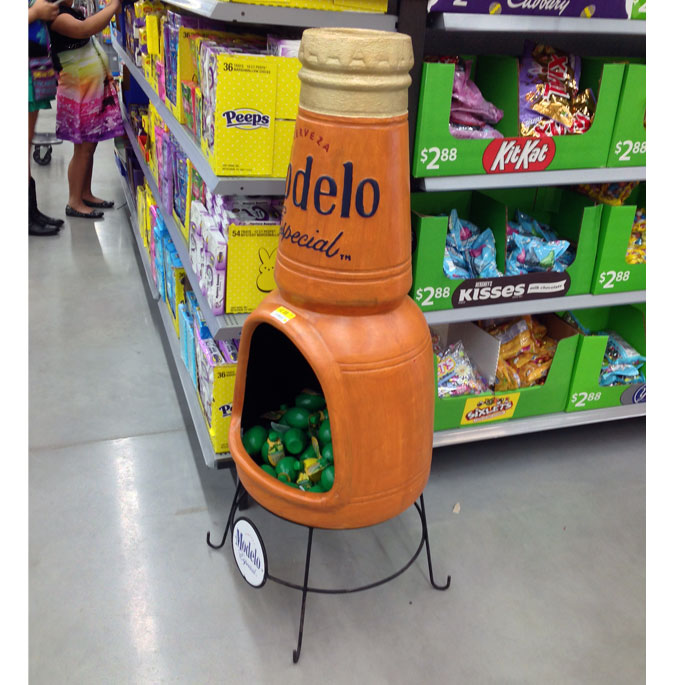 Modelo Especial Floor Display Serves Up Some Lime Juice
Modelo Especial is a pilsner-style lager whose original recipe was first brewed in Mexico in 1925. Since debuting in the U.S. in the nineties, Modelo Especial has grown to become a high quality beer in its category.
What does lime juice have to do with beer? Apparently there are recipes for Modelo beer cocktails that use lime juice as part of the ingredients. The brand chose this sturdy cross-promotional display, filled with bottles of lime juice, to promote Modelo using a bottle replica…..also kind of looks like a chiminea….you decide!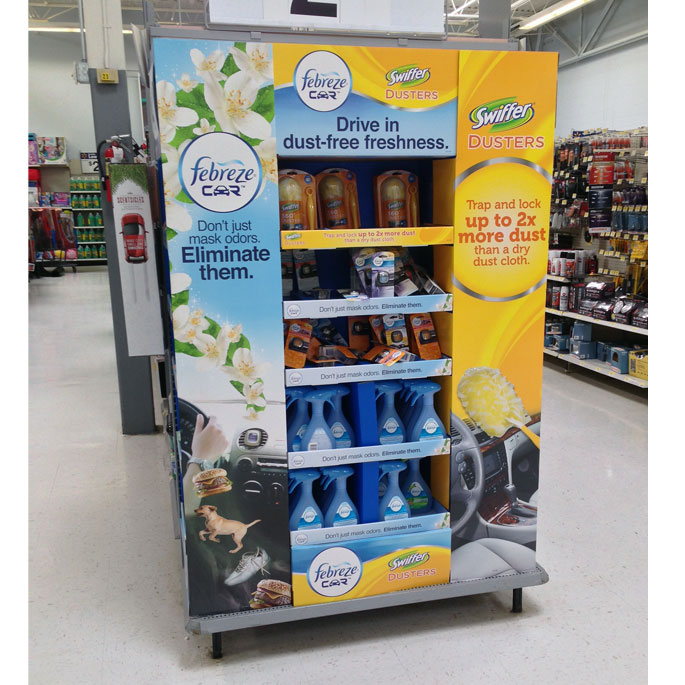 Febreeze and Swiffer Partner Up With Dust-Free End Cap Display
Proctor & Gamble is delivering the one-two punch in store to help shoppers keep a tidy and fresh smelling vehicle. Equally branded, the 'Drive in dust-free Freshness' end cap display made quite the impression in the automotive section at Walmart stores across the country.
Several car-freshening variants from both brands' product lines were merchandised on all three sides of the display. Large in-use copy panels added visual impact for approaching shoppers.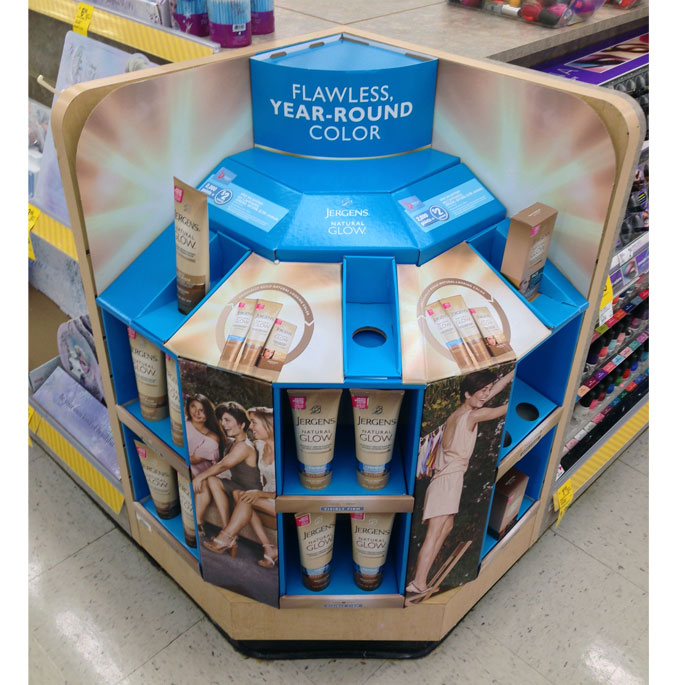 Jergens Etagere Display Offers Year-Round Color
Jergens recently made an appearance at Walgreens with this faceted etagere shelf unit. The display was designed to merchandise three Natural Glow variants in dedicated sections that were separated by graphic panels. Blue, flexo printed corrugate pieces created a soothing back drop which highlighted the starburst backer graphic panels and product. Just below the 'Flawless Year-Round Color' riser, Walgreens Balance Reward call-outs offered shopper discounts with the purchase of any two products.