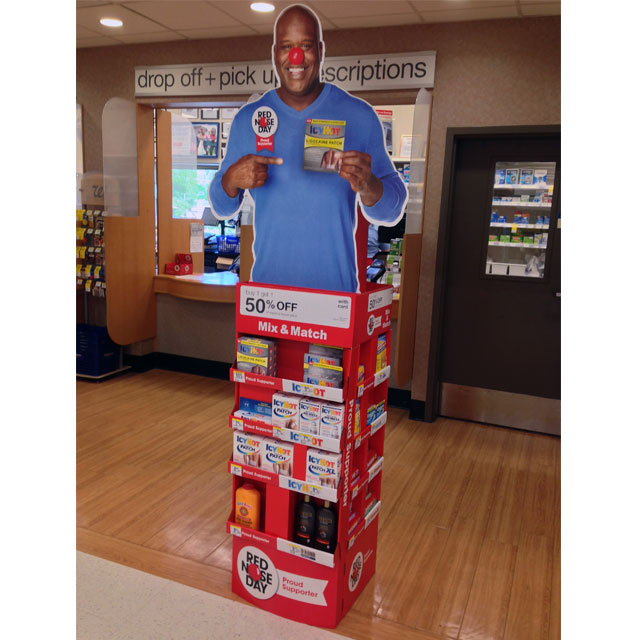 Red Nose Day Is On A Mission To End Child Poverty – One Nose At A Time
Since its launch in the UK in 1988, Red Nose Day has raised more than $1 billion dollars for kids in need at home and around the world. In the US alone, the program has raised over $60 million since 2015.
In its third consecutive year, Walgreens is the exclusive retailer for the Red Nose campaign which kicks off on May 25, 2017. From now until June 3, customers can show their support by purchasing a Red Nose for $1, with all proceeds benefitting the Red Nose Day Fund.
"Child poverty is a public health crisis that impacts us all, and
Walgreens commitment with Red Nose Day is to create urgency and build a
movement to help children around the world," said Alex Gourlay,
Walgreens Boots Alliance co-chief operating officer. "Along with other
campaign partners, we're helping to create a unique and powerful
opportunity for people and communities to come together to end child
poverty. With more 'Noses On' opportunities and activities across the
country for Walgreens customers and employees, we're hoping to put some
fun into building on the campaign's success to hopefully exceed our
fundraising goals."
The three-time NBA Champion and nine-time all-star basketball player Shaquille O' Neal is representing Chattem's Icy Hot and Gold Bond brands with this large and in charge floor display. Several variants from both brands were featured in the front tray just below the life-sized Shaq die cut. If you took a ruler and measured from the floor to the top of his head, it would be seven foot-one inch!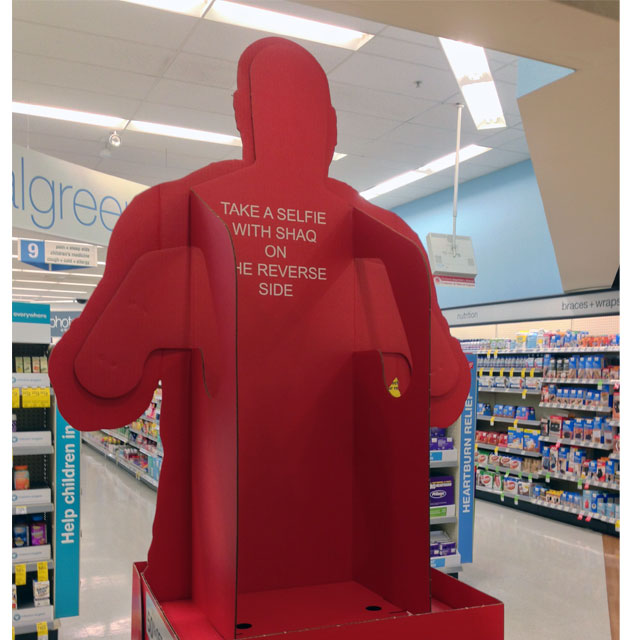 The display shopped from 3 sides, supporting other Chattem brands such as unisom, Allegra, Nasacort, Cortizone and the newly launched Xyzal. The company encouraged Red Nose shoppers to 'Take A Selfie With Shaq' by printing a call-to-action on the backside of the easel.
As in past years, Red Nose Day is being supported by several major brands in 2017.
Bai | Energizer | Claritin | Carmex | Evian | Playtex | Banana Boat | Wet Ones | Nice! | Well Beginnings | Schwarzkopf | Brookside | barkTHINS | Jack Link's | Lorissa's Kitchen | Pringles | Planters | Oreo | Cheetos | Bounty | Puffs | Rockstar | Kettle Brand | Snyder's of Hanover | Opti-Free | Systane | Clear Care | Zaditor | Naphcon-A | Icy Hot | Gold Bond | Xyzal | Allegra | Nasacort | Aspercreme | Unisom | Cortizone 10 | ACT | Shoebox | L'Oréal | Pedigree | Maybelline | essie | ChapStick | Advil | Redbox | Listerine | Benadryl | Zyrtec | Neosporin | Band-Aid | Nexcare | Ensure | Flonase | Poise | Depend | Curad | Vaseline | Soap & Glory | Bel Brands
Related
Gold Bond Trial Size Side Kick
Back On Track Unisom Side Kick
Gift Of Pain Relief Floor Display