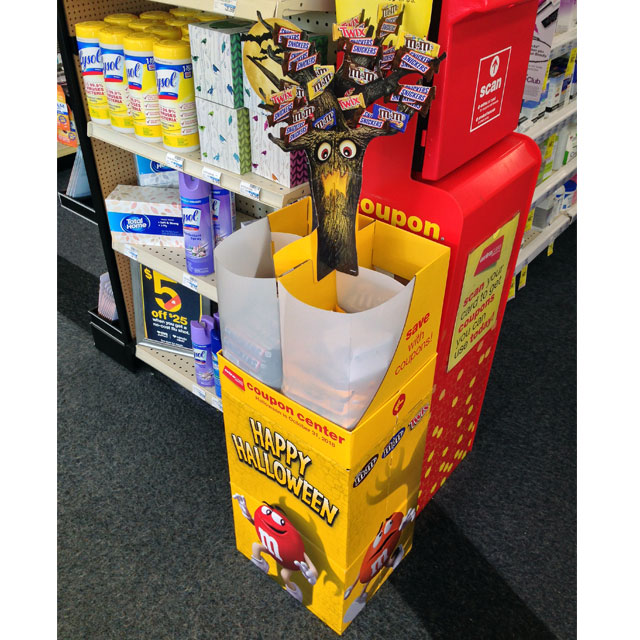 Mars Wrigley Confectionery is taking a bite out of the 2018 Halloween season with a new collection of innovative items and seasonal favorites.
According to Mars:
32 percent of consumers purchase candy to share with friends at home and with multi-brand bags of minis
48 percent of shoppers look for fall – or harvest – themed packaging when shopping for chocolate
Whether gifting or giving to trick-or-treaters, shoppers love the full size bar variety box, growing sales +3 percent
39 percent of consumers plan to attend or host a party
"At Mars Wrigley Confectionery we continuously have a pulse on the latest flavor trends driving growth and make it a priority to address evolving consumer preferences through product innovation," said Tim LeBel, President of Sales for Mars Wrigley Confectionery. "Not only are we delivering exciting new flavor profiles, packaging formats and functional products, but we are also addressing an increasing consumer and retailer desire for unique offerings around key seasonal moments throughout the year."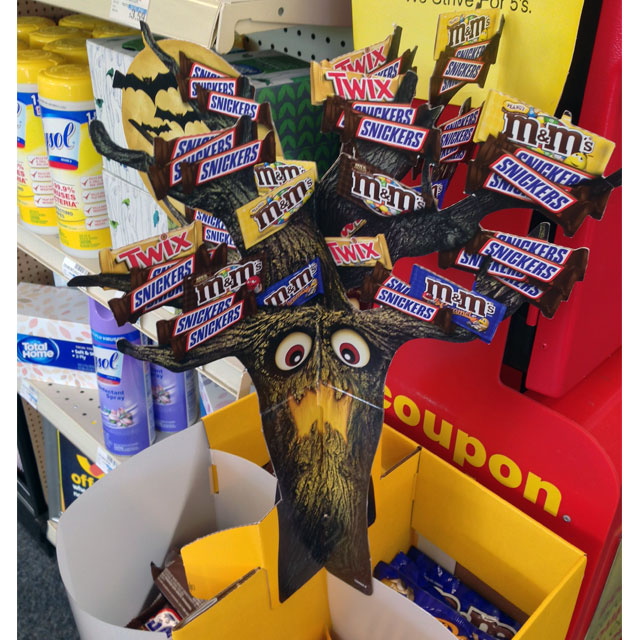 The company is bringing their seasonal treats into CVS with this floor display. Designed with four candy compartments, the compact display was decorated with Halloween graphics on all visible sides of the base. A miniature spooky tree trimmed out with mini product packs slipped down onto the divider system. The tree is a scaled down version of a larger version that the brand created for Walmart in 2016.
New Items for Halloween 2018: M&M'S® FUN SIZE® Milk Chocolate & Peanut Chocolate Candies Glow in the Dark Packs, SKITTLES® Sweet Heat FUN SIZE®, DOVE® Promises® Milk Chocolate, Dark Chocolate & Caramel Pumpkins, DOVE® Promises Silky Smooth Chocolate Assortment, Singles Variety Box: M&M'S®, SNICKERS® and SKITTLES®, Chocolate Variety Mix Party Bowl, Variety Mix Haunted House Serve & Display and SKITTLES® & STARBURST® Sweet + Sour FUN SIZE® Mix.
Related
Keebler Cheez-It Frankenstein Side Kick Monster
Custom Carved Pumpkins Display
Hershey Ghouls And Goblins Display
Sources for this article include:
Mars Wrigley Confectionery