Everyone is looking for the next big thing in retail. Well, the Pixalux illuminated panel is just one of those products that could totally change the way that retailer designers and brands use light within their displays.
A range of stunning units was launched at the show. People just kept stopping to see where the light was coming from. Light attracts attention and increases sales.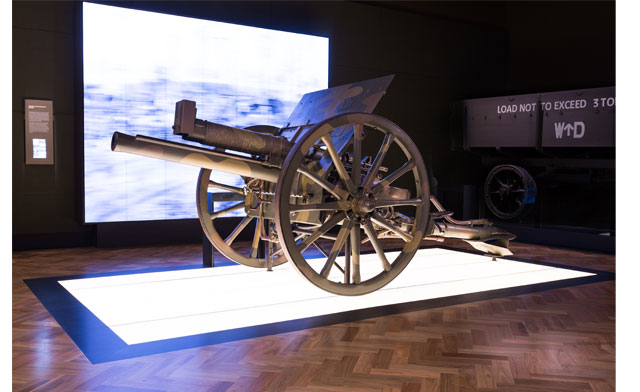 Pixalux used in the War Museum, Australia – image shows how strong the panels are.
Pixalux® structural light panels combine the evenly diffused light of flat panel lights or luminaires with the strength and versatility of an acrylic panel to create a designer lighting product that can easily be built into display units and is strong enough to act as a shelf to support weight.
Pixalux® is ideal for shelving applications. By combining the shelf and the light source into a single panel, Pixalux opens up a huge number of possibilities for bringing light directly onto the product. Compared to traditional methods such as rebated LED strips or surface mounted lighting, Pixalux® provides a solution of unrivaled quality. It is so much brighter and the light covers the entire shelf, not just the front edge.
Adjustable Pixalux shelves – illuminated shelf can be positioned at any point on the uprights
With the innovative structural capability of Pixalux®, we've changed the game when it comes to display shelving. The Pixalux® structural Light Panel can be used directly as decorative or display shelving. This unprecedented combination of features attracts attention whilst retaining a sleek and high-end look. There is a totally even spread of light and, as the shelves can also be double sided, the light looks even brighter.
Inside each panel is the latest LED technology, keeping energy costs down when running the panel. What's more, the panel surfaces themselves don't give off any heat which is great for use around perishables such as medicines and cosmetics or sensitive materials like at museums. Any heat is dissipated from the extrusion profile, and because the heat is so minimal, the impact on heating and cooling the environment is minimised too, keeping costs down.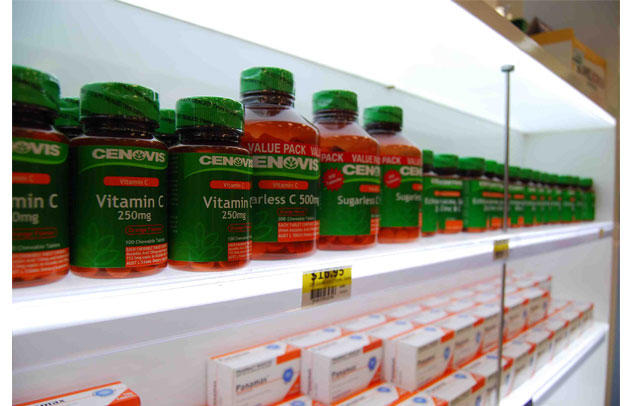 Double sided illuminated Pixalux shelves retrofitted into a display stand.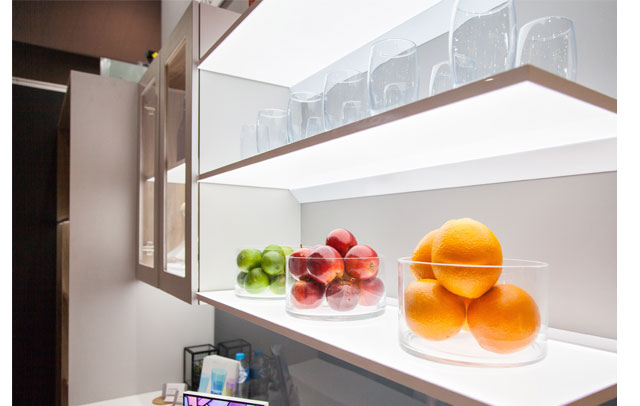 Pixalux shelf supported by the Cliffhanger floating shelf bracket.
Graphics can be easily added to a Pixalux panel. For permanent graphics, panels can be screen printed or, where graphics have to be changed, apply vinyl. This means that a side of a gondola can have illuminated branding or a shaped header can be created as part of the design.
The Pixalux® Structural Light Panel is the perfect solution for illuminating all types of retail displays and point of sale units. The thin 16mm profile ensures the panels integrate seamlessly by replacing laminate shelves, side or back panels. With Pixalux® integrated into the joinery, you'll experience complete illumination throughout the whole space unlike traditional strip or down lighting that casts shadows leaving the interior feeling dim and dingy.
The only way to truly appreciate the effectiveness of Pixalux is to see a panel. Visit www.pixalux.co.uk to request to see a sample or call 0845 299 6466.