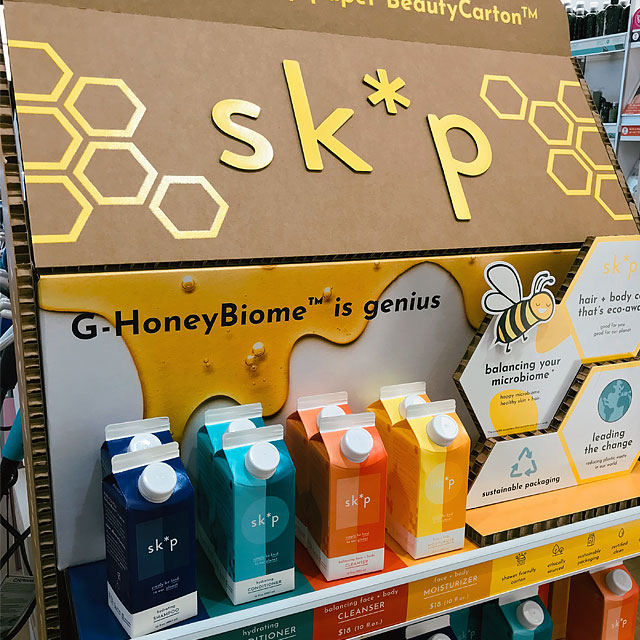 The First and Only paper BeautyCarton™
Launched to an online market last spring, Sk*p is a clean beauty brand with nontoxic products that targets Gen-Z consumers. Developed by April Hardwick and Mark Veeder (founder of the Farmacy skin care line), the two partners worked together to create a line of products aimed at teens and young adults.
"The mission [of Sk*p] is really empowering young people and amplifying their voices and getting behind young climate activists and, you know, the kids who are out there really making a difference. They're really putting this call to action," Hardwick said.
All of Sk*p's products are made with G-HoneyBiome™ — a proprietary bio fermented honey complex that strengthens and balances the micro-organisms on your skin for a healthy microbiome.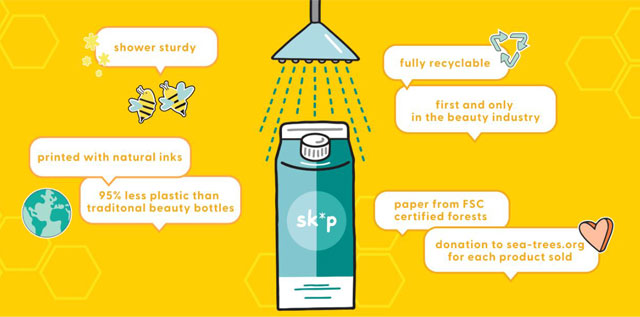 In hopes of breaking the beauty category's addiction to plastics, Sk*p has developed the first and only paper BeautyCarton™.
After their successful online debut, the brand is expanding to brick-and-mortar locations like Ulta. The beauty retailer is providing Sk*p with premium real estate in 100 stores this spring and hopes to have the brand in 700 stores by close of 2022.
To help kickoff their retail roll out, Sk*p created this beautiful display that was featured on end caps in Ulta. Constructed using mainly printed honeycomb board, the sturdy display featured three color coded shelves with graphic strips that aligned with each of the merchandised products. Two of the shelves helped support the brand's sustainability initiatives with additional honeycomb info signs.
The angled header was printed with honeycomb patterns and featured raised logo letters. One of the key graphic elements that added a great tie in was the glossy-looking honey drip printed on the back support behind the top shelf…..super nice touch!
Additional marketing efforts include a project called "Sk*p on Campus" which will bring the products to colleges and universities across the U.S.
Sources include:
greenwichtime
Sk*p