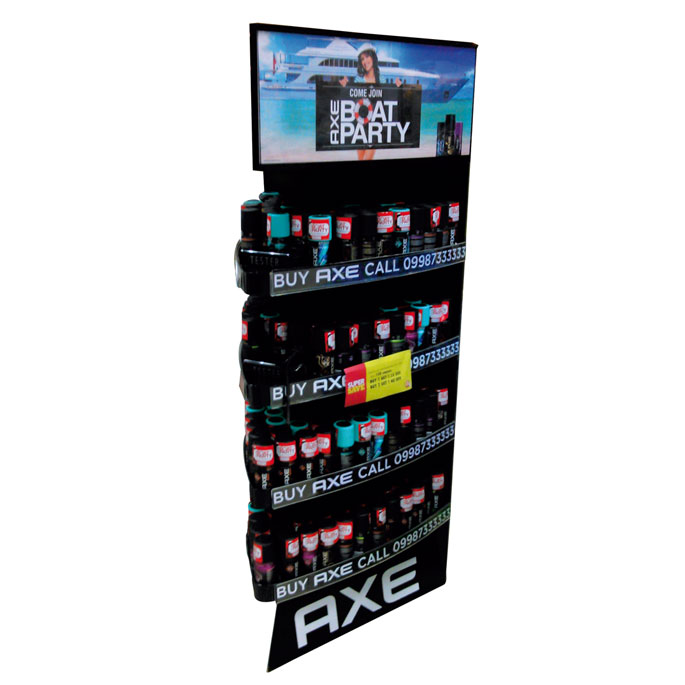 It's Party Time for Axe!
The latest retail campaign from the Axe brand invites shoppers to come join their boat party. Resembling a black boat, this sturdy MDF floor display was designed to hold 100 pieces of product. Brand messaging was communicated on the top with LED backlit panels. In addition, all four shelves were printed with 'Buy Axe Call 09987333333' copy.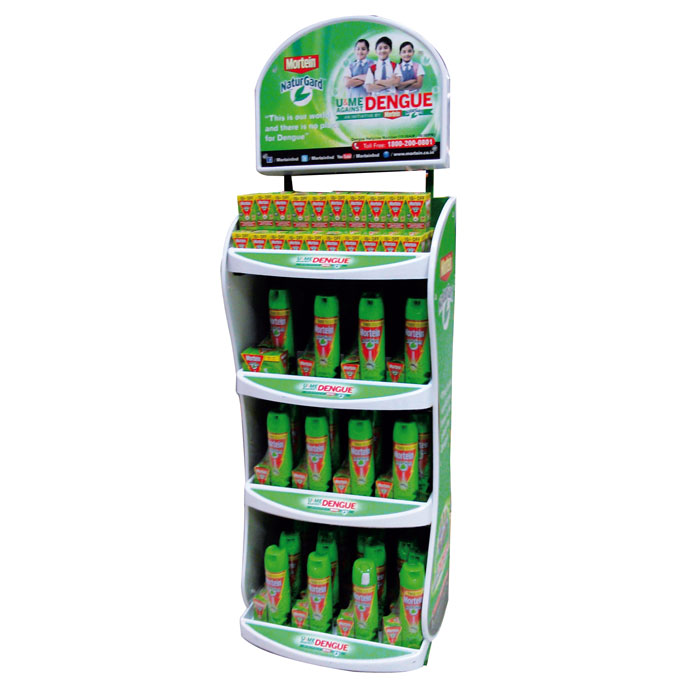 Waging The Dengue War @ Retail
Mortien mosquito repellent has kicked off a new campaign which is built around fighting Dengue. The initiative by Mortein Naturegard communicates the concept through this simple yet sturdy display. The top branding conveys the need for joining hands to fight the disease and also provides shoppers with a toll free number. Produced using HIPS, this utility-driven unit has four shelves with plenty of stocking space.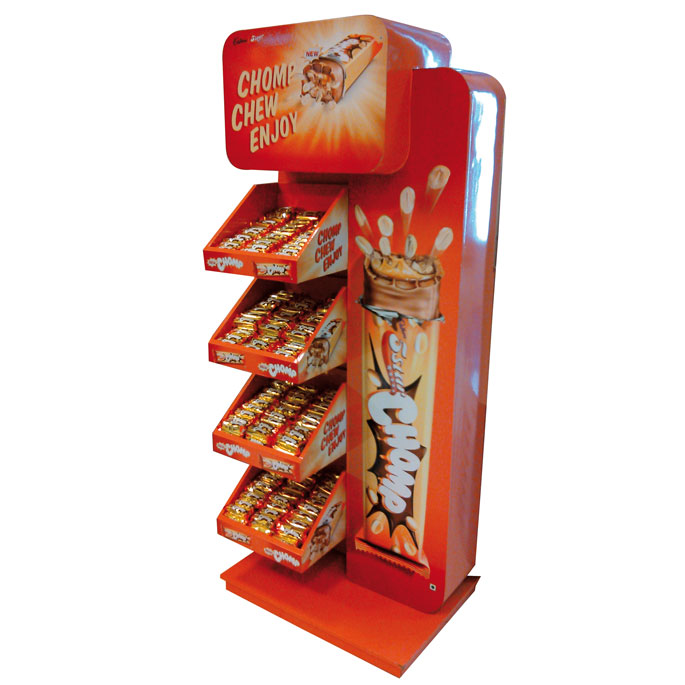 Going Nuts Over Chocolates
Cadbury India has launched another variant of its 5Star Chomp and is using this vibrant counter display to promote the new candy bar. Holding more than 100 pieces of product, the top and right side of the display offer consumers a mouth-watering visual of peanuts exploding out of a candy bar. The front and both sides of the product trays are also decorated with tasty brand equities.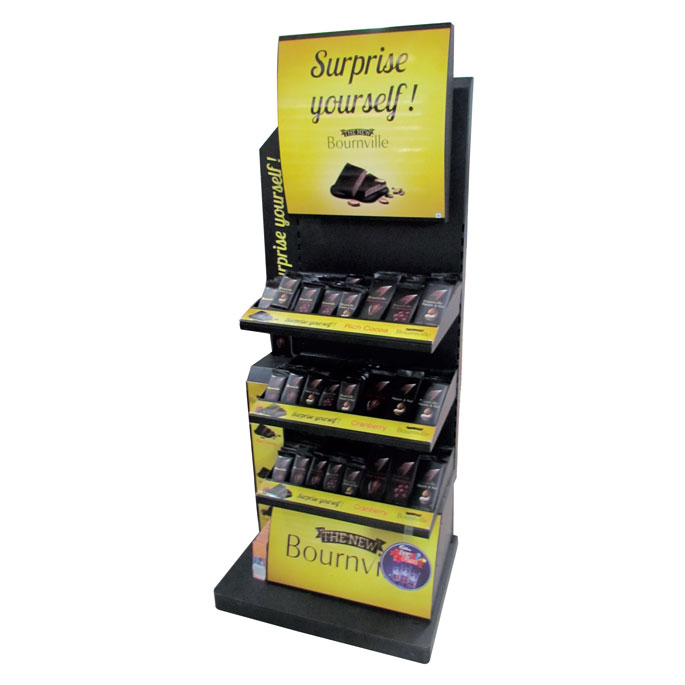 Sweet Surprise
Cadbury is known for being creative when it comes to POP displays that communicate well with shoppers. Bournville, one of Cadbury's premium brands, is being featured in this metal floor display. Decorated with rich chocolate substrates that worked well against the bright yellow-colored graphic elements, the unit created a vertical visual that flowed seamlessly to deliver the 'Surprise Yourself' brand messaging quite effectively.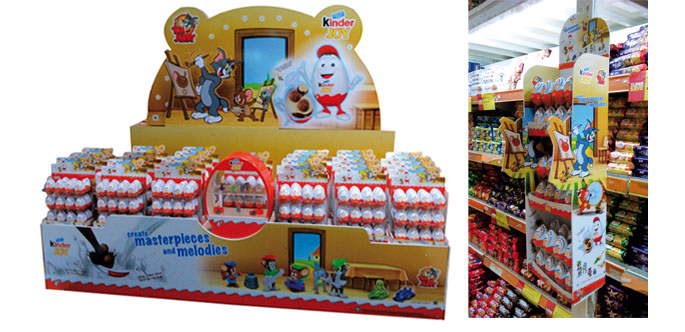 Spreading Joy
Tom and Jerry are icons in their own right so using them at retail is a sure way to get attention from tiny tots. This new initiative from Kinder Joy, known as much for its surprising toy gifts as for its sweet treats, was an interesting move to grab attention from children and adults alike. The large multi-level display was designed to enable kids to pick up the various products with ease. Produced using corrugated board, the merchandiser is hard to miss due to its sheer size and inviting communication. A companion two shelf mini wing display was found in the same store which boasted similar branding.
L'Oreal Goes Gold
This floor display promoting the new oil, shampoo and conditioner launched by L'Oreal Paris was created by DMS Retail Works Pvt Ltd. The gold colored unit was produced using MDF and acrylics. High-end branding on the sides and top helped support the plastic showcase housed inside of the angled copy panel located near the top portion of the display. A laser cut number 6 was incorporated to reinforce the product attributes offered by L'Oreal's new product line.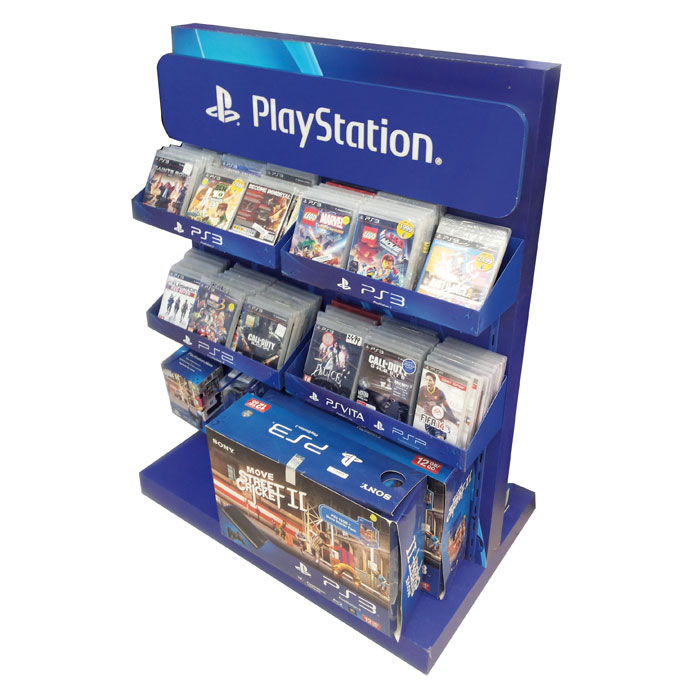 Playing It Up In-Store
Gaming is certainly turning out to be a serious category in India with industry players trying to capture visibility at-retail with creative promotional pieces. DMS Retail Works recently created this floor display to help Sony gain a competitive edge in Croma outlets.
Made out of MDF, the display was designed to hold a variety of products ranging from gaming CD's to game consoles. Metal trays merchandised the CD products and were able to be adjusted using the vertical channels they attached to. Additional accessories were pegged on hooks next to the game consoles creating a flexible planogram for retailers. A backlit PlayStation logo at the top provided an additional element of excitement.