he Easter holiday is fast approaching and retailers are gearing up with in-store promotions galore. From candy to greeting cards, shoppers will soon be purchasing their holiday favorites from festive Point of Purchase displays
strategically placed throughout retail aisles.
No stranger to Easter marketing campaigns, PAAS Easter products are out in full force at most mass merchants and supermarket chains across the country. For over 130 years, PAAS has been America's favorite Easter Tradition when it comes to egg decorating. Today, shoppers purchase more than 10 million PAAS Easter Egg Color Kits during the Easter season, enough to decorate as many as 180 million eggs!
This year, PAAS and Heinz have teamed up and are offering fans a digital egg-dyeing app that can be purchased through iTunes. For both companies, this app partnership is a great fit as Heinz produces vinegar which is required for coloring your eggs with PAAS kits. The app enables you to dye, decorate and share ultra-vibrant Easter eggs electronically. Proceeds from the sales will be donated to the Make-a-Wish foundation.
On a recent store-check, we came across a self-shipper floor display that PAAS was using to promote Egg Coloring Kits. At first glance, nothing unusual about the unit but after a quick second look, the riser area on this display became of interest.
Observation # 1 – Standard Riser……I will admit, this is the first ever that I have seen a standard display riser being utilized on a self-shipper display. My first thought was maybe, just maybe a "purchasing" department actually forecasted displays so well that they were able to take advantage of bulk quantity orders by using this riser across many display vehicles? Not sure but nonetheless, it is an interesting twist from the traditional spot-labeled, flute wire supported copy panels found on most self-shipper displays. I would also venture to say that taking this approach probably involved some cost savings initiatives from a manufacturing perspective.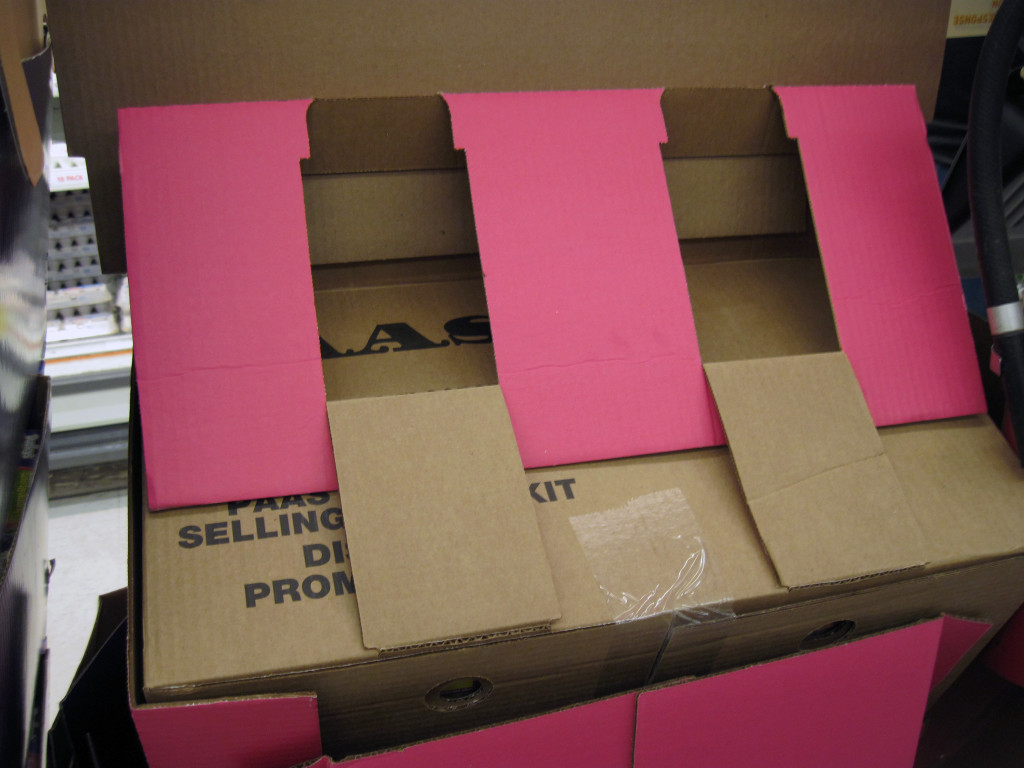 Observation # 2 – Riser Support…..After noticing how the riser was slotted into the top flap of the tray, I glanced around the back to see another interesting approach taken by the designer of this display. Two support strips were die cut out of the support panel, folded backward and tabbed into slots located on the uppermost body panel of the display. This feature created the slotting area where the riser was attached and offered support, maintaining the riser in an upright position.
As simple as this display is, the treatment to the riser area is a great testament to the overused phrase of "thinking outside of the box". How many times have you heard the "been there done that" in the POP design world only to find that someone else came by and "outdone that" and then some. There are always new ways to approach traditional ways of design and thinking……but if you don't push yourself and make the effort, you'll never see the forest through the trees.