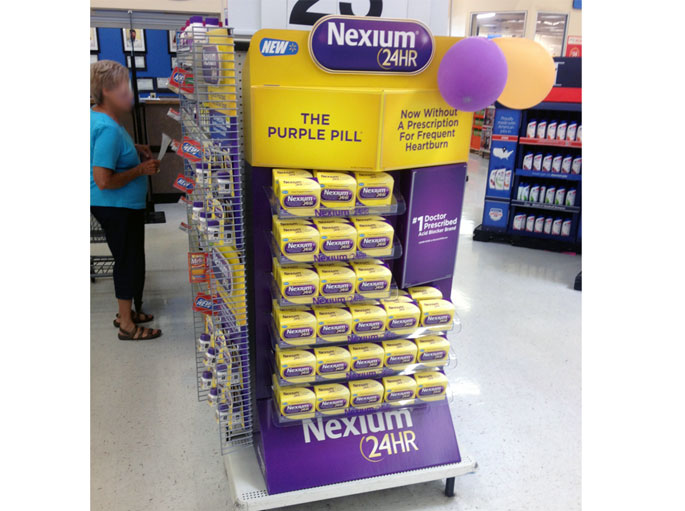 The Purple Pill is Now Available Nationwide Without a Prescription
Pfizer Inc. recently went OTC (over the counter) with its blockbuster heartburn pill Nexium. Pfizer acquired global OTC rights to Nexium in 2012 from AstraZeneca which was approved by the FDA on March 28, receiving three year market exclusivity. Available for online preorder since April 15, shoppers can now find Nexium 24HR in most major retailers nationwide.
Known as the Purple Pill, Nexium is one of the largest selling prescription drug brands in the U.S. According to a recent Pfizer press release, "The addition of Nexium 24HR to our portfolio enhances our ability to help consumers better manage their health," said Paul Sturman, President and General Manager, Pfizer Consumer Healthcare. "Nexium 24HR creates a new option for treating frequent heartburn with the confidence of a brand that consumers and healthcare providers know and trust. The OTC availability of Nexium 24HR in the U.S. marks the first step in our efforts to build a strong, global position in digestive health with this powerful brand."
Pfizer worked with ad agency Leo Burnett to take this huge launch into retail. An earlier announcement by Adweek about the OTC switch included comments from Burnett CEO, "This tremendous opportunity will take advantage of our integrated offerings and fill the consumer health opening in our portfolio. We believe this is just the beginning for us with Pfizer." The launch of Nexium 24HR positions Pfizer as a leading player in all four of the largest OTC categories – pain management, respiratory, dietary supplements and now, digestive.
Both brand and agency worked closely together to create a seamless launch that delivered simple but consistent messaging to shoppers. The displays shown below, which were produced by RockTenn, are just a few of the many promotional pieces that were sent out to the trade to launch this impressive promotion.