Popon is pleased to bring you our 12th installment of cool POP displays, trends and ideas. Our vigorous store checking schedule presents us with numerous interesting examples of designers and brands coming together to deliver outstanding promotional materials that we like to share with our audience of dedicated POP professionals.
As always, if you are interested in showcasing some of your unique designs and promotions, do not hesitate to contact us for more details.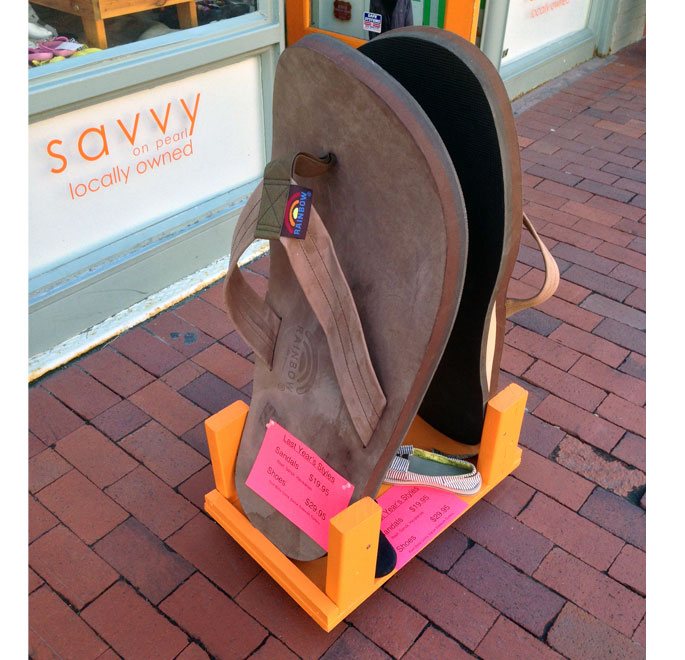 Outdoor Sandal Display Makes Huge Impact With Shoppers
Started in Jay Longley's Laguna Beach garage in 1972, Rainbow Sandals has grown into a reputable company that produces 2,000,000 pairs of sandals a year. Rainbow Sandals are made by hand using a glue that is specially formulated to ensure that the layers and straps are kept together….guaranteed for the life of the sandal. In addition to durability, Rainbow Sandals are also known for their comfort which is achieved with the two-part sponge rubber soles.
To generate interest, Rainbow Sandals created this huge set of flip flops which were located on a sidewalk along a busy stretch of trendy shops. Reproduced in great detail, these product replicas demonstrate the quality and comfort that keeps Rainbow Sandals ahead of the competition.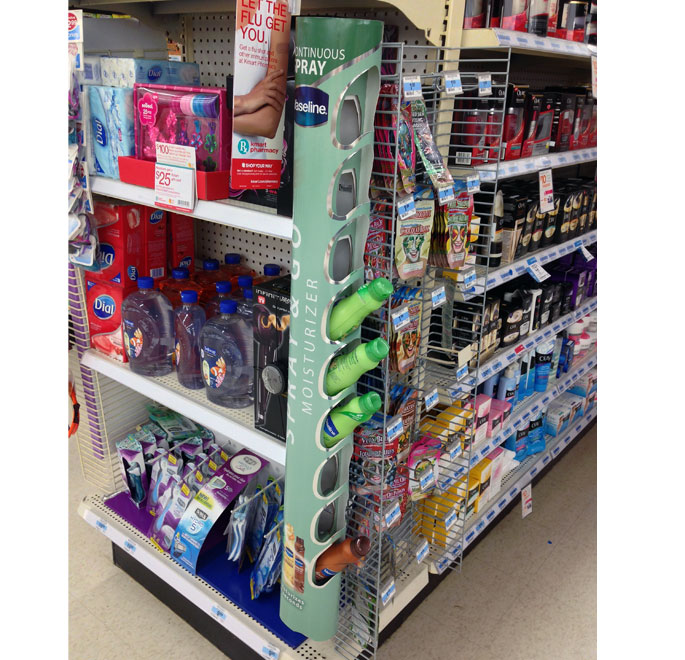 Vaseline Spray & Go Mini Wing Provides Protection
Vaseline is promoting their line of Spray & Go Moisturizers with this very cool mini wing display. Spray & Go is a quick and convenient continuous spray lotion that moisturizes your skin without that sticky or greasy feeling common with most lotions. Spray & Go comes in a contoured aluminum spray can that has a special twist-lock button which enables easy dispensing that covers the skin evenly.
The sleek looking mini wing display shown above was constructed with a corrugate interior that was wrapped with a piece of printed SBS. Merchandising all three variants – Total Moisture, Aloe Fresh and Cocoa Radiant – the mini wing was designed to hold the product in separate compartments on an angle. Simple branding on the outer graphic wrap created a concise message for shoppers in the skincare category.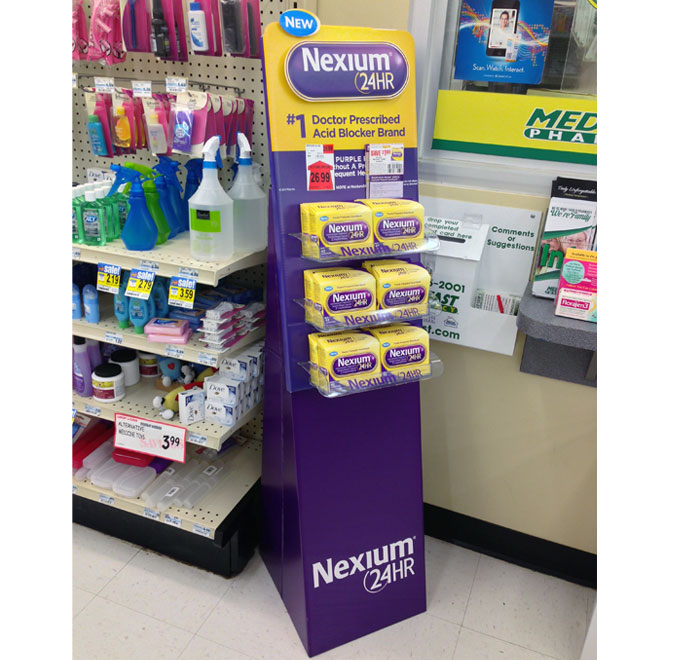 Pfizer Brings Heartburn Relief Over-The-Counter With New Nexium 24HR
Pfizer Inc. recently went OTC (over the counter) with its blockbuster heartburn pill Nexium. Pfizer acquired global OTC rights to Nexium in 2012 from AstraZeneca which was approved by the FDA on March 28, receiving three year market exclusivity. Available for online preorder since April 15, shoppers can now find Nexium 24HR in most major retailers nationwide.
This three-shelf floor display was spotted in a supermarket by the pharmacy counter. Simple graphics and a pill tip-on created a lot of visibility for the brightly packaged product which is merchandised in clear injection molded trays. This display is a small sampling of the POP created for this huge launch.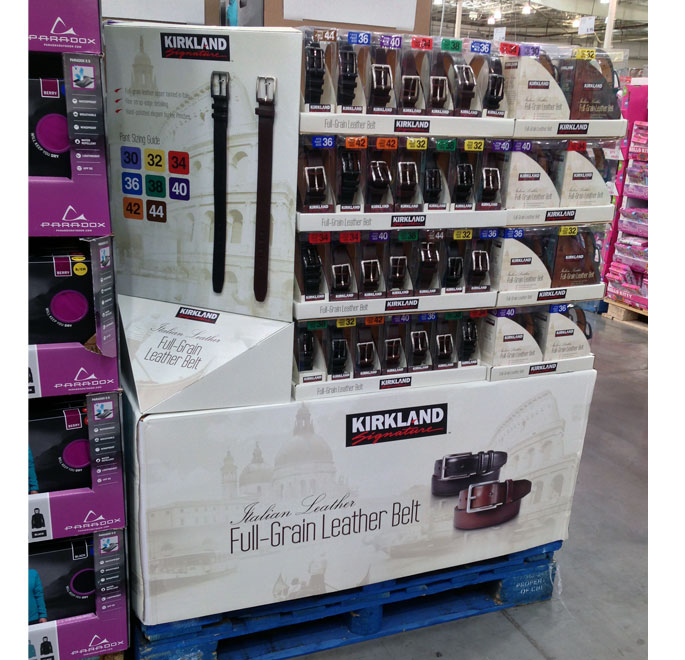 Kirkland Lets Shoppers 'Touch and Feel' Their Fine Italian Leather Belts
A bit of an older entry in our image vault, this Kirkland pallet is a great example of the newest club store trend taking place…….the try before you buy option. If you've been to a Sam's or Costco lately, you may have noticed manufacturers dedicating space on their pallet displays so shoppers can give their products a test run prior to purchase.
Costco's Kirkland brand used this pallet display to promote their hand-made Italian leather belts. Simple base graphics printed with Italian buildings gave the belt images an old-world feel. Rolled-over corrugate trays held the plastic-encased product and offered great visibility. The centerpiece of the pallet are the angled corner fillers which have live belts hanging on them so shoppers could get a closer look. In addition to the printed product attributes, the brand also included a pant sizing guide as well.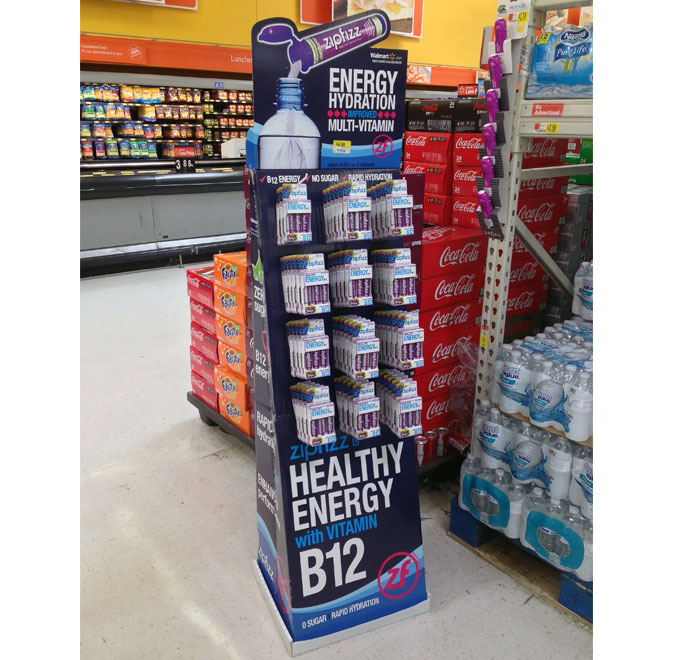 Zipfizz Floor Stand Display Energizers Retail Aisles
Energy in a tube is the best way to describe what people experience when using Zipfizz. Available in five great tasting flavors, Zipfizz doesn't contain any ephedra or artificial flavors so users don't experience the sudden crash associated with most other energy drinks on the market. If you are interested, there is a good 'see the difference' chart on their website that compares Zippfizz and their competitors product ingredients.
Taking their message into the retail aisle, Zipfizz launched this vibrant, eye-catching floor display which happened to be conveniently located near the bottled water. From the top down, the display graphics deliver key brand assets. The riser shows the tubed product pouring into a bottle of water while the front and two sides of the base repeat the 'healthy energy' messaging. The product is neatly organized and merchandised on standard display hooks. Sharp looking display!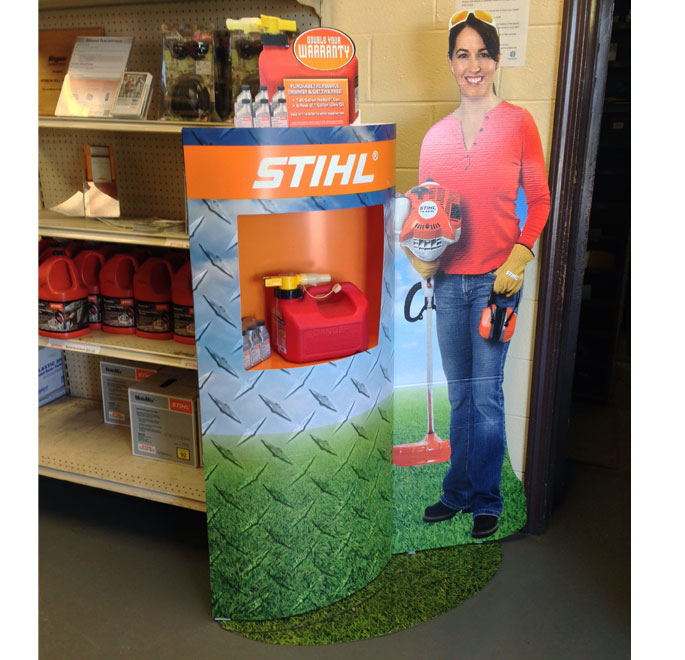 Stihl Promotion Lets Shoppers Double Down
Stihl is using this pop-up style floor display to promote their Double Your Warranty protection plan at dealers across the U.S. Shoppers who purchase a FS 56 RC trimmer will receive a free NoSpill gas can and a 6-pack of Ultra Oil. The gas can and 6-pack are represented on the display with a die cut graphic at the top as well as live product located in the cut-out compartment. The trimmer associated with the promotion was represented graphically via the die cut on the right side of the display. Curved grass pieces located on the bottom complete the look and feel of the display.