OXO, founded on the philosophy of Universal Design, offers 1,000+ products covering many areas of the home, all created based on the principle of designing products that are usable by as many people as possible.
The award-winning brand was recently spotted at Bed Bath & Beyond challenging shoppers to take their tabletop Spiralizer for a spin.
What is a Spiralizer? As noted on the brands website…..Our Spiralizer is perfect for creating vegetable noodles, a tasty, healthy alternative to pasta. Make quick work of creating uniform spirals from fruits and vegetables for curly fries, salads, garnishes and more. It's faster and safer than a knife, with a fun and unique end result. Whether you're looking for a healthy alternative to pasta, or a fun way to give your classic recipes a twist, delicious meals are simple with the Spiralizer!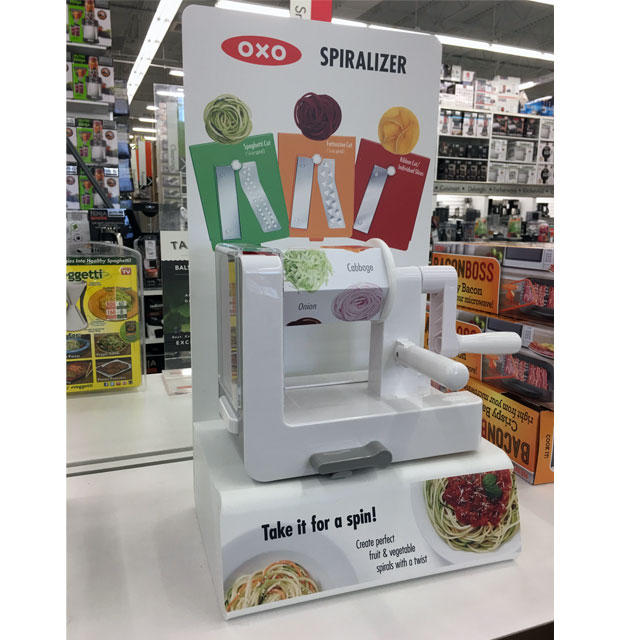 To tell the Spiralizer's story, the brand deployed this interactive shelf display. The graphic design used on the demo display did an excellent job of quickly educating shoppers on the product features and capabilities.
A really nice element was the hexagonal Try-Me-Sleeve that spun in conjunction with the handle, illustrating some of the delicious spiral possibilities that the Spiralizer creates. The riser depicted the three interchangeable blades (Spaghetti Cut, Fettuccine Cut, and Ribbon Cut ) that transform fruits and vegetables into noodles, ribbons, chips, and more. Solid showing by OXO on this one!
Images Courtesy of Fixtures CloseUp
Related
Oxo Tools You Hold on to Floor Display
Oxo Mini Angled Measuring Cup Shelf Display