Thanksgiving isn't Thanksgiving without pumpkin pie, but the mundane pie can seem a little, well, mundane. That's where Nestle's category leading 'pie-making brands' come into play.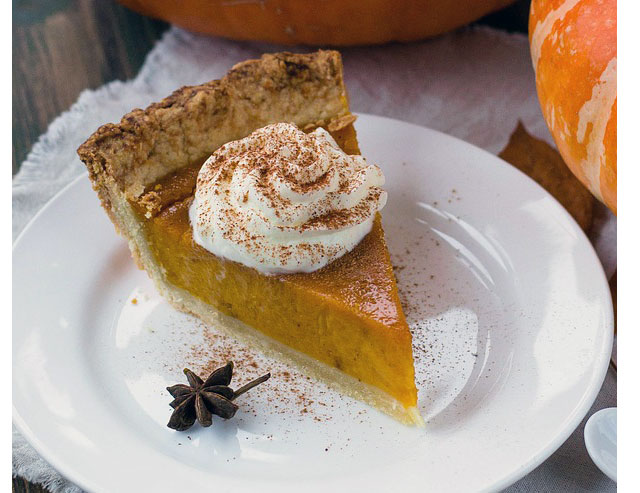 Before we discuss the in-store promotion, how about some interesting facts about Libby's as noted on an associated pumpkin pie blog?
90% of the pumpkins grown in the United States are farmed within a 80 mile radius of Peoria, Illinois. The town of Morton, close to Peoria, is claimed to be the Pumpkin Capital of the World.
Libby´s pumpkin processing plant is located in Morton, Illinois. Libby contracts with private farmers and supply the proprietary seed and the equipment to grow their patented pumpkins. About 5,000 acres of the farm land is devoted to producing the Dickinson pumpkins for Libby.
Libby's pumpkins are sweeter and creamy. The Dickinson pumpkins are smaller, squatter, meatier, heavier and sweeter than the Halloween pumpkin. It has a creamy texture and fresh pure pumpkin flavor.
During the harvest, the factory can process 500,000 pumpkins a day into cans.
For over 75 years, LIBBY'S® has been an American Classic.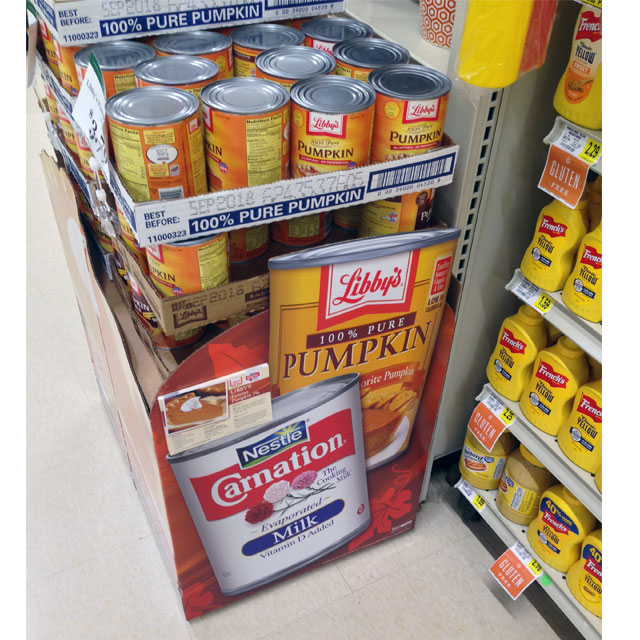 Just a short time ago, Nestle was spotted in supermarkets merchandising two variants of Libby's Famous Pumpkin Pie filling in this stacker display. Just like a mundane pie, most POP stacker displays tend to be uneventful as they are designed to move product cost-effectively with very little spent on visual appeal.
For all intents and purposes, the Libby's display shown here is your basic, everyday, can-filled stacker. The feature that makes this stacker a stand out in-store is the large die cut base.
The base graphic featured two panels with large images of a delicious slice of pumpkin pie. The sides showcase Libby's product shots along with Nestle's Carnation Milk,  which is also used in their pie recipe. As a reminder, Nestle provided the recipe via two tear pads adhered to the sides of the base. Easier said than done….. logistically…..but would have been nice if the display space shared both products as a one-stop pie shop.
Even if the holidays are over, shoppers can still whip up a delicious Libby's pumpkin pie…..while supplies last!
Related Nestle POP Displays
Nestle Toll House Clear Dump Bin Display
Nestle Coffee-Mate Floor Display