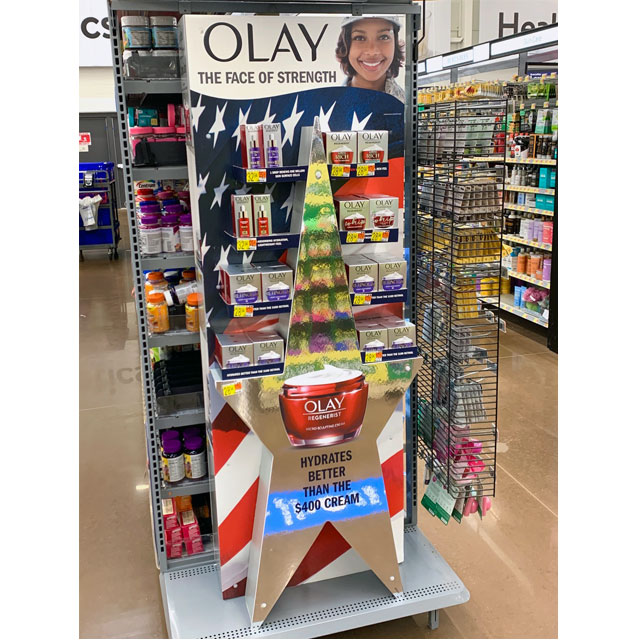 P&G's Olay Salutes Servicewomen at Walmart
A patriotic-themed beauty care end cap from Proctor & Gamble for Olay skin cream supports their "Face of Strength" campaign at Walmart. The campaign includes a donation to SWAN: Service Women's Action Network, though there is no mention of that on the display.
Says SWAN CEO, Deshauna Barber, "Olay and Walmart's generous donation will directly support SWAN's mission of supporting, connecting, and advocating for the individual and collective needs of servicewomen; past, present, and future." The limited edition camo jar is only available at Walmart.
This end cap unit includes a prominent star printed with a highly-reflective finish that is eye-catching, and also distracting, in a way. The mirror-like effect reflects the image of everything in front of it, such as the vitamin pallet on the HBC runway.
The Phillips Consulting Alliance, LLC
– Retail Trends Analysis & Activation
– Business Development & Strategic Planning
– Sales Process Improvement
– Meeting Facilitation & Presentation
Will Phillips, Founder/CEO
Will@PhillipsConsultingAlliance.com
linkedin.com/in/wphillips4