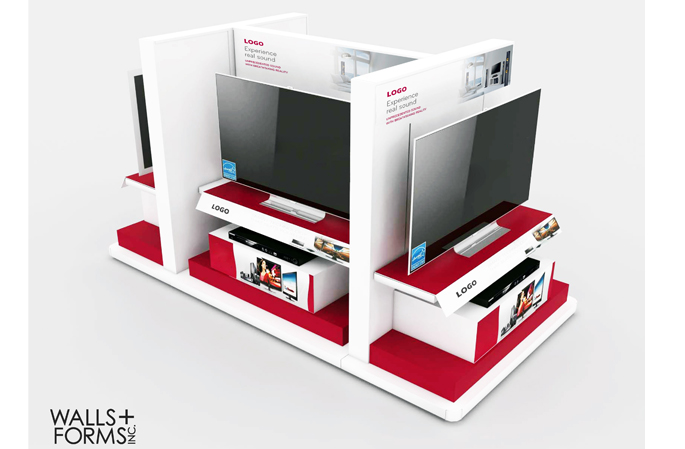 Walls + Forms, Inc. just introduced a new slim line gondola. It is designed and built for "live" electronic devices, home goods, miscellaneous retail items, heavy-duty products, and "starter" and "adder" pieces for multi configurations. All panel surfaces are constructed for ease of replacement and color combination.
The slim line gondola design has a wide range of benefits. In addition to slim profile design, it offers integrated wire management throughout, modular design with minimal parts, and lightweight metal construction. It also offers tapered end caps, easy construction with quick setup, and adjustable levelers throughout the base deck.
With aesthetics top of mind, panels have the ability to be switched out for multiple colors/laminate options or replaced with slatwall. The slim line gondola was designed for chord management. Unlike standard gondolas, this unique design allows for chords to pass through each post making it flexible for displaying and merchandising "live" products. Each metal upright is constructed to allow for chord access throughout the system. This eliminates common, unsightly wires typically found in traditional gondolas.
The slim line gondola is value engineered for easy and quick assembly while maintaining strength and durability. There are no complicated parts or hours of assembly time. Metal cleats onto frame assembly, assembled metal frame has built in standards, and metal bases have receiving channels.
Slim line gondola designs from Walls + Forms are adaptable in design, allowing for modifying for different looks. Panels have the ability to be switched out for multiple color/laminate options or replaced with slatwall. Decorative thin panels are available for the gondolas. Vinyl color striping can be applied to the shelves.