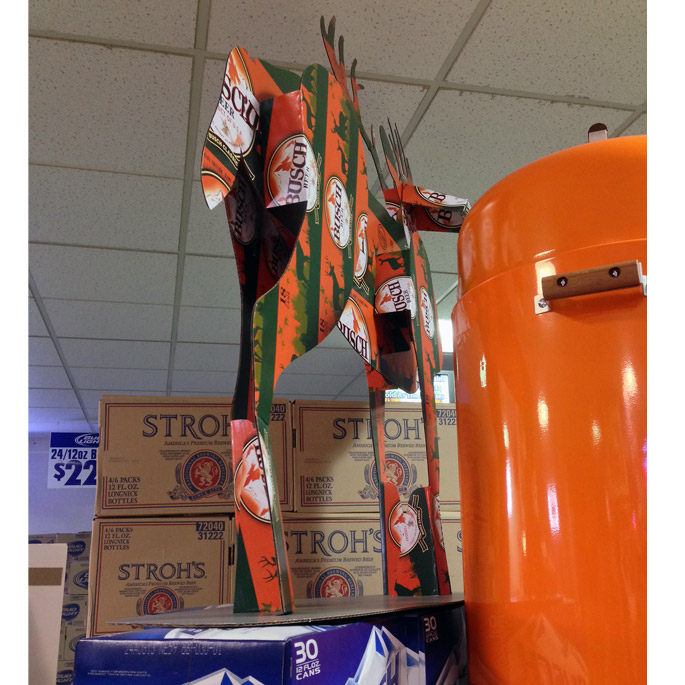 Across most of the country, fall has arrived which brings in cool crisp breezes and beautiful bursts of colors with the changing leaves. Any outdoorsman knows that this time of year is when most of them make their way into the woods to find the elusive 'big one'.
To help hunters capture their dream trophy, Tall Tine Outfitters and Busch Beer are co-sponsoring a chance to win a trophy whitetail muzzleloader hunt in January 2014. Located in Ohio, Tall Tine Outfitters sits on over four thousand acres of dense farms and woodlands, which is an ideal habitat for producing trophy whitetail deer. Tall Tines recently completed a new 2500 square foot lodge which offers hunters all of the comforts of home while they recharge and figure out how they are going to get that monster buck!
Found in most regionally based beer distributors, a case stacker arrangement was used to promote the contest as well as debut the new 2013 Limited Edition Busch beer hunting can. The display consisted of several cases of Busch beer, a simple promotional sign, smoker and of course the centerpiece, a corrugate deer. The entire surface of the deer, inside and out, was printed with graphics from the limited edition 2013 Busch cans. The deer itself was well built using geometry that brought the display to life at-retail.
The promo sign had a call-to-action, informing shoppers to text in to win. In addition, the sign offered contest details and a web link. The Busch beer branded smoker was a side prize that could be won by anyone who filled out and placed their entry into a generic ballot box.
As cool as the deer was, it could have been a much tighter promotion if the ballot box and promo sign were designed as one. Who knows the reason why it wasn't but regardless, still a cool display!