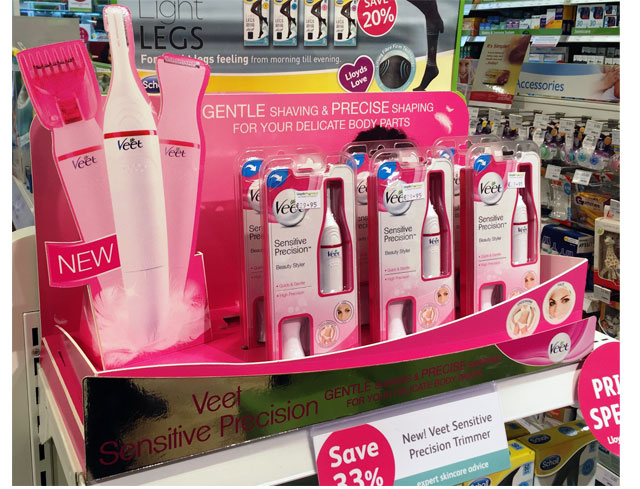 Ireland-based P+D recently helped Veet introduce their latest trimmer to shoppers using this vibrant end cap display. Designed for group and independent pharmacies across Ireland, the display had several challenges in order to meet retail and marketing objectives.
The marketing objectives of this unit were 3 fold:
– Introduce the public to the newly launched Veet trimmer
– Provide a display presence on gondola ends for the promotional period in Lloyds Pharmacies
– Highlight the gentle trimming and multi-functionality of the new head
The display created impact by highlighting the product in an eye-catching but subtle way. The production process, using a cream lined display board and high gloss finish, created a cost effective but high end display suitable to the premium status and price point of the product.
The dimensional show card highlighted the 3 heads with the feather bottom demonstrating the versatility of the trimmer while reinforcing the gentle message. Mirriboard was used on the front, providing an eye-catching space for the key messages and reflected the mirrored sections on the pack itself.
In addition to in-store POP, the campaign was supported by above the line TV advertising and specific magazine and PR activity to promote the launch of the products.
P+D's hard work earned then a POPAI Uk & Ireland Bronze Award.
About P+D
Founded in 1970 originally as an outdoor poster printing company. P+D has since developed its service and product offering adapting to the marketplace and as a result has become the leading partner for brands and marketing professionals in Large Format Printing, Digital Printing, Outdoor Advertising, Point of Sale, Signage, Structural Design, Graphic Design and Exhibition Material.
As a multi-awards winning company, P+D are the expert partner in printed communications because of our depth of experience and relentless obsession with service and innovation.