Recent reports indicate that consumer products giant Unilever is facing some intense competition from rival P&G in the personal care category……more specifically in the hair care arena. Having already taken costs out of the system to counter domestic marketing battles and sagging emerging market sales, Unilever has rolled out several promotional initiatives to keep their brands front and center.
Illuminated end cap display creates a warm and glowing presence in-store. An interactive monitor placed on the top shelf encouraged shoppers to learn more about the Dove product lines
WHAT IS DO:MORE?
DO: MORE is a philosophy, a rallying cry for those who want to devour life and all that it brings. It is a motivator for the doers of this world and a reminder to us all that we should maximize every moment, commit to those things that move us, and pursue our passions with an unrelenting hunger……..(source Unilever Degree)
Unilever is delivering their DO:MORE marketing message to shoppers by ramping up its presence at U.S. retailers in the personal care category with several new promotions for popular brands Dove and Degree. In addition to the POP displays shown here, Unilever is also utilizing several celebrity endorsements and is trialling e-commerce based sampling.
The most recent celebrity collaboration was with "Body Party" singer Ciara who told the world how she uses Degree Motionsense deodorant when she dances and performs on stage. For those not familiar, Degree with Motionsense technology releases bursts of freshness with every move you make, keeping you protected longer. Considered one of the most physical performers in the music industry, the partnership between Ciara and Degree Motionsense was the perfect pairing. The floor stand display below was outfitted with special Grammy neck hangers around the product to support the Ciara-Grammy promotion.
Recently overhauled, the new Degree Motionsense packaging was redesigned by ECHO who was charged with maintaining the brands premium values across all seven variants that comprise the product line. The new ergonomic-friendly packaging has a more aspirational look that expresses elegance and vibrancy.
In addition to the their feminine skin care products, Unilever is hammering the men's side and has partnered with Clint Dempsey, Captain of the U.S. Men's National Soccer Team. Degree will be sending one lucky winner to Brazil this summer to cheer on the U.S. team….all expenses paid!
Check out a few of the displays we spotted at-retail.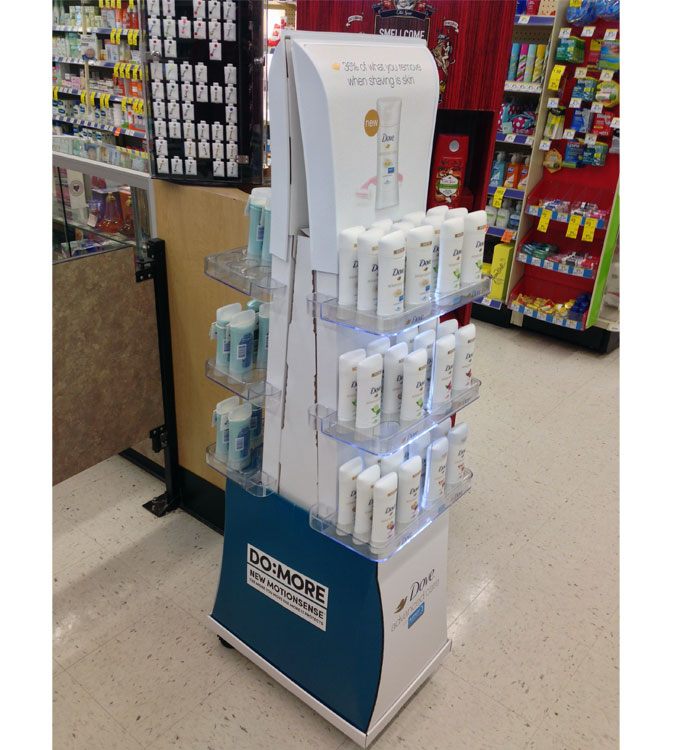 Dual variant floor display with motion activated LED light strips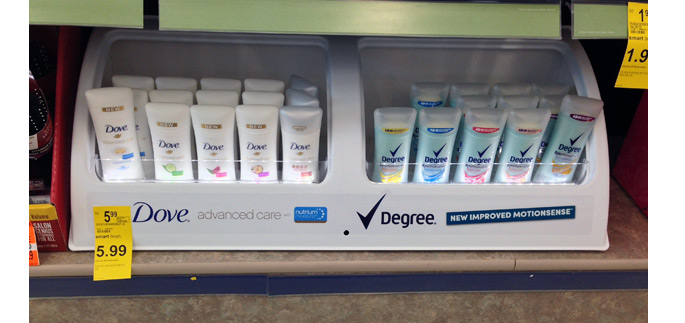 Dual variant end cap tray with motion activated product lighting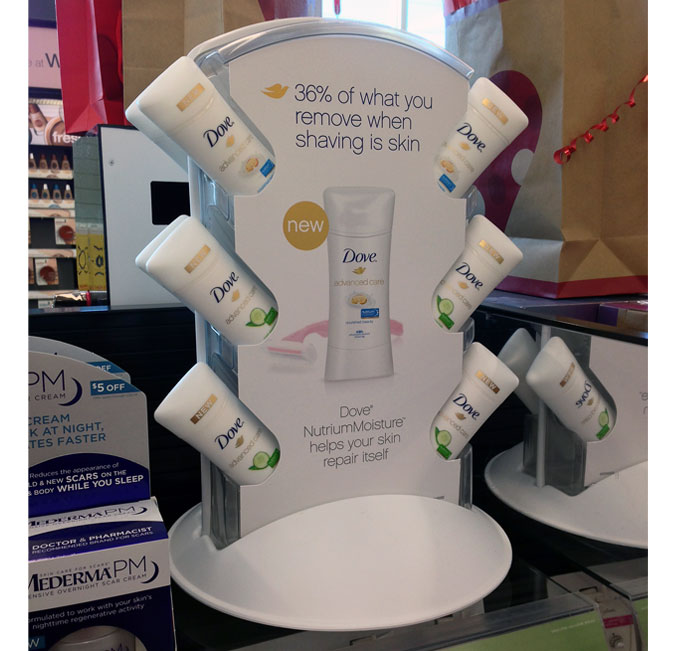 Crisp and contemporary looking Dove display makes an elegant statement on-shelf