Popon is pleased to bring you our eighth installment of cool POP displays, trends and ideas. Our vigorous store checking schedule presents us with numerous neat examples of designers and brands coming together to deliver outstanding promotional materials that we like to share with our audience of dedicated POP professionals.
As always, if you are interested in showcasing some of your unique designs and applications, do not hesitate to contact us for more details.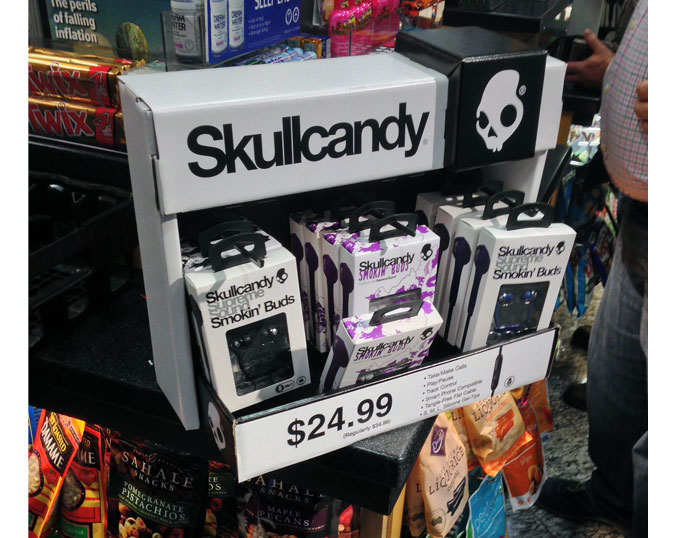 Skullcandy Smokin' Buds Counter Display
Funky fashions and sound design have enabled Skullcandy to make quite a name for itself in the headphone world….in particular with extreme-sports enthusiasts. Skullcandy's Smokin' Buds earphones are making sound checks at several retailers by means of this funky counter display. Available in 22 colors and at a decent price point, Smokin' Buds are a great fit for their teen audience.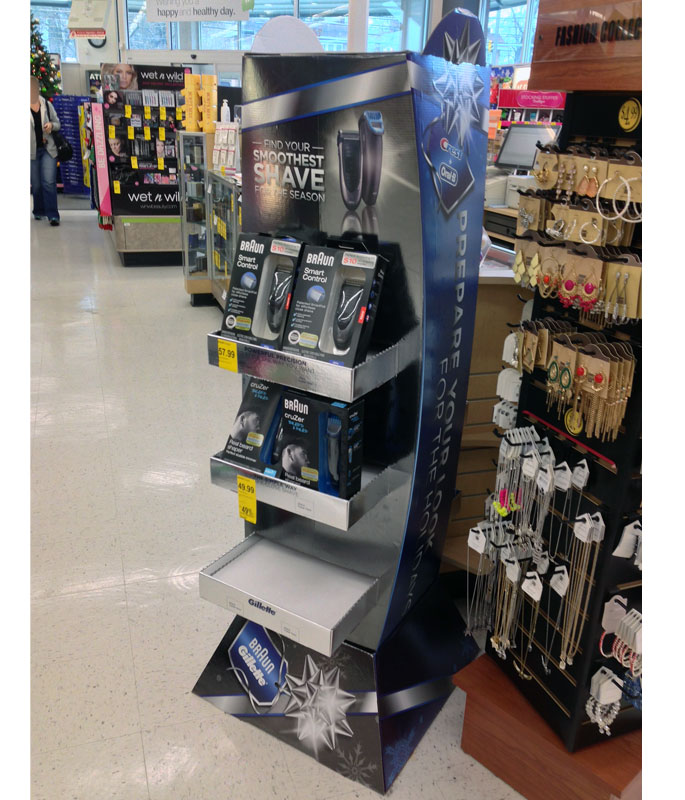 Braun Shaver Display Offers The Ultimate Appearance In-Store
Proctor & Gamble rolled out this impressive floor stand for the holidays to promote their Braun Series shavers. This display was decked out for the holidays with some cool graphic and structural treatments. Curvy sides and its sheer size made the display very noticeable at-retail. In addition, the shiny substrate used with the darker color theme made the product really 'pop' on the shelves. Notice how P&G took advantage of promoting the company brands on the remaining surfaces of the display. There are call-outs for Gillette, Crest and Oral-B throughout. No missed opportunities here.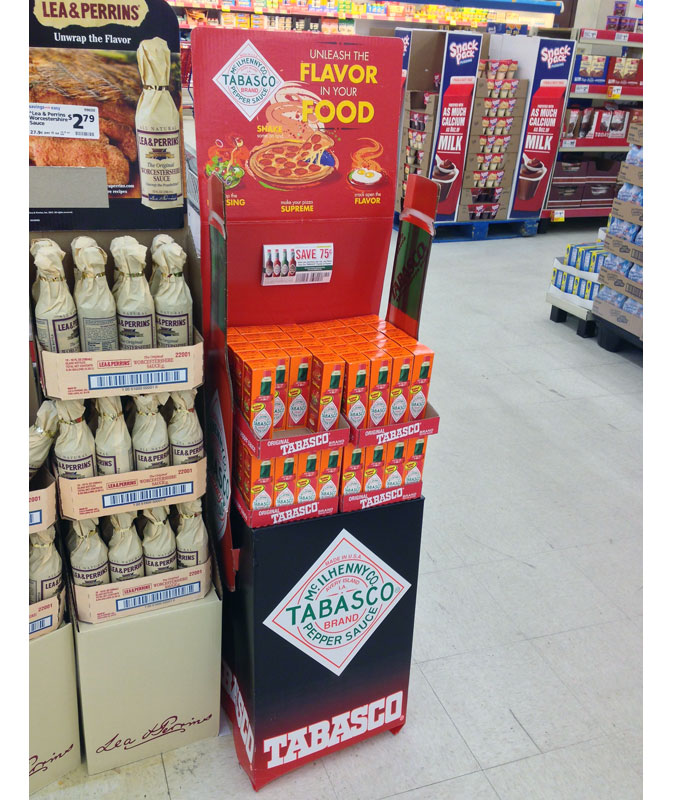 Tabasco Unleashes Its Flavor
Founded by Edmund McIhenny and still family owned, Tabasco is a historic brand that traces its roots back to 1868. Available in 7 flavors ranging from mild to wild, these sauces are a five-generation labor of love.
Tabasco was recently spotted promoting their Original Red Sauce at a local supermarket with this floor stand stacker display. Simple in design, the floor display prominently sports brand colors as well as the iconic bottle shape which was represented with die cut product replicas on both sides of the display. A tear pad affixed to the riser offered savings for spicy shoppers.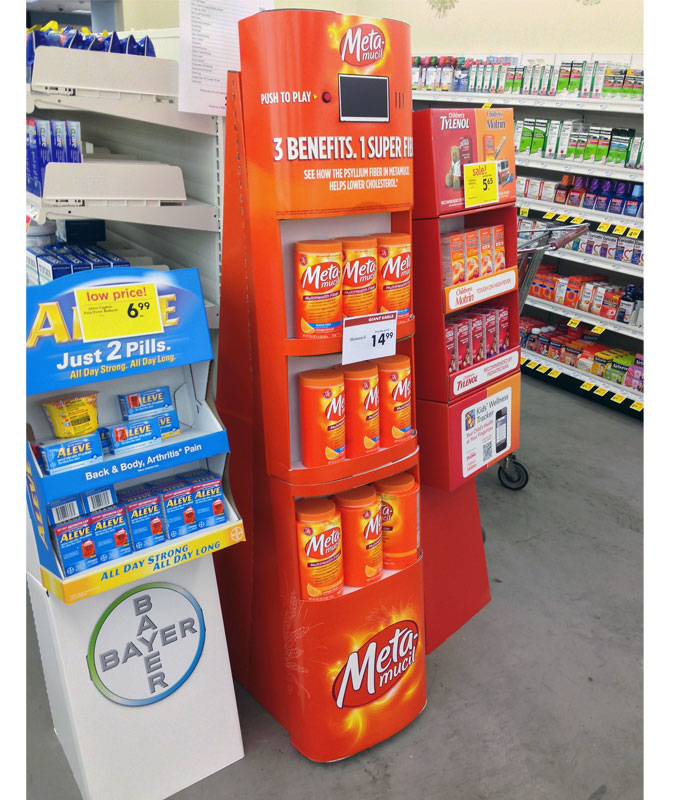 Metamucil Floor Display Provides Benefits to Shoppers
Metamucil is making a big statement at retailers with this interactive floor display that helps shoppers better understand the benefits of digestive health. Designed for impact, this brightly colored display certainly was a head-turner. Maintaining consistency with brand messaging, a push button monitor was mounted into the riser to explain how psyllium fiber in Metamucil works to provide 3 amazing benefits.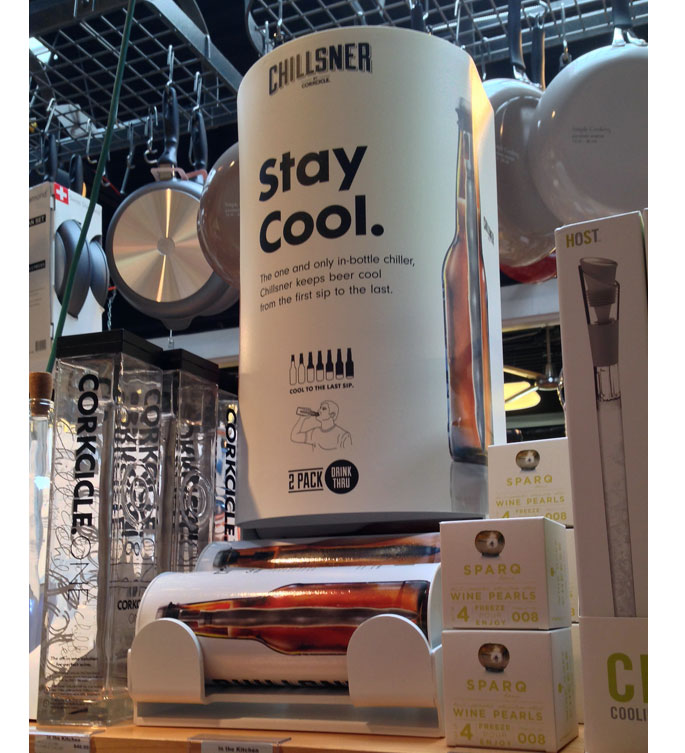 Chillsner Display Keeps Things Cool On-Shelf
Hate warm beer? Chillsner, made by Corkcicle, is touted as the one and only in-bottle beer chiller. According to their website, just freeze, insert into any standard bottled beer and enjoy a cold one….very cool idea. In addition to online sales, Chillsner is also promoting at retail with this attention-grabbing shelf display. Fabricated out of plastic, a descriptive curved copy area sits on top of a gravity feed chute dispenser that rolls out 2 packs of the Chillsner.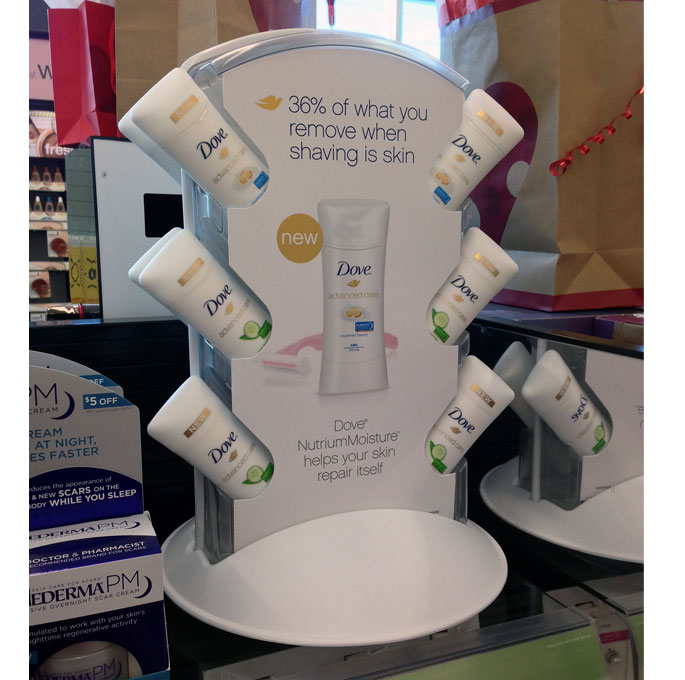 Dove Advances Skincare With a Sleek Shelf Display
As part of a huge marketing campaign, Dove is promoting their new Advanced Care Anti-Perspirant Deodorant at retailers across the U.S. The new deodorant is designed to provide ultimate care after shaving by delivering 48-hour odor and wetness protection plus NutriumMoisture. To help promote the new variants, Dove launched the display shown above which was very well thought out from a design and production perspective. Super clean in appearance, the unit merchandises the deodorant on both sides in angled pockets. The center copy panel provides ample space to support brand messaging.