Take a Chair and Share a Story of Instore Activation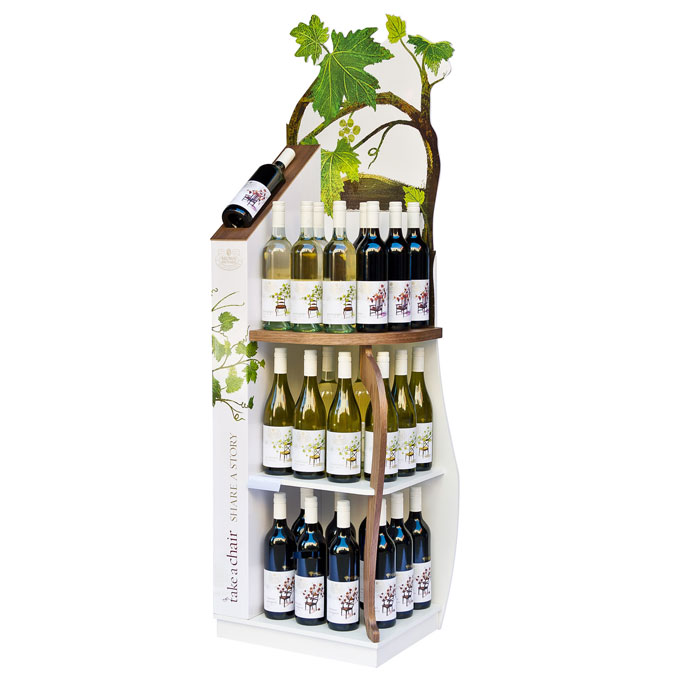 As experts in creating unique ambient displays the design team at Creative Instore Solutions (CIS) utilised the distinctive Brown Brothers (BB) brand imagery as a foundation to create in store excellence.  The point of purchase display supporting a relaunched range of BB wine appears in the form of a chair, epitomising the brand story.
Paying tribute to their history by launching the 18 Eight Nine range which celebrates the simple pleasure of pulling up a chair, staring a plate and a story with those close, Brown Brothers chose CIS as their bespoke activation supplier based on the success of previous collaborations.  This unit constructed in laminated mdf, foamex and includes vinyl graphics in line with the newly launched brand imagery creates an effective impression on consumers.
"As our bespoke activation supplier Creative Instore Solutions worked with us to understand our vision for the launch of our 18 Eighty Nine range. CIS designed a visually impactful display stand that excites the trade and invites shoppers to explore our range of dry wines." said Tracy Chap Brand Manager, Brown Brothers.
"At CIS we understand that engaging customers and unlocking growth opportunities in over 300 independent liquor retailers nationally was the key driver for Brown Brothers and our design led approach focused on achieving this result for our client" stated Deane Hubball, Group CEO, Creative Instore Solutions.
As part of the comprehensive Brown Brothers marketing plan including national tasting and a dedicated Facebook page the CIS designed and manufactured unit will undoubtedly yield positive results in sales uplift for this new product relaunch.