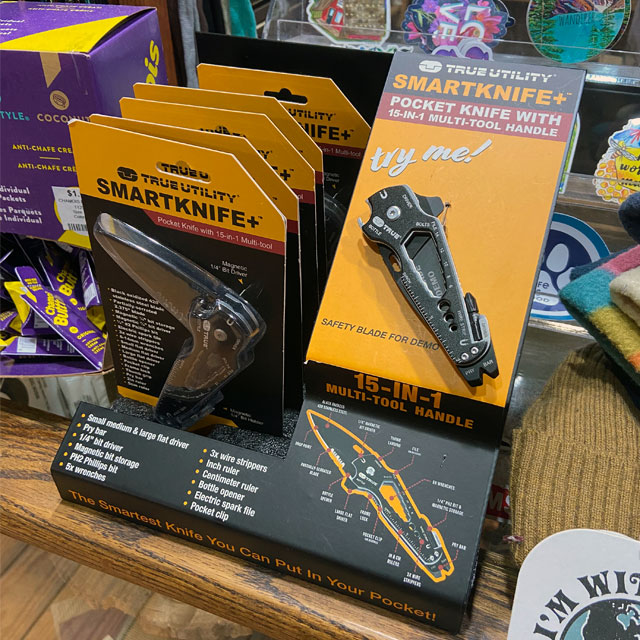 The True Utility SMARTKNIFE+ is much more than just a pocket knife. The multi-tool handle features a small, medium and large flat driver, magnetic ¼" bit driver and holder, file, wire strippers, rulers, wrenches, pry bar, pocket clip and bottle opener.
TRUE® WAS BORN OUT OF THE DESIRE TO DO A LOT WITH A LITTLE.
By eliminating unnecessary bells and whistles, we've designed tools that are compact, easy to use and get the job done. Because here in the great state of Texas, we're not interested in tools that look good, but don't work. We know that when you're prepared, life's obstacles are simply opportunities in the making.
True Utility was recently spotted merchandising their SMARTKNIFE+ in a small sporting goods store with this cool counter display. The metal display held six knives which were supported by a die cut PE foam insert. A Try Me knife was tethered to the angled copy panel so shoppers could see what this impressive tool was all about.
To provide more product details, a graphic cut-away of the 15-in-1 knife pointed out all its unique features along with supporting bullet point copy.
Check out some more Knife POP Displays:
Pocket Knife Floor Display Case
Victorinox Spinning Knife Display
Spinning Knife Counter Display
Paraforce Folding Knife Display
Winchester Limited Edition Knife Counter Display
Sources include:
True