Popon is pleased to bring you our seventh installment of cool POP displays, trends and ideas. Our vigorous store checking schedule presents us with numerous neat examples of designers and brands coming together to deliver outstanding promotional materials that we like to share with our audience of dedicated POP professionals.
As always, if you are interested in showcasing some of your unique designs and applications, do not hesitate to contact us for more details.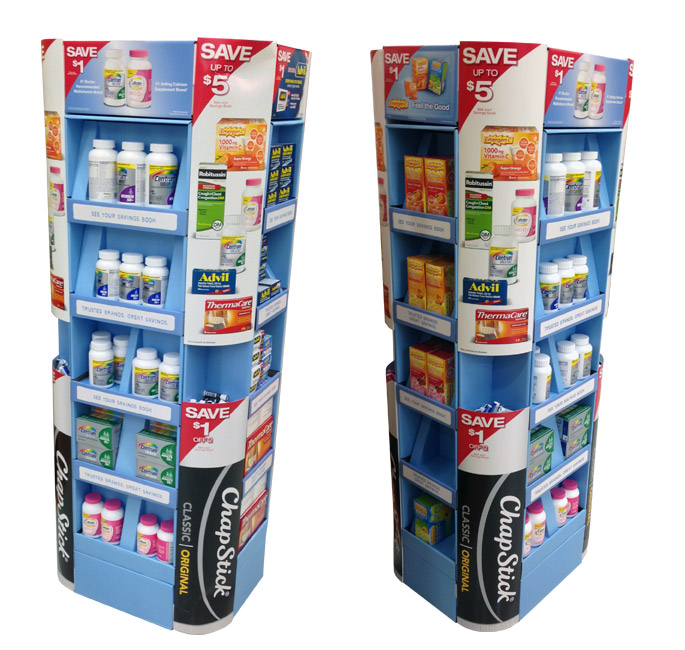 Shoppers Save With Trusted Brands
Walgreens recently ran a promotion that included this three-sided display and several top brands for shoppers stocking up on flu season remedies. The floor display merchandised seven brands and over 15 skus, offering savings ranging from one to five dollars.  The hero on this display is the curved Chapstick copy panels that function as replicas, holding various tubed products.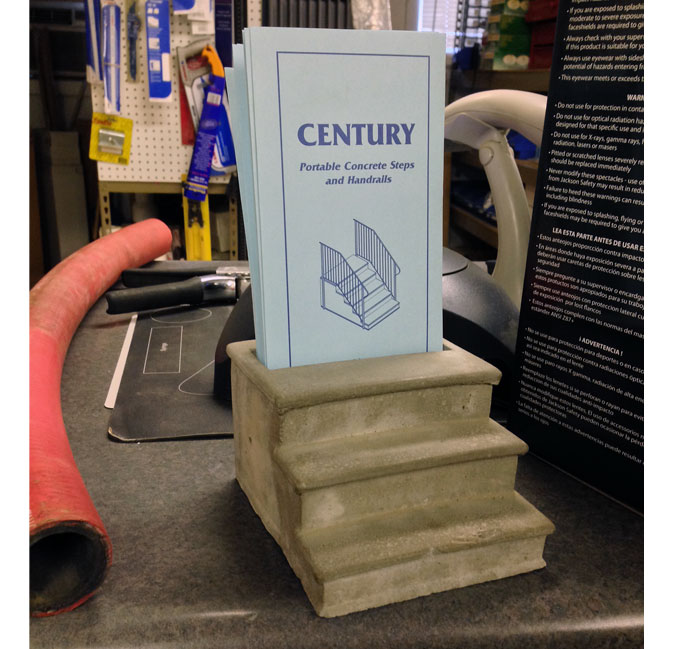 Literature Holder Steps Up to Display Brochures
Albeit, this literature holder is not the traditional POP that we are used but it was so different that we had to share. The Century Company, who obviously makes steps and handrails, chose to use a miniature version of a step display to hold promotional pieces to help market their brand and product line….they even used real concrete to form it! Very clever indeed.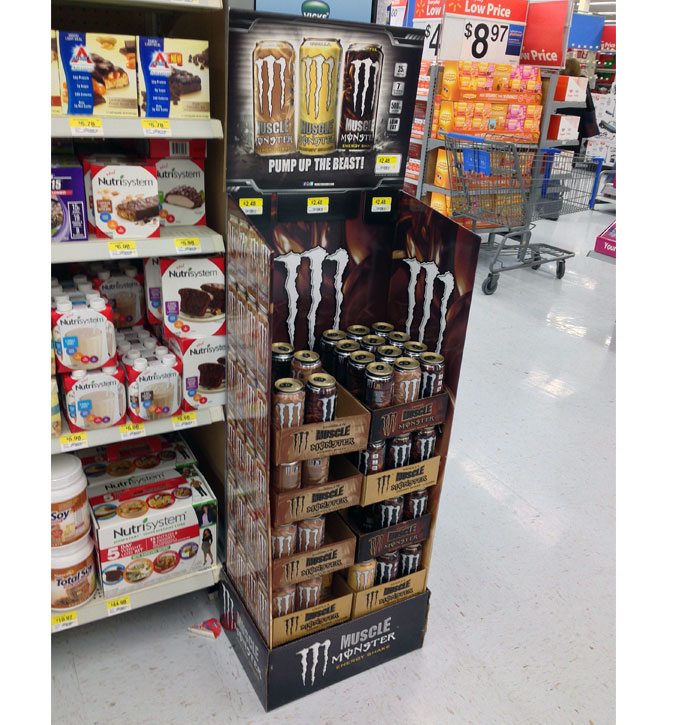 Monster Stacker Pumps Up The Beast
Muscle Monster Energy Drink is the latest product from Monster Energy which includes three flavors; chocolate, vanilla, and coffee. To promote the new line, Monster Energy has deployed this simple floor display at retailers nationwide. The case stacker holds all 3 skus and is very graphically decorated inside and out, giving it a high-end finished look.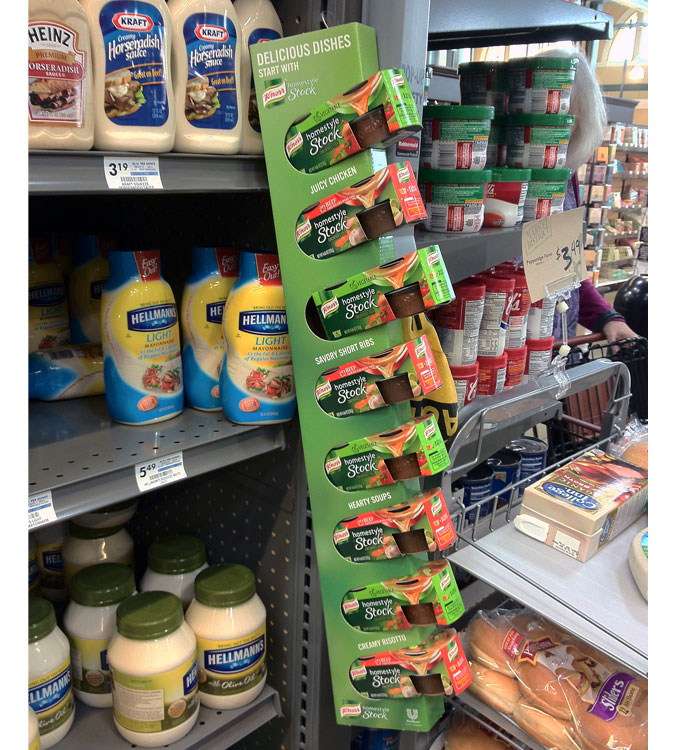 Knorr Mini Wing Pockets Showcase Product
Knorr is helping shoppers make delicious dishes with their Homestyle Stock product line which can be found on this mini wing display in most Supermarket stores. Each package is neatly tucked into die cut pockets, revealing the flavor as well as one of the clear product tubs. The pocket style design enables multiple variants to be merchandised and offers almost 100% visibility of the packaging.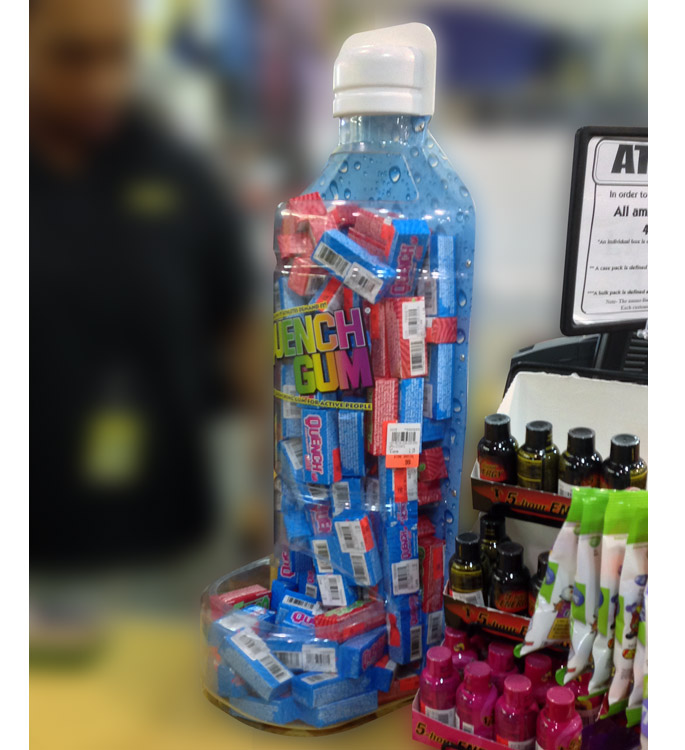 Quench Gum Counter Display Refreshes Active People
Quench was founded more than 30 years ago by Curt Mueller of Wisconsin. The gum brand was invented after Carl realized that his original spray product wasn't suitable for athletes on the go…..like runners. Now, the compact and portable gum product lines can be found in the ranks of professional teams from all major sports.
The refreshing counter display shown above is merchandising Quench Gum Sticks which are available in three flavors; Orange/Fruit, Strawberry/Watermelon and Double Raspberry. This injection molded display was designed to resemble a bottle of water and is highlighted by the thirst quenching backer card that was appropriately printed with water droplet graphics.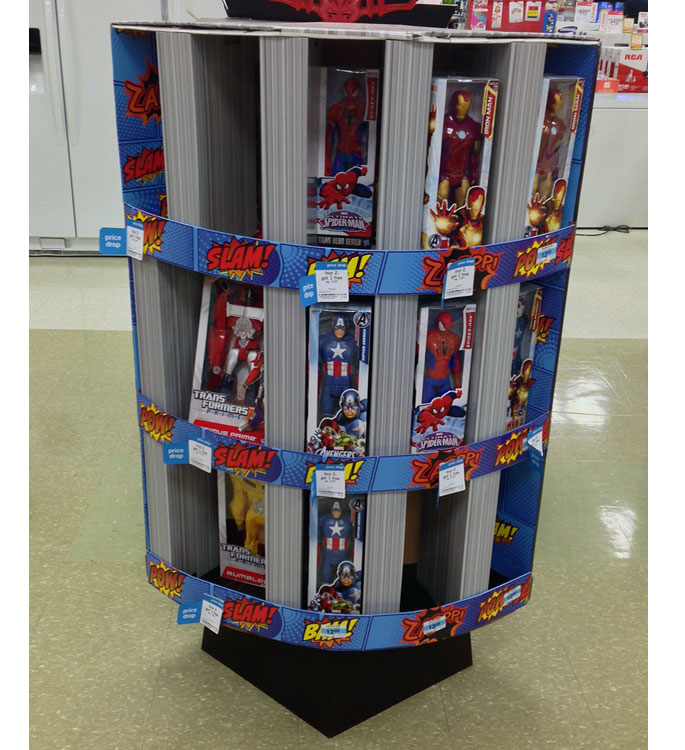 Marvel Carousel-Shaped Oversized Hero Floor Display
Designed and deployed for the recent holiday season, Marvel made a SLAM! in-store with this action packed display. The uniquely shaped floor display merchandised oversized action hero figures in 12 compartments which were separated by fillers. The curved shelf lips and interior tray panels were printed with the classic Stan Lee action words…..BAM! -POW! – SLAM!…….creating instant recognition for Marvel fans.
The back side of the display presented additional copy space to create interest from any angle in store aisles. Not sure if there was supposed to be a header on the display but if there was and you have a shot of the display in all of its glory, feel free to contact us and we will provide full credit for submitting the image.