Popon is pleased to bring you our fifth installment of cool POP displays, trends and ideas. Our vigorous store checking schedule presents us with numerous neat examples of designers and brands coming together to deliver outstanding promotional materials that we felt needed to be shared with our audience of dedicated POP professionals.
As always, if you are interested in showcasing some of your unique designs and applications, do not hesitate to contact us for more details.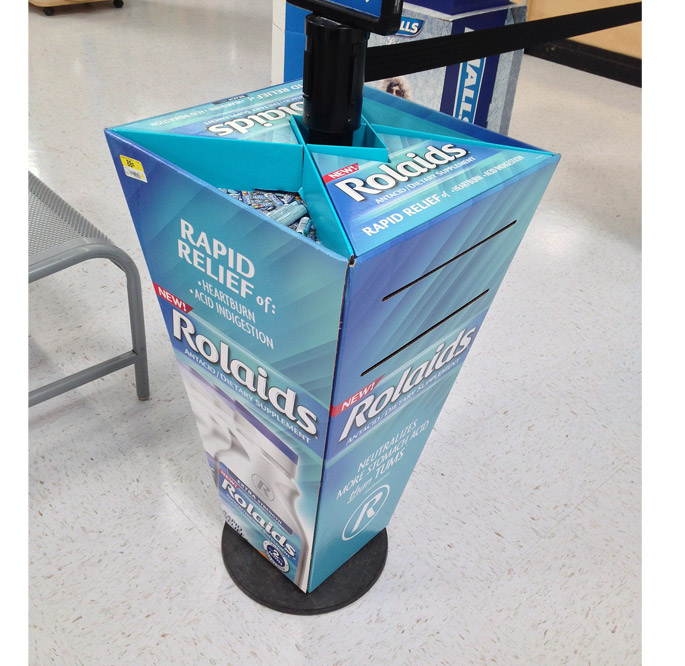 Rolaids Stanchion Display Highlights the Brand With or Without Product
After a three year hiatus, Rolaids is once again spelling relief with a brand relaunch. Chattem Inc. (subsidiary of Sanofi's U.S. consumer products) acquired the rights to the Rolaids brand from McNeil-PPC, Inc.  in January of this year and is living up to its promise to get the product back on store shelves by the end of 2013.
Rolaids will be sold in traditional tablets, a new liquid form and a new "Ultra Strength" version. Several POP displays are out at retail supporting the brand relaunch now. The rapid relief stanchion display above was selected for its structural elements and the great branding on all four sides. The extra special feature can be found underneath all of the rolls of product. To keep the display looking full, a graphic of scattered rolls was printed in both product cubbies.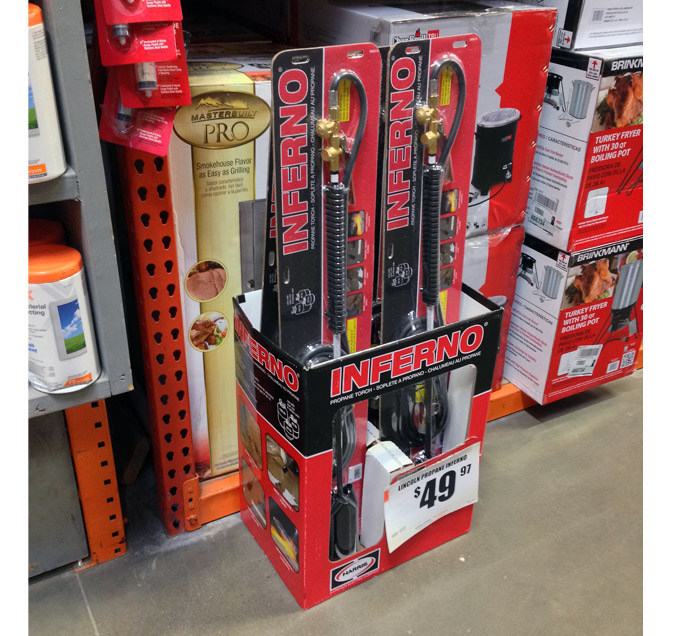 INFERNO Heats Up Its Presence In-Store
The Lincoln Electric Inferno Propane Torch Kit is a versatile tool used for repairing road surfaces, removing paint, burning brush & weeds, melting snow and ice, heating frozen pipes, roof repairs and much more.
There are three key elements that separate the Inferno from their competitors.
– First, this torch puts out up to 500,000 BTUs while most of the competitors only offer up to 300,000.
– Second, a safety lever shuts off the gas when it is released. This safety feature comes standard while competitors products require you to buy the lever separately.
– Lastly, the long plastic handle cover minimizes heat transfer to user during operation. Most competitors have either a very small handle cover or no cover at all
To be sure that all of these attributes were conveyed to shoppers, Inferno chose this simple floor stand structure to deliver the one-two punch at retail. Aside from brand colors, in-use graphics on the sides demonstrate how versatile the tool is…always a plus in the home improvement arena. The combination of the bottom filler and die cut window on the front panel offer visibility to all of the product features. Sometimes simple is better and in this case, Inferno gained an edge in a heated category.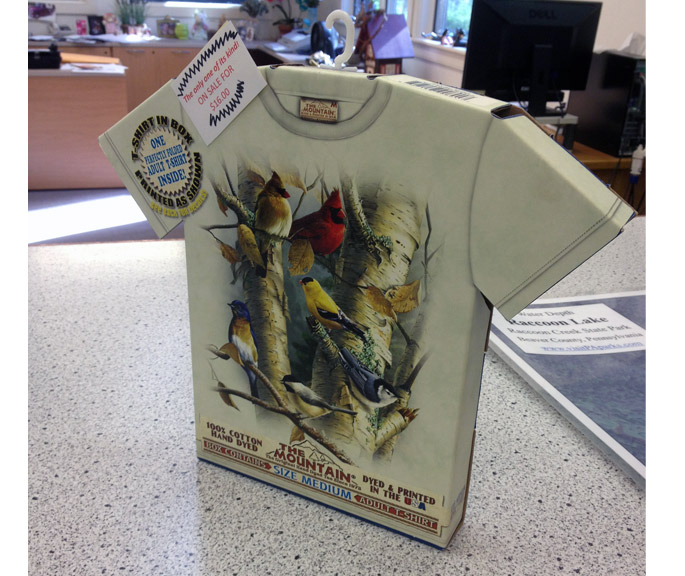 T-Shirt Package Shows the Contents to Shoppers
A slight departure from our usual POP display features but we had to show you a really neat concept for packaging t-shirts. This package design was created by The Mountain company which claims to be America's greenest t-shirt company and probably is based upon the in-depth 'About Us' page on their website. Check it out, quite impressive.
The entire corrugate package was designed in the shape of a shirt with the actual t-shirt graphics printed on the front of the package….so you visually try before you buy. The back of the package serves as a promotional billboard for the t-shirt company. Note the integral hanging device on top of the package. This feature gives retailers a bit more flexibility to merchandise in-store.
iPhone Cases Cascade on Club Store Pallet Displays
Southern California based Incipio is an award winning designer of mobile device accessories. They are highly recognized for creating practical and ingenious protective solutions which are sold worldwide in leading consumer and electronics retailers. Incipio is currently making an appearance at club stores across the US with this very cool trapezoid shaped pallet display that merchandises iphone covers.
The overall shape of the display is a nice departure from the standard boxey pallet designs most prevalent in club environments. In addition to the cool shape of the corner graphic fillers, the cascading products in the trays create interesting columns of vertical color which lead the eye from top to bottom.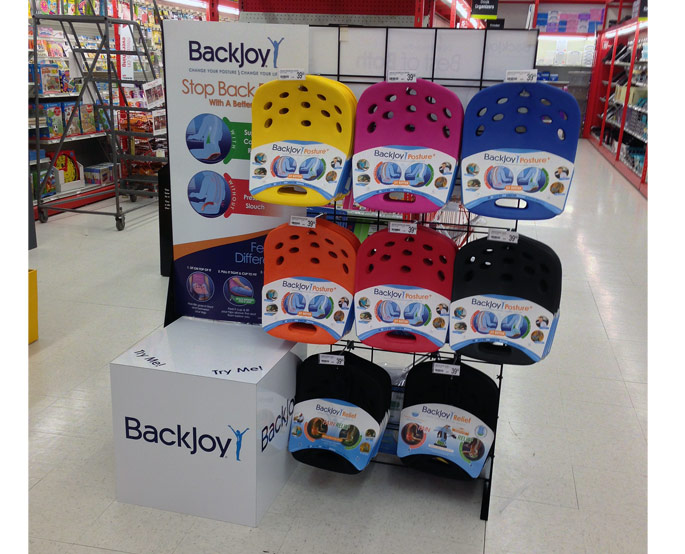 BackJoy Display Provides Shoppers With a Try Me Offer
Change Your Posture, Change Your Life – BackJoy took their tagline into office supply retailers with this two-sided wire grid floor display. One side of the display was dedicated to their 'sit' products while the other side merchandised an assortment of products from their 'stand' and 'sleep' lines.
For this brief, we are focusing on the 'sit' products. According to their website, BackJoy's patented back support offers a more comfortable and consistent way for optimal sitting posture by tilting the pelvis in an upright position. The advanced Core Material is designed to support the body in any type of seat and best of all, the lightweight construction and integral handle offer portability. All of these attributes were realized by shoppers who were able to use the cube shaped test area for a trial run. This Try Me! section of the display is hero and serves as a great way to encourage shopper engagement and education. BTW, these things really do work!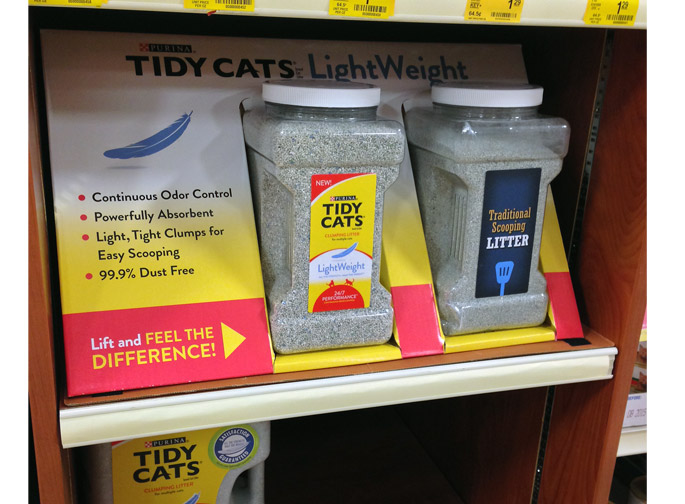 Tidy Cat Interactive POP Display Demonstrates New LightWeight Features
We recently completed an article on this display but felt it deserved a second-showing in this edition of Trending POP In-Store. Rather than reiterate what has already been written, click here to view the complete in-depth editorial.