Popon is pleased to bring you our 18th installment of cool POP displays, trends and ideas. Our vigorous store checking schedule presents us with numerous interesting examples of designers and brands coming together to deliver outstanding promotional materials that we like to share with our audience of dedicated POP professionals.
As always, if you are interested in showcasing some of your unique designs and promotions, do not hesitate to contact us for more details.
Colgate Shelf Diorama Displays Optic White Kits
Colgate Optic White is making a category impact at drugstores with this inline diorama shelf display. The whitening kit consists of a first-ever, special toothbrush with built-in whitening pen that offers a convenient and affordable way to get whiter teeth in just two days.
The injection molded merchandiser held products on either side of the three step copy panel. Even though the packaging does a good job of presenting the contents, a curved enclosure on the front showcased the brush and pen, offering shoppers a more dramatic view of the kit's contents.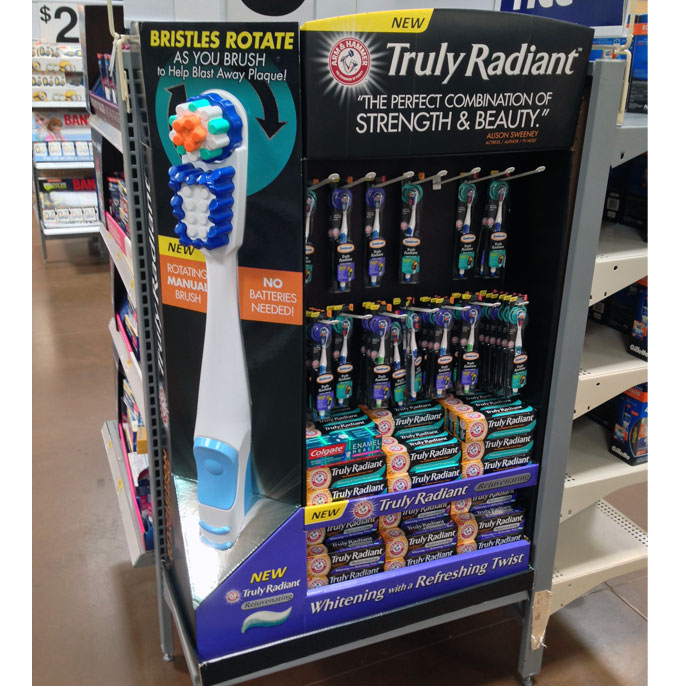 Arm & Hammer End Cap Blasts Away Plaque
Church & Dwight Co., Inc., the maker of ARM & HAMMER™ oral care products, made an appearance in Walmart aisles with this impressive end cap display. Consuming the space of a typical four-shelf promotion, the large end cap was designed to hold a variety of toothbrush and paste variants.
The Product
ARM & HAMMER™ Truly Radiant™ Toothpaste…..according to the brand's website, the revolutionary new toothpaste does much more than just whiten, it goes beyond the surface to strengthen, clean and repair tooth enamel for a radiant smile in just 5 days!*
Spinbrush™ Truly Radiant™ Deep Clean Manual Toothbrush……brand claims include…..Truly Radiant™ Deep Clean is the only manual toothbrush that features a rotating head, plus elongated, all-access bristles that get deep in-between teeth to help blast away plaque.
Several variants of both toothpaste and brushes were neatly organized next to a larger-than-life replica of the top section of a brush. Definitely the showpiece, the round set of bristles was motorized to replicate the movement that manual brushing would produce. We give this one a thumbs up…….the graphic scheme, structural execution and replica brush were well done.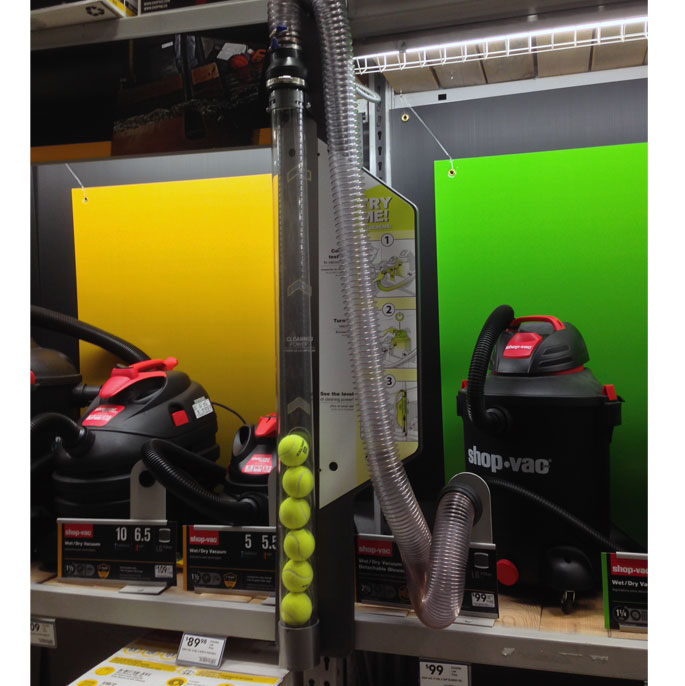 Shop Vac Try Me Suction Display
A recognized leader for over 40 years, Shop-Vac Corporation is known for innovative, high quality vacuum cleaners and accessories. Their products can be found in consumer, industrial and commercial markets. Reinforcing their quality product reputation, the brand is using this interactive demo display at home improvement stores to demonstrate the sucking power of their products.
The display enables shoppers to plug it into one of the vacuum cleaners using the how-to instructional chart affixed to the side tube. Once plugged in and powered, the vacuum sucks up the six tennis balls that are housed inside of the plastic cylinder, providing a visual for the distance the balls travel up the cleaning power chart.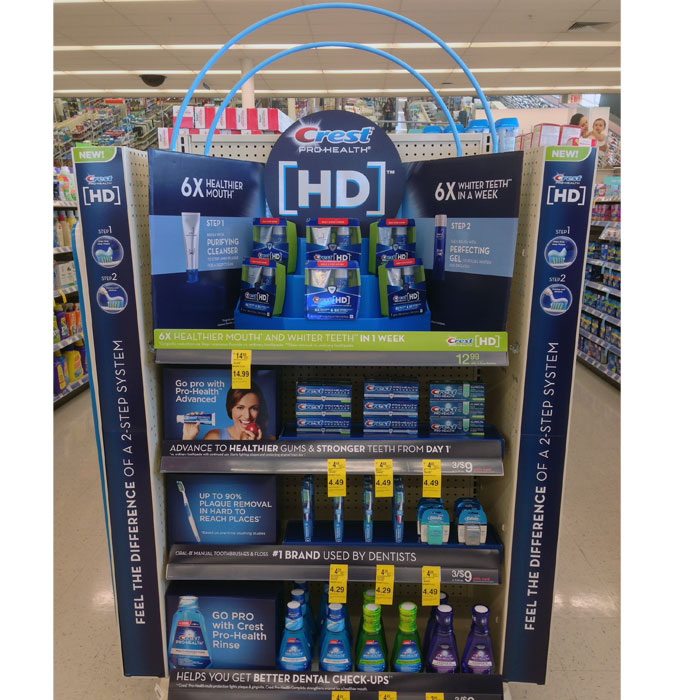 Crest Pro-Health Feature End Cap Showcases New Variant
Proctor & Gamble recently made an appearance in Walgreens to debut its Pro-Health HD two-step daily use toothpaste. The new toothpaste can deliver a six-times healthier mouth and six-times whiter teeth in one week when used correctly, according to the company.
Featured on a full end cap, Pro-Health HD was highlighted on the top shelf with a pedestal-style podium. Flanking both sides of the podium, angled graphic panels educated shoppers on the benefits provided by the two-part system. A circular crest logo and two plastic half loops created a radiating 'broadcast' design, adding visual interest across the store.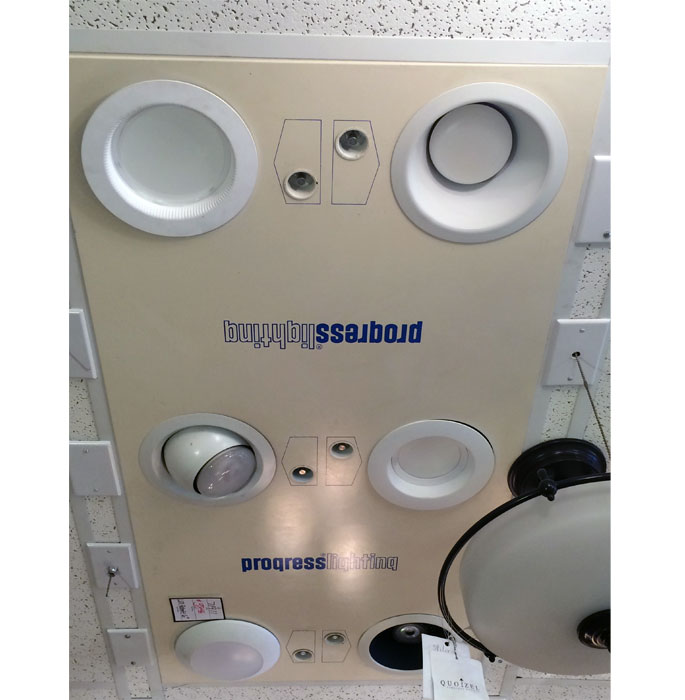 Progress Lighting Ceiling Display Panel Has Shoppers Looking Up
For over 100 years, Progress Lighting has been meeting the needs of homeowners and builders with their diverse selection of high quality lighting fixtures. With a catalog boasting over 5,000 products, Progress Lighting has earned the reputation as the #1 decorative lighting line among builders and remodelers.
No stranger to retail, the brand was spotted lighting up the aisles with this ceiling display. Showcasing their recessed lighting products, this tile display fits right into retailers' décor, permitting shoppers to obtain an optimal visual for the six lights housed on the display panel.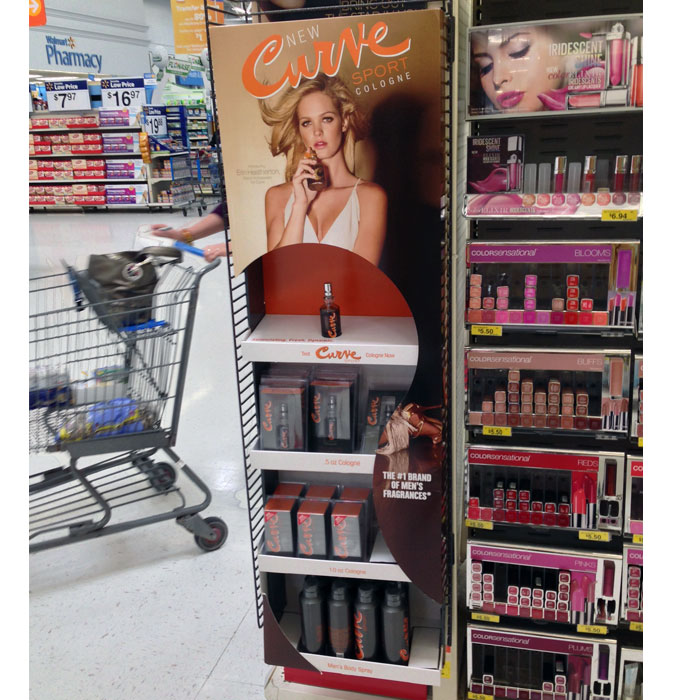 Sleek Curve Sport Side Kick Features Brand Spokesperson
Curve and new brand ambassador Erin Heatherton were recently featured in fragrance aisles at Walmart stores across the U.S. with this 48″ side kick. A former basketball player and ranked as one of the top sexiest models, Erin is best known for her work with lingerie retailer Victoria's Secret. Both experiences are a perfect marketing recipe to create disruption in the men's fragrance category.
The corrugate display pictured above merchandised two cologne and one body spray variant which were nestled into pockets created by the curvy graphic wrap. A tester section near the top enabled shoppers to sample the cologne. In addition to promoting men's products, we also found this same display serving a dual purpose role merchandising a variety of women's fragrances.