Popon is pleased to bring you our 16th installment of cool POP displays, trends and ideas. Our vigorous store checking schedule presents us with numerous interesting examples of designers and brands coming together to deliver outstanding promotional materials that we like to share with our audience of dedicated POP professionals.
As always, if you are interested in showcasing some of your unique designs and promotions, do not hesitate to contact us for more details.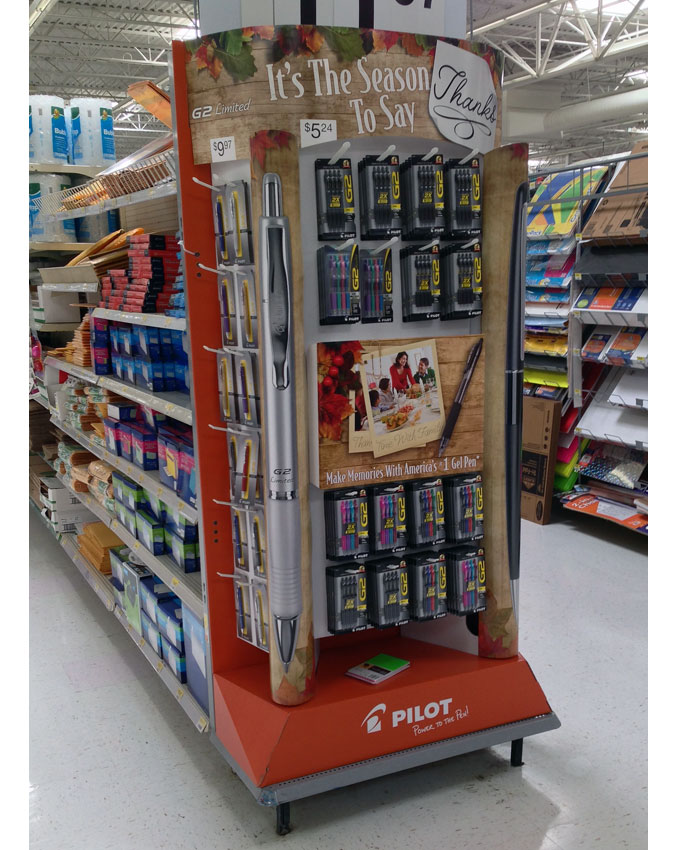 Pilot Says Thanks With Seasonal End Cap Display
Established in 1972 and the third largest writing company in the United States, Pilot recently rolled out this seasonal end cap display to promote their most popular line of pens. Decorated with festive fall graphics from top to bottom, the end cap is inviting and offers three sides to shop from. Below the tagline message, "It's The Season To Say Thanks", two curved corner posts highlight the featured pens on display. This merchandiser is eye-catching and gives shoppers the Power Of The Pen!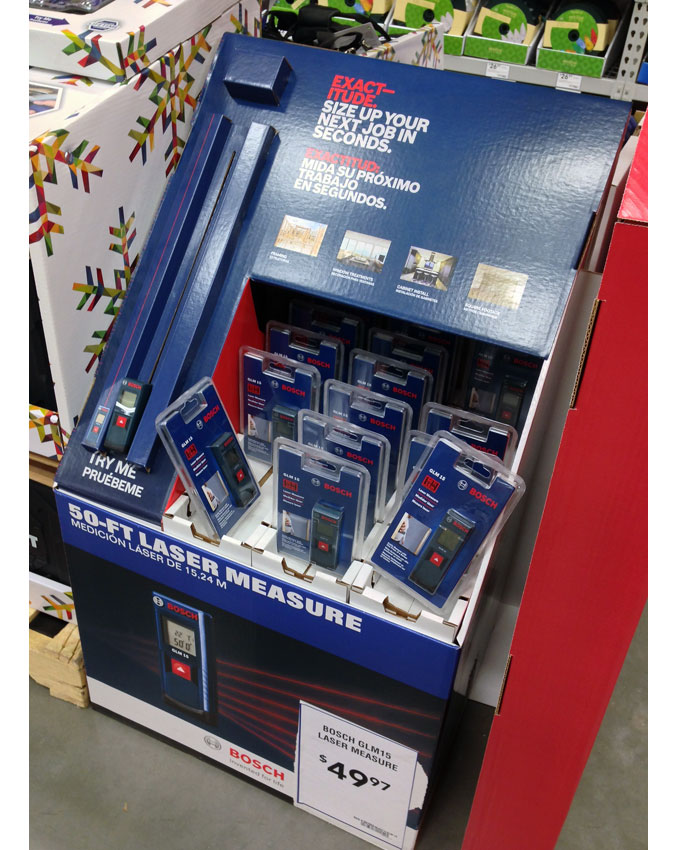 Bosch Laser Measure Display Encourages Shoppers To Try Me
Bosch and Lowes partnered up to promote the GLM15 Laser Measure. According to Bosch, the GLM 15 Laser Measure is the smallest, simplest way of measuring based upon its portability and continuous measurement mode. With just one button, the GLM 15 makes measuring easier and faster than a tape measure.
To help consumers appreciate all of the product features, Bosch launched this interactive floor display that enabled shoppers to turn on a live product and run it up and down a vertical track, allowing them to see how the device works. This was accomplished with a simple corrugate block tabbed into the top portion of the track. When activated the beam and measurements would adjust accordingly based on distance.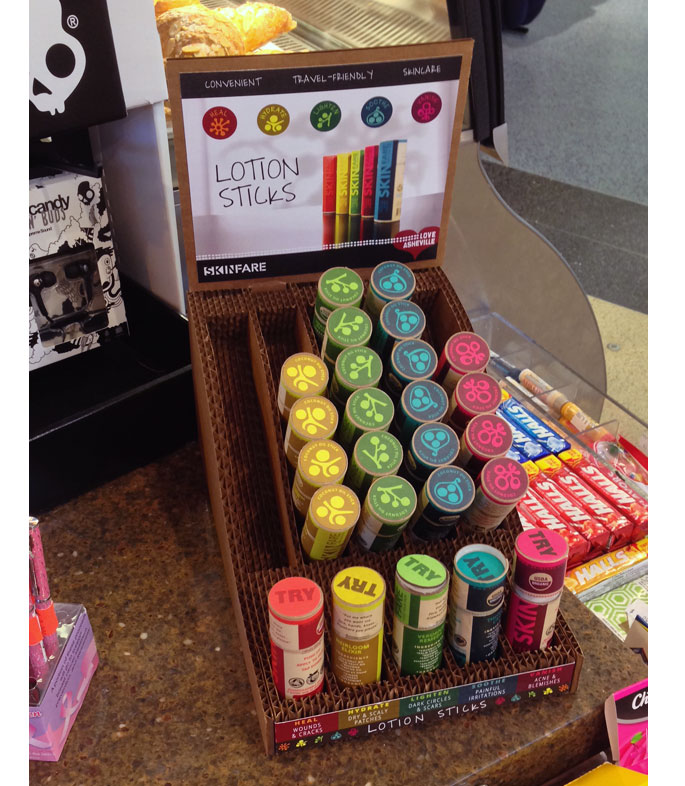 Skinfare Lotion Sticks Go Natural With Earthy Counter Display
Officially launched in 2011, Skinfare was started in Asheville, N.C. by a small-town couple inspired to create naturally-based skin care products. The company makes five varieties of skin salves that are packaged in biodegradable paper tubes which are available in over 350 locations across the country.
Staying true to their natural roots, Skinfare was spotted in a specialty store with this very cool counter display. Exposed corrugate dividers were designed to display the five base skus. Directly behind them, several pieces of product were placed in their own corresponding curved chutes. A simple riser and small copy panel finished off the presentation at retail.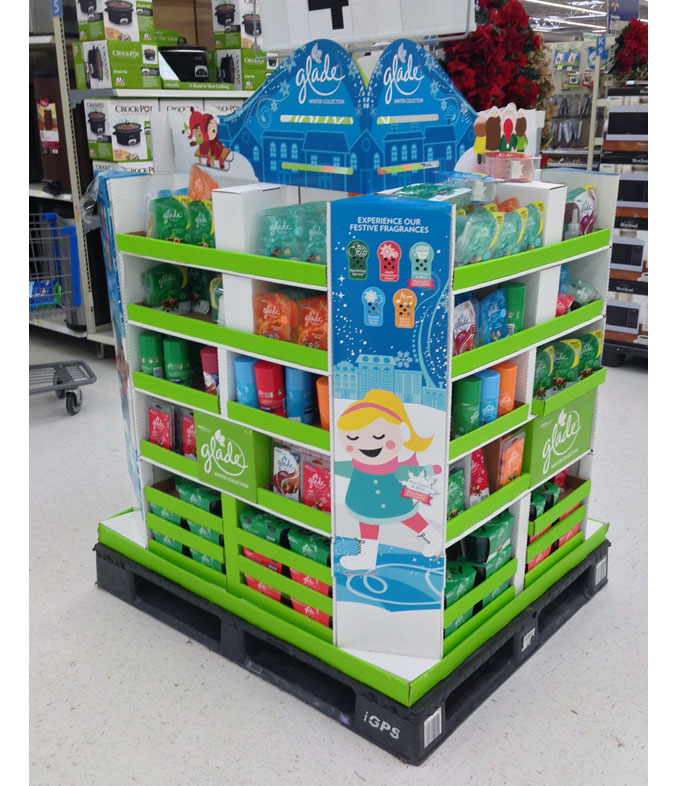 Glade Holiday Pallet Display Lets Shoppers Try Before They Buy
Glade rolled out this pallet display at Walmart to showcase their 2014 Holiday Fragrance collection. A total of eight holiday/winter fragrances, available in candles, room sprays, plug-ins and wax melts were merchandised on all four sides of the display. A special variant, Hot Cocoa & Mint, was designed exclusively for Walmart shoppers.
The feature that grabbed our attention was the corner graphic fillers. Decorated with holiday-themed graphics, each of the four fillers were designed to let shoppers 'experience our festive fragrances'. Printed and die cut fragrance icons allowed shoppers to get a good sniff of the scent offerings on display. A great try before you buy feature that Glade used on their Wild For Spring Pallet earlier this year.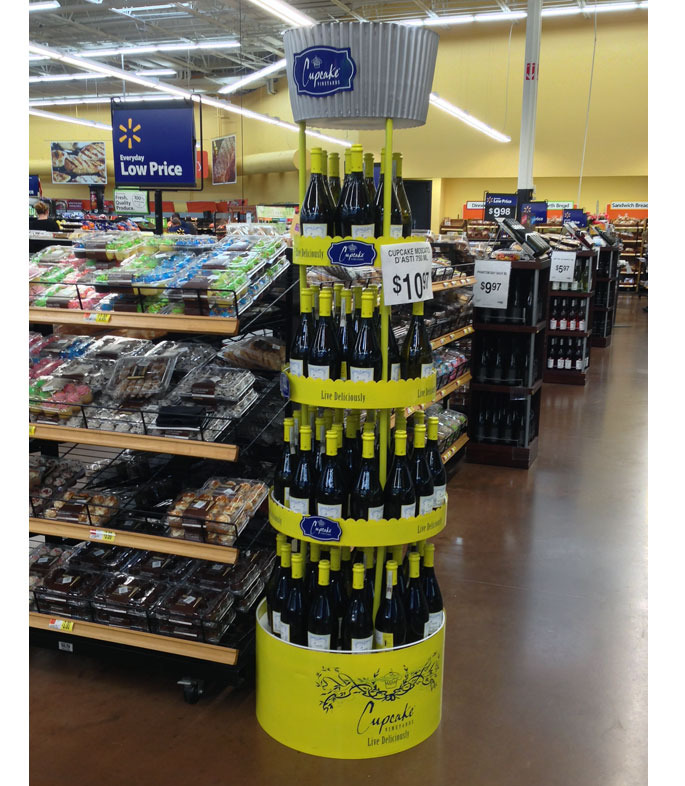 Cupcake Vineyards Floor Display Lives Deliciously In Store
Based out of California, Cupcake Vineyards offers an extensive portfolio of finely-crafted wines using some of the best sourced grapes from all over the world. The winemaker recently expanded its presence in the retail arena with this whimsical floor display.
The well-built merchandiser holds several bottles of wine on concentric circular shelves that were finished off with scalloped edges. The round base and shelves were printed with brand assets over a very bright yellow background. Moving to the top, the icing on the cupcake…no pun intended, is the replica of a silver baking cup which adds a great finished touch that represents the company's personality and brand identity.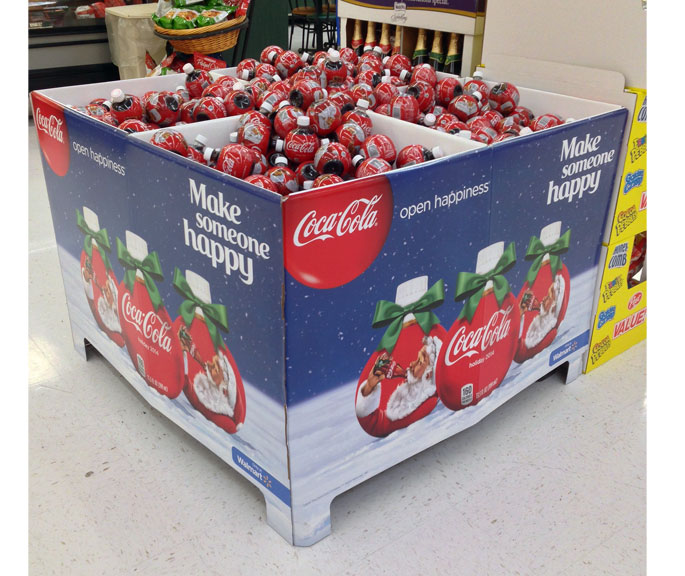 Coca-Cola Limited Edition Dump Bin Display
Coca-Cola is making a holiday appearance at retailers with a limited edition ornament bottle. Originally designed by Haddon Sundblom for an advertising campaign, the bottle's bright red label depicts Santa Claus drinking a bottle of coke.
No need for a fancy schmancy POP for this promotion as the product does all of the selling. A simple pallet display with internal dividers and great graphics invited shoppers in for a closer look. Definitely a cool and collectible offering from Coca-Cola.