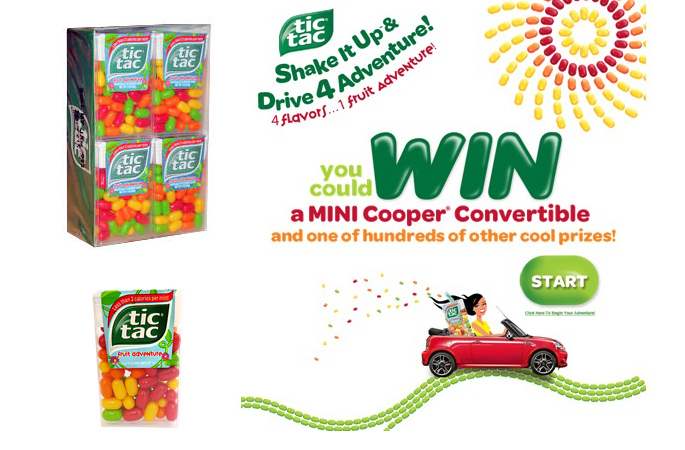 In celebration of this summer's Fruit Adventure Flavor Pack – which features orange, passionfruit, green apple and wild cherry – Tic Tac has launched a Shake It Up & Drive 4 Adventure instant win game and sweepstakes.
The contest, which began on May 21 and runs through August 18, offers fans and shoppers a chance to win one of hundreds of really cool prizes such as gift cards, i-pads and a one month supply of Fruit Adventure Tic Tacs. Instant win participants are automatically entered into the grand prize drawing for a chance to win a brand new 2012 Mini Cooper Convertible. The contest was made available through Facebook where fans were encouraged to "Like" the sweepstakes for their chance to enter and win.
To support the promotion in-store, the TIC TAC marketing team created an exciting floor stand display that highlights the new Fruit Adventure pack and clearly informs shoppers about the contest via several graphic elements that were printed on the large graphic shroud. Besides the sweepstakes contest, additional incentive to purchase was offered through the coupon pad adhered to the top of the display.