For more than 75 years, motorists have relied on the superior performance provided by Bosch wiper blades. Carrying on the tradition of advanced design and safety, Bosch has launched it's line of Steel Tech wiper blades with retail giant Walmart.
Renowned for high-quality engineering, Steel Tech wiper blades are equipped with a flow-through frame that fights blade lift-off for a consistently clear wipe. The blended rubber withstands temperature extremes for outstanding performance, and the precision-cut wiping edge removes even the smallest droplets for a clear windshield.
To help convey all of this technology in a simple-to-understand message at retail and encourage sales, Bosch has deployed a dedicated end cap display to assist motorists with their purchase decisions.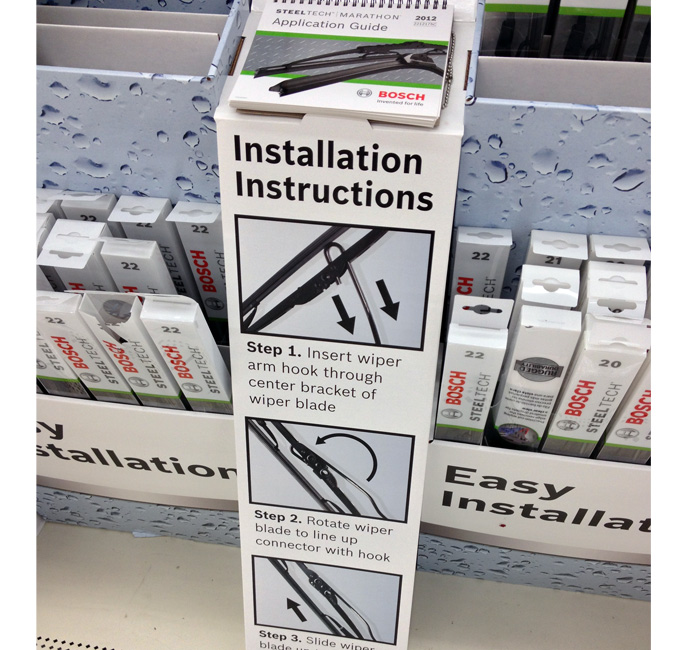 SHOPPER TOOLS – Alot of drivers avoid the "wiper change" as long as possible for the simple fact of having to install them. Bosch removed some of this guesswork by including an instructional chart right at the point of purchase. Splitting the middle of the display in half and creating a nice visual element, the vertical copy panel with three images and printed instructions encouraged apprehensive shoppers that the wiper blades are not difficult to install. In addition to a measuring chart located on one of the side panels, an application guide, affixed just above the graphic instructions, were made available to further assist shoppers.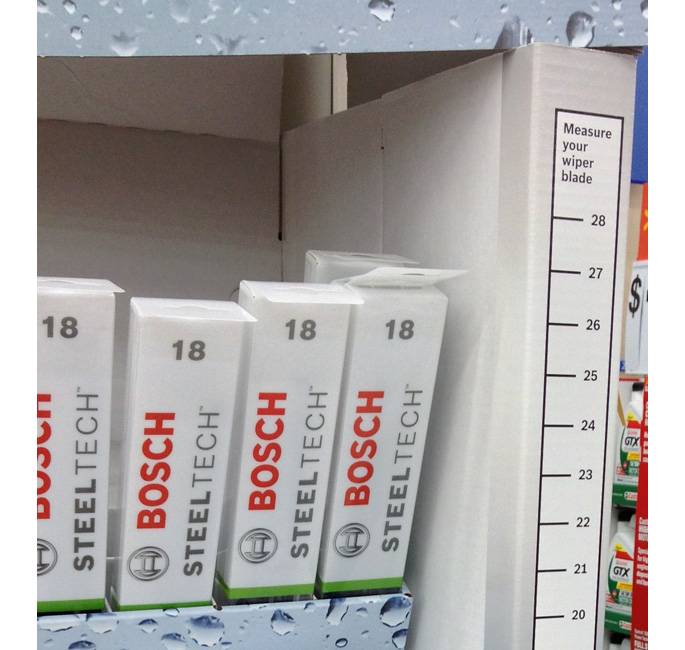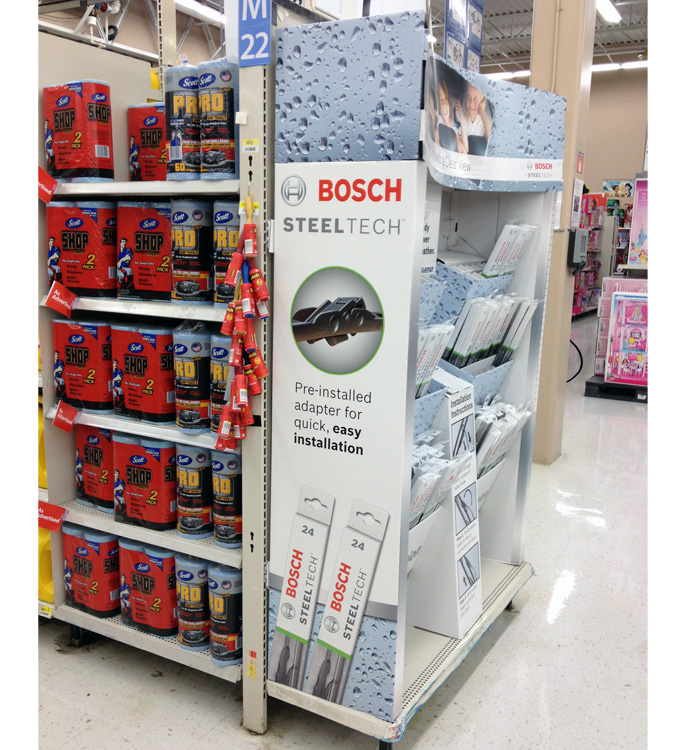 STRUCTURAL AND GRAPHIC DESIGN – Large and in charge, this end cap display accomplished several things for the Bosch brand. Let's start with the product orientation. Neatly arranged by size in their own cells, the wiper blades were leaned forward in larger pockets which enabled easy product access as well as a consistent tidy appearance on shelf. Huge side panels serves as vertical supports and copy space to catch shoppers attention from either end of the aisle. A somewhat predictable approach, the rain drop graphics really worked well from the header all the way down to the lower product bins. An especially reinforcing graphic on the curved riser depicting three kids in a car resonated with the "Be ready whatever the weather" copy that was printed on the center divider, stressing the importance of using quality wipers to keep the family safe.
This display is a winner from the top down. Great structure and informative graphics represented the Bosch brand quite well on-shelf. Other than installing the wiper blades for shoppers, not sure what more could have been included on the display to entice sales!