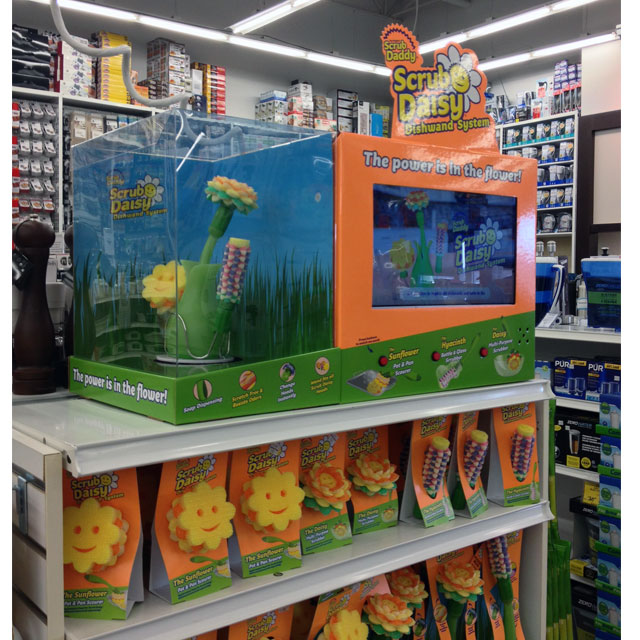 Founded in 2012, Scrub Daddy founder Aaron Krause and celebrity Shark Tank investor Lori Greiner collaborated to redefine the cleaning category in retailers across the globe with the Scrub Daddy. Late last year, the company introduced its latest product innovation, 'The Scrub Daisy Dishwand System®.
The new system, four years in the making, is ergonomically designed and very functional. The system consists of three flower-shaped interchangeable heads which are designed to handle every cleaning application: The Daisy®, The Hyacinth® and The Sunflower®.
"Innovation in our industry was absent until Scrub Daddy was born. Now we're applying that same innovative approach to the dish wand category," said Aaron Krause, Founder & CEO of Scrub Daddy Inc. "One of the biggest challenges with traditional dish wands is keeping them out of view, but close enough to serve their purpose. Thanks to our artfully designed Vase and Valet, Scrub Daisy hides in plain sight as a beautiful bouquet of flowers when she's off duty."
Scrub Daddy was recently spotted promoting their dishwand system at Bed, Bath and Beyond on an end cap display. The diorama-styled display allows shoppers to view all of the tools that comprise the complete system. An interactive screen, with three push button options, helped shoppers understand the functionality of the different heads. A complete assortment of the interchangeable heads were available for purchase on the shelves below the display.