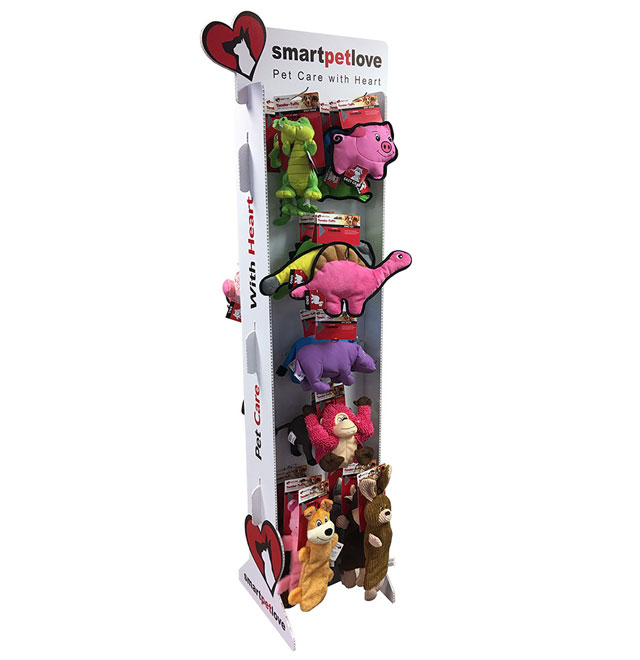 Michigan based SmartPetLove is implementing a new point of purchase strategy to increase their presence in the pet retail marketplace.
The company has announced several new product offerings in 2017, including new tender-tuffs pet toys that feature their exclusive TearBlok Technology™. They are considered the most durable pet toys in the industry.
"We have over 70 different tender-tuffs in a variety of categories including bottle toys, fetch toys, tug toys, and more," says Anjilla Young, Director of Marketing. "There's a tender-tuffs for every pet regardless of age, size or activity level. In addition to the quality and variety of tender-tuffs available, we feel our general approach to a fun, warm design that exudes personality has contributed to the overall success of tender-tuffs."
In an effort to showcase these products and the technology, SmartPetLove has taken a significant amount of time and effort to develop the right point of purchase merchandiser. They have selected Landaal Packaging Systems as their partner for displays.
When selecting a design for the display, SmartPetLove wanted to ensure that the displays would be as tough and as durable as the products that they were showcasing. Utilizing Falcon Board, a sustainable, heavyweight paper product, Landaal's design team developed a unique, easy to assemble display that could be shopped from two sides.
"Falcon Board is an ideal material choice when there is a significant amount of weight being placed in the display or when trying to get an extra-long life cycle from temporary in-store merchandisers," shares Bob Landaal, the Vice President of Sales and Marketing for Landaal Packaging Systems.
After the structural design was finalized, the Landaal graphics team applied the marketing visuals and the program was ready to launch. By utilizing their large format digital print and cut capabilities, Landaal was able to produce these full color units within a very short time frame and without extensive tooling and plate costs.
"The tender-tuffs display allows retailers to utilize previously unused store space while at the same time carrying over 48 different SKUS of tender-tuffs to meet the needs of their customers," says Anjilla. "We value our retail partners and want to make sure they have the right tools and materials for their stores to help in the selling process."
Landaal Packaging Systems' mission is to be the best full service provider of packaging products, supplies and services. Since 1959, they have helped customers solve their packaging problems with innovative ideas, uncompromising product quality and on-time delivery. As a family-owned business, they offer a tradition of consistent, reliable service to companies in the retail industry. For more information visit: http://www.landaal.com/pop
Contact: Terry Choate, Marketing Manager, terry.choate@landaal.com
About SmartPetLove
Our pets are more than just pets, they are family. At SmartPetLove, we don't just understand that, we live it. We tap into the growing knowledge base in animal behavior to create smarter and more effective ways to care for our customers' furry family members. We design all of our products to speak to a pet's natural instincts in ways that alleviate anxiety, provide comfort and calm, promote play, and strengthen the bond between pet and pet parent to help create happy, harmonious homes. For more information, visit us at http://www.smartpetlove.com.
Contact: Anjilla Young, Director of Marketing, anjilla.young@smartpetlove.com