This design insight didn't make it to publication a few years back but we decided to give it a go in 2018 as it's an excellent example of a well designed retail planogram.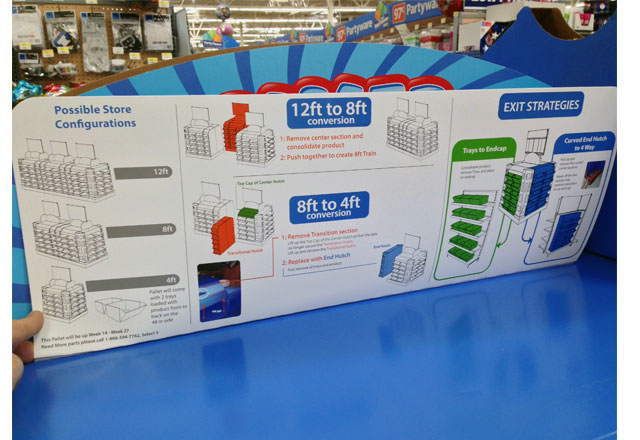 The top of the display modules were covered with a paperboard panel that was printed blue on one side and assembly instructions on the other.
The blue side directed retailers to 'Lift the flap for instructions on how to break down the pallet and exit strategies'. Once flipped open, a very detailed diagram revealed possible store configurations and exit strategies. The 'configurator' is a great way to provide merchandising flexibility for Walmart stores based on current in-store > on-floor promotions.
In addition to providing configuration guidance to store personnel, the diagram also demonstrated additional merchandising options based on product sell through. If nothing else, this approach extended the life of the promotion and hopefully resulted in a more robust ROI.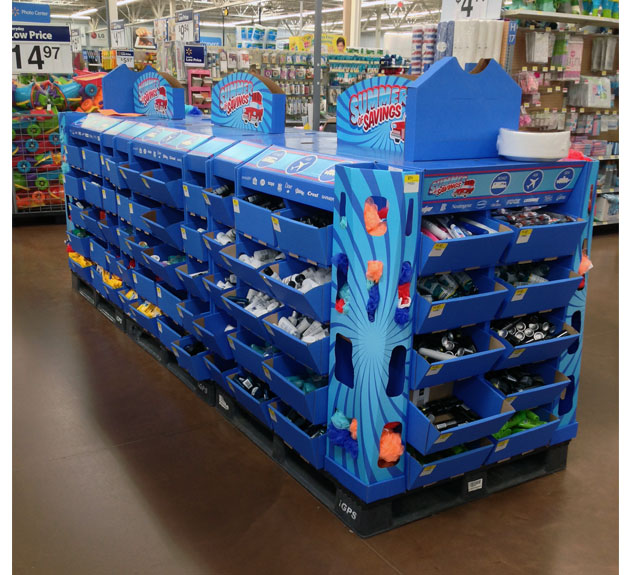 View of completed 'Summer Savings' pallet train showing the extendable display bins which contained travel-sized products.
Related
Retailers Flip Over Pre-Attached Riser
Elefun & Friends Are Popping Up In Store
Delsym Flip Up Riser Reduces Shipping Footprint