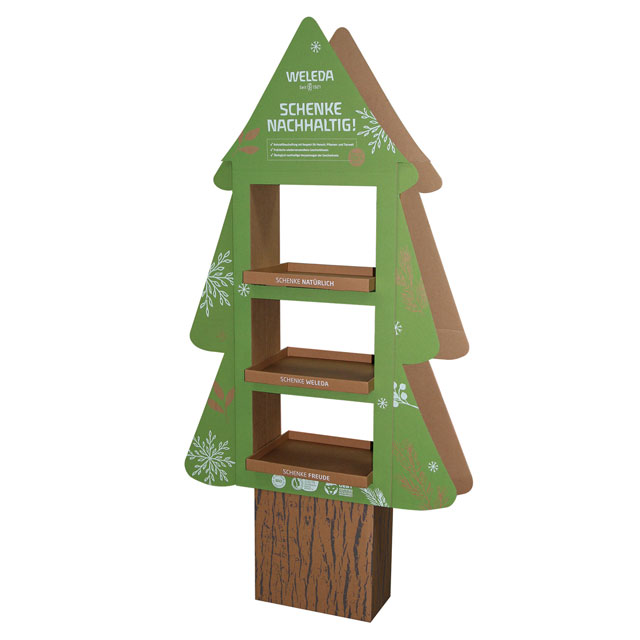 Thimm is a double award-winner at this year's POPAI D-A-CH Award in the "Beauty and Fragrances" category. With its sustainable "Green Christmas" floor display for Weleda and e-commerce packaging for online retailer Salwa Petersen, Thimm positioned itself successfully against the competition. The winners were announced in a virtual gala on the evening of 19 May.
Thimm won the Bronze POPAI Award in the "Beauty and Fragrances" category for the "Green Christmas" display stand for the natural cosmetics manufacturer Weleda. Acting sustainably and conserving resources is firmly anchored in the principles of Weleda. Thimm helped its customer Weleda combine Christmas and sustainability and bring them to life in a high-impact POS display.
Thimm created a display with a Christmas tree look made from corrugated cardboard with a 100 percent recycled paper content for the secondary placement of Christmas gift sets. It has three easily restockable shelf levels which invite customers to reach into them. The fronts of the Christmas tree were flexo printed green and then printed with Christmas designs and the core message of "Give Sustainably". The backs and the shelves are coloured brown to reflect the natural, brown colour of corrugated cardboard. Delivered flat-pack to save transportation and freight volumes, the display is very easy to assemble at the POS.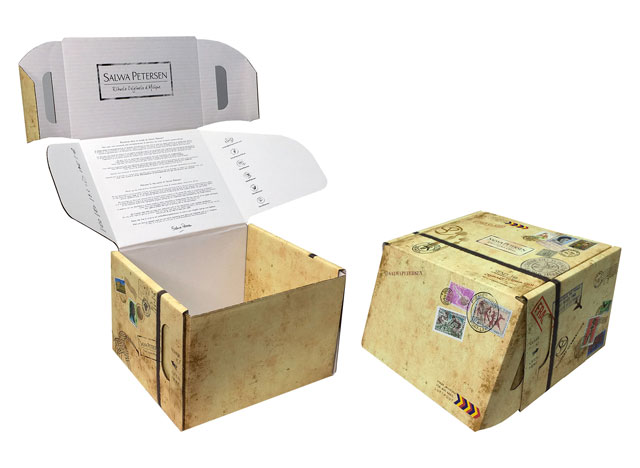 Thimm won a Bronze Indian in the same category for the shipping packaging with a secure lock for the Salwa Petersen online shop. This start-up specialises in hair care products. The owner Salwa Petersen combines traditional recipes from her home country of Chad with modern techniques. The focus for this young company was to create a high-impact look for its very first shipping packaging combined with product protection and secure product shipping.
The corrugated cardboard security lock ensures the packaging remains sealed during transportation and also protects it against unauthorised opening. Additional adhesive tape for sealing is not required. In contrast to brand placement in bricks-and-mortar retail outlets, the first customer contact in the e-commerce sector takes place when the order is unpacked. Salwa Petersen was therefore very focused on making the shipping packaging very attractive. Thimm fulfilled this request with a digitally-printed full-surface, high-impact print image on the outside cover. Furthermore, the specific customer targeting inside the shipping packaging created by direct printing ensures the customer enjoys their unpacking experience.
Due to the global pandemic, the POPAI D-A-CH Award was held completely digitally this year. This year's winners were announced as part of a virtual gala, which could be followed live on the award's YouTube channel.
For over five decades the non-profit organisation POPAI (Point of Purchase Advertising International) has been hosting competitions worldwide in which companies and service providers are awarded prizes for their POS activities. The POPAI D-A-CH Awards in German-speaking countries have been presented since 2009. They take all activities relating to POS marketing into account – from classic POS materials through to sales support measures. An independent jury consisting of 25 experts from the fields of branding, retail, design and science selects the winners of the POPAI D-A-CH Award in a total of 15 categories. The prize presented is an Indian which recalls the first 3D display which was developed in the form of an Indian.
About Thimm
The Thimm Group is a leading solutions provider for the packaging and distribution of goods. Its solutions portfolio includes corrugated cardboard transportation and sales packaging, high-quality promotional displays, packaging systems combining a range of materials, and print products for further industrial processing. Through its innovative and sustainable solutions Thimm helps its customers to differentiate and individualise themselves in the market. To this end in its sustainability vision for 2030, the family business anticipates economic, environmental and social challenges in advance and solves them. Thimm Group's aspiration is to always offer customers the best solution. This strong customer focus drives the innovation and the pioneering spirit of the company. Therefore, there is consistent investment in expanding the company's market presence and in future-oriented technologies. Founded in 1949, the family business currently has more than 3,300 employees at 21 sites in Germany, France, Poland, Romania and Czech Republic and generated annual revenues of around EUR 605 million in 2020. For more information visit www.thimm.com.
Press Contact:
THIMM Group GmbH + Co. KG
Denise Hoffmann, Brand and Corporate Communications
Telephone: +49 5551 703 802