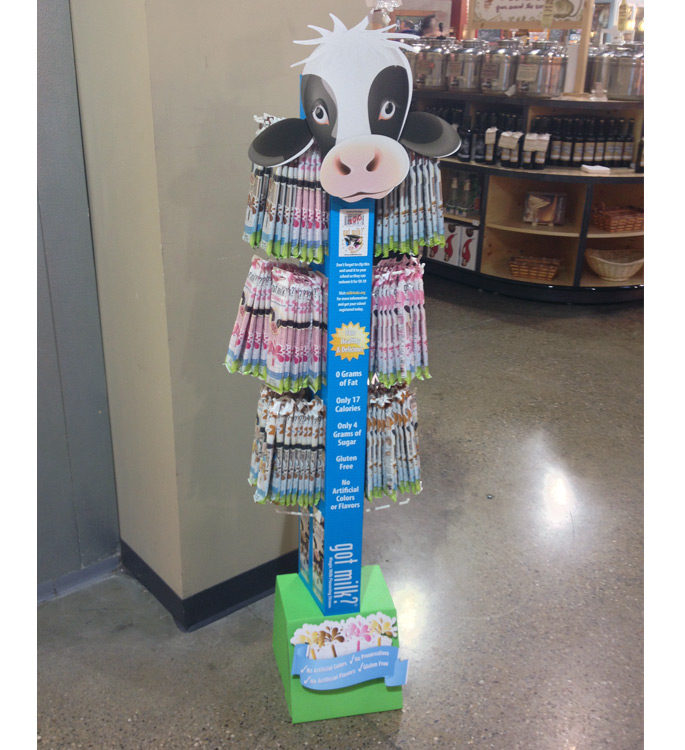 We all know that milk does a body good but sometimes a bit of flavor is needed to encourage the growing kid to drink a wholesome glass of milk everyday. The answer…….milk flavoring straws!
Magic Milk Straws are a great solution that provide a fun, mess-free way to enjoy a cold glass of milk. Each recyclable Magic Milk Straw is filled with all-natural flavor beads which transform your milk into a delicious treat. As you sip, the beads dissolve and infuse tasty strawberry, chocolate, vanilla milkshake, or cookies and cream flavor into your milk. Available in 13 flavors, including the four core flavors mentioned in previous sentence, the brand also launches seasonal delights such as orange crème for summer and Neapolitan for fall. In addition, loyal users can go to their website and submit their own flavor proposals for a chance to win bragging rights and prizes.
The beauty of Magic Milk Straws is that they are low in sugar, lactose-free, gluten free, preservative-free and have zero cholesterol and fat so just about anyone can enjoy. They're such a great way to encourage milk drinking that the Milk Processor Board lent their Got Milk? brand to endorse the product.
Combining nutrition and fund raising, Magic Milk Straws has partnered with milk4edu.org to help kids raise money for their schools. With every specially marked Magic Milk Straw product shoppers purchase, they can help generate up to $0.10 for the school of their choice. There's no limit to the amount of money individuals can raise. This is a really great program because it gives kids the opportunity to generate money for programs like playground equipment, computer labs and art supplies and it provides a nutritious alternative to sugary beverages that kids favor.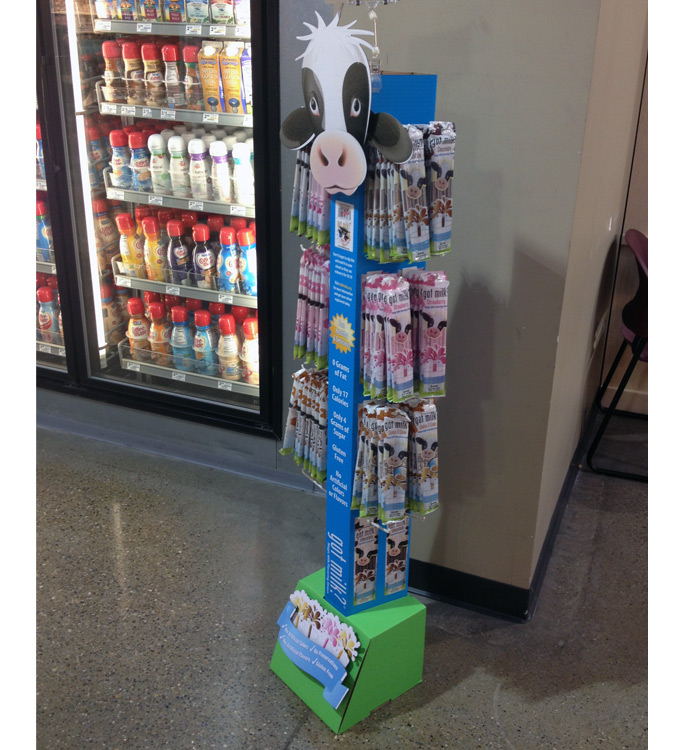 Location, location, location! No secret that product placement is key to driving consumption. It's also a well-known fact that using the proper display vehicle placed in an optimal location in-store will provide even greater lift. Well, Magic Milk Straws has achieved that and then some.
Designed to reside in the dairy section at-retail, more specifically, by the milk coolers, shoppers can find this small floor stand display merchandising the delicious and nutritious Magic Straws. Shoppable from two sides, the skinny tower support can display up to an impressive 16 variants on plastic hooks. Live package shots were printed behind each row of product to help retailers restock accurately and most importantly, to inform consumers of the other flavors in the Magic Straw family.
Due to the small scale of this display, copy space was at a premium so it was vital that brand hit all of their key marketing points. Starting at the base, a die cut dimensional tip-on highlights the four core flavors as well as some nutritional facts. Moving upward onto the blue product support, the Got Milk? logo is printed below additional nutritional bullet points that persuade moms to give Milk Straws a try as a fun and healthy alternative to competing syrup-based milk flavoring products.
Supporting the fund raising side of the campaign, a representation of the redeemable bar code portion that is found on the back of specially marked packages was printed at the top of the column. Just below that a reminder to redeem the coupon and to visit milk4edu.org to register their school was printed in bold white type. Lastly, the die cut brand spokesperson….cow head…..was tipped-onto the very top of the structure, creating instant curiosity for shoppers not already familiar with the brand. Overall, job well done and mission accomplished. The display met the needs of the brand and retailers looking to spike up sales of their white milk products.