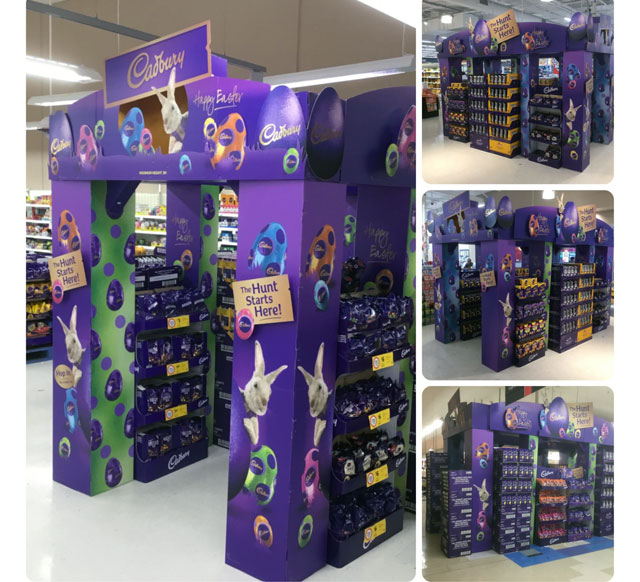 We are way too egg-cited about this egg-cellent piece of work our team in Australia created with the good eggs over at Mondelez.
We were tasked to create an unmissable Easter destination in-store to help shoppers experience the excitement of the season and shop the full range of Cadbury products to account for every family member's tastes and preferences.
Our solution? The Cadbury Easter House. Our design was a fully immersive, high-impact, impossible-to-miss in-store destination that was shoppable from the inside and out. The display appealed to the senses with sound, sight (and taste!) elements to make Easter shopping an experience, rather than a chore.
With the houses being installed in over 140 stores across Australia, we were able to provide a significant uplift on year-on-year sales and reinforce Mondelez' position as a brand of choice over the Easter period.
The display was produced by Tag.
About Tag
At Tag, our people make us exceptional. If you believe that the combination of different ideas, experiences, backgrounds and skillsets create a great place to work, then you belong here. We believe it and even our clients tell us that it is the creativity, flexibility and drive of our diverse workforce that sets us apart.
This is the opportunity to work in an environment that best suits your needs, fueled by flexible hours and locations, strong supportive benefits, career training and development and, most importantly, an inclusive environment that eliminates barriers and elevates voices, giving every member of the Tag team an opportunity to be seen and heard.
We've made a strong commitment to diversity and inclusion and are taking a stance on equality in the workplace. We support sustainability, in our organization and with our network of partners and suppliers. We have a dedicated team working every day to make Tag a place where everyone feels welcome, supported and appreciated. We back this up with consistent training, mentorships opportunities, open discussion forums, paid volunteer days, events and partnerships.
Life is a great balancing act. Work should be fun, and you should be celebrated. Here, you will work alongside some of the most innovative and creative minds in the industry, with some of the most influential brands across sectors, to bring creative ideas to life and to positively influence the way our clients communicate with their customers. You have access to the tools, technology and people who are on the forefront of creativity in the marketing space, with work that wins awards and earns recognition.
Find out more @ tagww.com