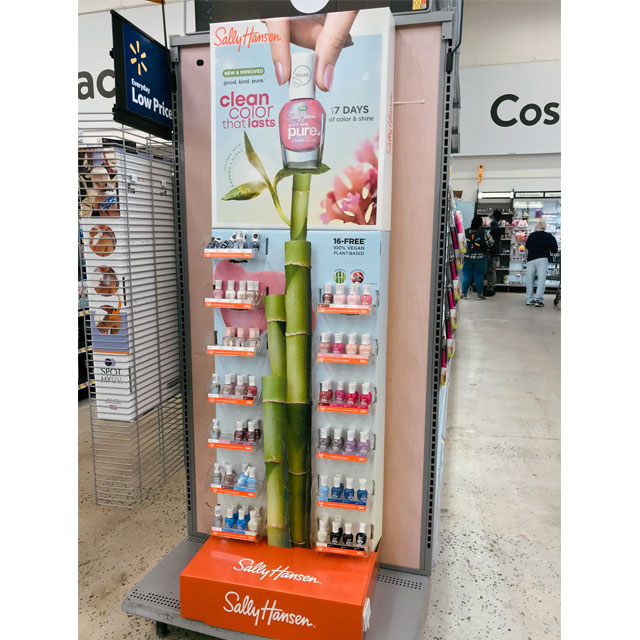 Inspired by nature and perfected by Sally Hansen
Sally Hansen is bringing the clean beauty of nature to your nails with their improved line of Good. Kind. Pure Vegan nail polishes. Available in 30 different shades, their new line boasts being 16-free, plant based and 100% vegan. To complete the package, the brand went as far as making the applicator brush with 100% natural, plant-based brush bristles for better application.
"Good-for-you products are becoming increasingly more important to consumers across all categories – and fulfilling consumers' desires has always been at the core of Sally Hansen's innovation," noted Celia Tombalakian, vice president of Sally Hansen Global and U.S. Marketing, in a press email. "We are thrilled to introduce good. kind. pure., our first vegan, plant-based line of color and care that enables consumers to create a beautiful, clean manicure at home."
In addition to several US-based drugstores, the brands' Good. Kind. Pure Vegan Polish is also available at Mass Merchant Walmart , currently being promoted on this end cap display. Sally Hansen hit on all the key brand assets and product attributes with this merchandiser.
Almost immediately, your eye is drawn to the large bamboo shoots that split the display in half. The dimensional bamboo lug-ons sync up with the flat messaging and large nail polish bottle printed on the riser. Clear, vacuum-formed shelves allow the various shades of nail polish to pop against the soft gradient background behind them. The end result of these combined ingredients help make this display visually exciting and inviting.
Check out some other Sally Hansen end cap displays
Get All 5 Items End Cap Display
Sally Hansen Liquid Mania Nail Art Full End Cap
Sally Hansen Girls Night Out Full End Cap
Pure Clean Fresh End Cap Display
Sally Hansen Keratin Strong End Cap Display
Sources include:
thezoereport.com