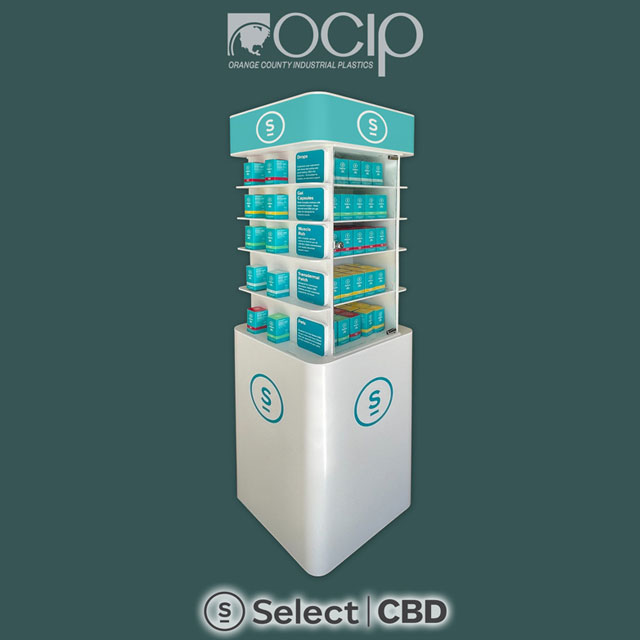 When Select CBD (a Curaleaf company) needed a secure, locking, free-standing, floor display for their products in the retail environment. They came to the experts at OCIP Displays & Distribution . This sturdy but lightweight functional design constructed from rigid expanded PVC foam is exactly what the client needed. Expanded PVC foam is a great alternative to wood and metal substrates.
It can be cut, drilled, bent, glued and direct printed. It accepts the same types of hardware that is typically installed in wood and metal substrates. Expanded PVC foam is also 100% #recyclable.
This design incorporates standard carpentry techniques as well as techniques that cannot be achieved with traditional substrates. It also includes clear acrylic components, stainless steel components, direct digital print and vinyl graphics.
About OCIP
Since 1982, OCIP has grown to become the recognized leader in the plastic distribution and fabrication industry. Specializing in turnkey solutions, we design, engineer and manufacture a wide variety of quality components covering large industrial demographics.
With a strong emphasis on quality customer relationships and superior products and services, we are able to complete any conceivable project, efficiently and cost effectively at our 80,000+ square foot Anaheim headquarters.
Whether your business is in need of a high volume rollout or the development of a prototype, we work closely and collaboratively with every client to properly assess project objectives and goals, insuring a successful job from concept to completion, every time.
Walk-In services are available to everyone because we like to provide immediate services to our clients. We welcome walk-ins at OCIP for individuals during our regular business hours, Monday-Friday from 8am to 4:30pm. For more information, simply walk-in or call us at (800) 974-6247.
Specializing in plastic fabrication and distribution of various products including acrylic sheets, Plexiglass nylon, Lucite, and many other materials.
OCIP is dedicated to plastic industry innovations and solutions, technical excellence, and on-time delivery, ensuring total customer satisfaction through continual process improvement.v Our capabilities also include a complete array of laser cutting and digital printing options. From in-store displays to packaging to plastic products, OCIP can image, develop and produce your project from start to finish.
Visit our site for more information – https://ocip.com/