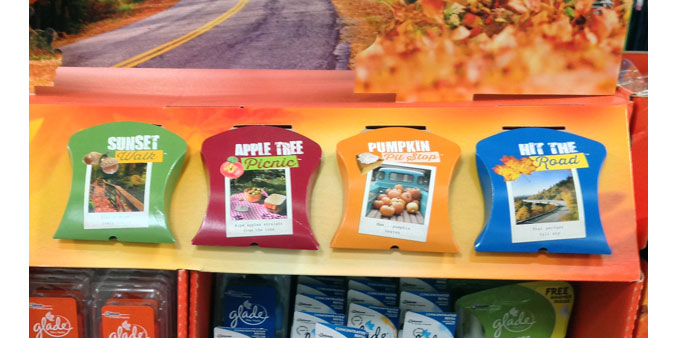 S.C. Johnson recently launched their 2015 Fall Collection with this festive pallet display designed exclusively for Walmart. The campaign was developed around the idea of making each Autumn day a perfect one with crisp and cozy scents. No stranger to seasonal fragrances, Glade is rolling out five new scents this fall, one of them being exclusive for Target. The other four are as follows – variant attributes included:
Sunset Walk – 'Aromatic notes of basil, oregano and parsley take you on a refreshing hike through a rustic forest. Sweet hints of dried cranberry, plum and pear follow closely behind for some serious trail fun.'
Apple Tree Picnic – 'Notes of meadow grass and wild berry surround you in the tranquil chill of a fall day. Scents of cable knit musk stay close to keep you cozy beneath the autumn sun.'
Pumpkin Pit Stop – 'Meadow grass and hints of wild berry wrap around you in an inviting embrace, while rich notes of whipped vanilla and crystallized caramel remind you there's always room for another slice of pie.'
Hit The Road – 'Notes of fresh air let the car's top down, revealing a perfect fall sky that leaves you feeling free and limitless. Hints of frosted herbs and autumn bark create a chill in the air, reviving you.'
The Fall Collection is being made available in the usual forms like candles, sprays, oils and wax melts. In addition to on-shelf category placement, all four scents were offered on this three sided half pallet display at Walmart.
Supporting the overall visual theme, die cut, Autumn graphics were created for the two 'Walmart Exclusive' corner copy panels. The riser sported L-shaped end panels and a recessed center graphic which provided a very inviting and dimensional appeal. The neatest feature on the display was the Squeeze-Smell-Discover interactive panel just below the riser. This trial area enabled shoppers to test smell the new fragrances using tethered scent pouches.