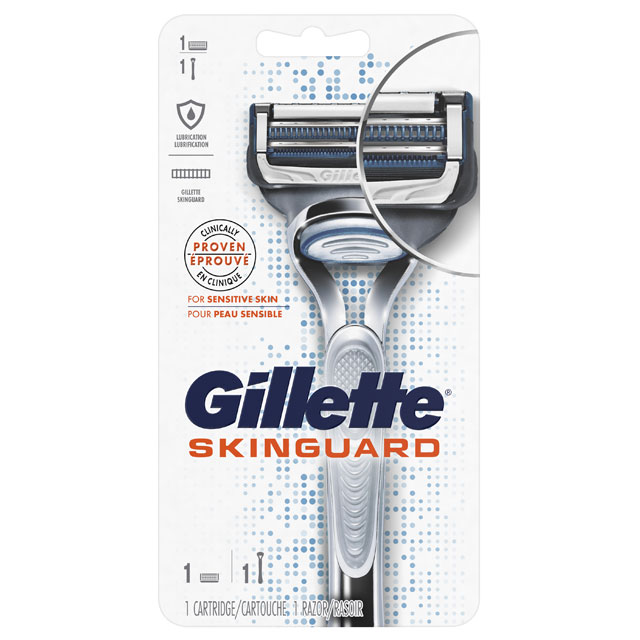 Gillette recently launched the SkinGuard razor, its latest product innovation with new technology that addresses the unmet needs of men who suffer from skin sensitivity and are seeking a razor designed to stop irritation.
Gillette's clinically-proven SkinGuard razor addresses the problem of shaving irritation through an entirely new design philosophy. This innovative razor uses SkinGuard technology positioned between two optimally-spaced blades to gently smooth and flatten the skin away from the razor blades during the shave. This ensures that hairs get trimmed at the surface level, with reduced tug and pull, while guarding sensitive skin from irritation. The SkinGuard technology also absorbs the weight from the hand so blades press less on sensitive skin. Similar to Fusion ProShield, SkinGuard also has lubrication before and after the blades to minimize friction during the shave.
"From our founding as a single-blade razor company to today's latest innovation, Gillette has never stopped exploring ways to make the experience better for men everywhere," said Gary Coombe, President, P&G Global Grooming. "The introduction of Gillette SkinGuard addresses a real problem for millions of men – and represents our commitment to ensuring every man has access to a shave that feels as good as it looks, and helps him look, feel and be his best."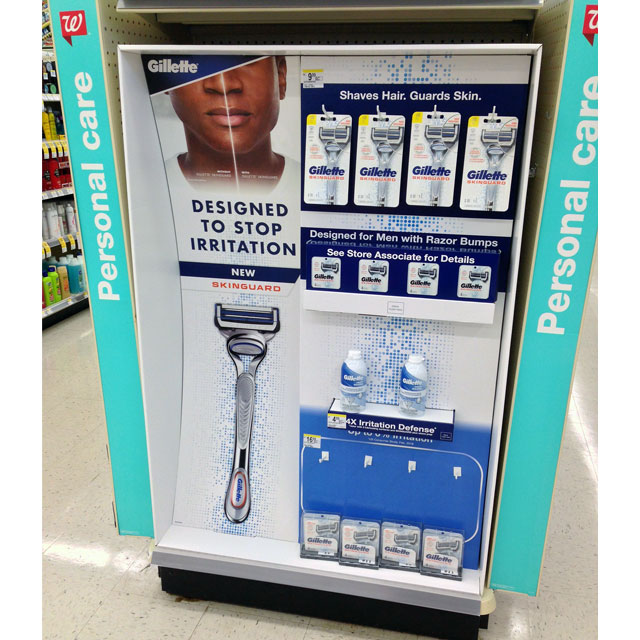 The brand is promoting the new razor at several major retailers, including Walgreens. The drug store chain provided P&G with premium real estate to accommodate this custom end cap display.
The large razor image and facial comparison graphic disclose brand assets quickly and effectively on the curved copy panel. The small, blue square patterns and copy call outs are visually refreshing as well. Overall, the display presentation was very clean and clinical.
We will post additional displays as we find them in store. If your company has produced any launch displays and would like recognition for your efforts, please reach out.
If you would like to view more Gillette related displays in our gallery, just type the word gillette into the search box and click enter.
Related
Shields Shave Side Kick Display
Gillette 10 VS 1 End Cap Display
References include:
P&G