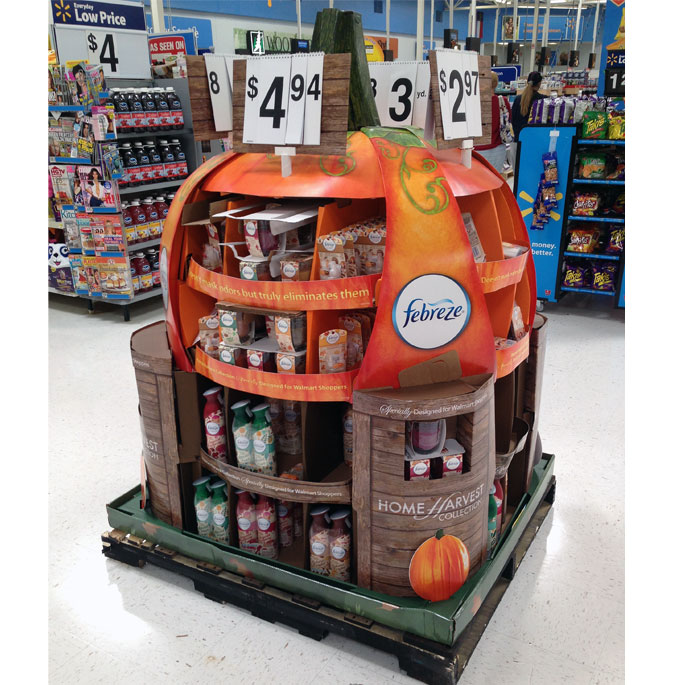 Febreze is bringing all of the fragrances of Autumn into your home with their limited edition fall Home Harvest Collection. Designed specially for Walmart shoppers, the fragrance collection debuted in this pumpkin-shaped pallet display. The collection is available in an variety of products including pump sprays, scented oils, scented candles and wax melts……plus vent clips for your car. The fragrances include: Toasted Almond, Sugared Cranberry, Spiced Pear, Vanilla Latte and Autumn Harvest.
Designed with seasonal flair, this pumpkin pallet was an instant draw in the aisles. The level of detail and structural approach on the display was second to none. The curvy pumpkin center piece 'appeared' to be supported by four barrel-shaped supports located on the corners. The heavier spray products were positioned in between these supports, grouped by scent.
The pumpkin structure was well thought out with all of the curved panels assembled to form a really great representation of the traditional orange pepo we all look forward to when the leaves start changing. The lighter products were merchandised within each of the four 'carved out' sections of the pumpkin. Other outstanding details on the display were the wood grain price holders and the green stem perched on top.