What would one expect from a shop-in-shop where the signage reads Crocs? A fun display synonymous to the brand that creates a 'shopper experience'. Kreo Design and Innovation helped Crocs develop a clever retail space that enabled the shoe manufacturer to merchandise product in a compact and convenient fashion.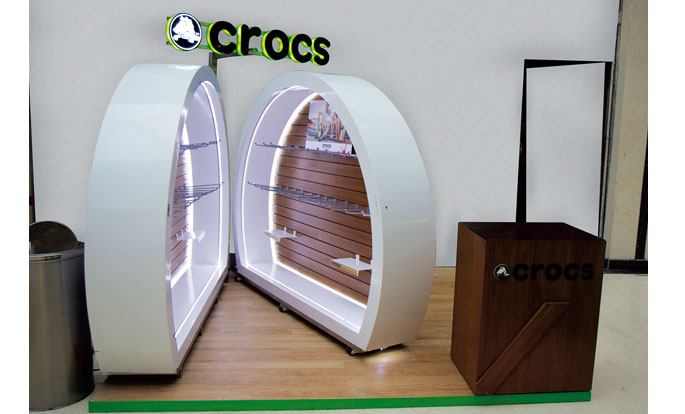 The creative brief required three main criteria: (1) the space had to merchandise 250 pairs of Crocs – (2) the shop-in-shop had to be easy top set-up and shut-down – (3) be as compact as possible. A brainstorm session of concepts followed and Kreo Design and Innovation came up with an 8'x8′, horse-shoe form installation that merchandised the desired sku count using a seamless open and shut mechanism.
"We also had to consider the fact that it needed to be positioned inside the mall so the shapes and structures developed utilized the maximum amount of space available to attract maximum footfalls. The particular visual highlight of the installation is its round, horse shoe shape which was inspired from the entire essence of the brand 'Crocs'," says Darshita Thaker, Founder and Design Director, Kreo.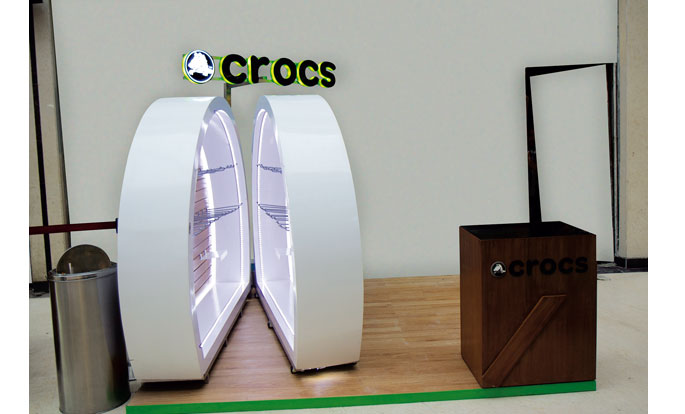 Its system of simply unlocking and spreading the two lobes of the unit works great to the convenience of the shop keeper. It is a one man job to open and shut the unit for business. The convenience factor, creative appeal and functionality make this shop-in-shop a powerful marketing tool that reaches out to shoppers to create a vibrant experience in a well-presented package.