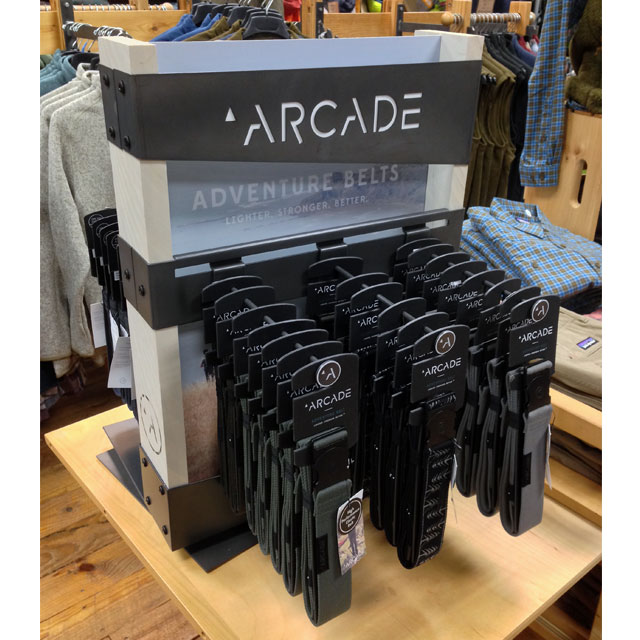 The First Ever Belt Designed For All Your Adventures
Arcade was founded upon the belief that belts could be designed to perform better for all of your go-to adventures. Through a grassroots movement, Arcade Belt Co. has been embraced by key retailers and a community of core influencers across a diverse market base including snow sports, surfing, climbing, biking and fishing.
In a recent interview with ASN, co-founder Tristan Queen gave some insight on the company's approach to marketing……."Our biggest competitors are big brands because even though a lot of them still view accessories as an afterthought, they have deep relationships with retailers … Which can make the accessory market feel bland, because from the shop's perspective, it's like, 'We already have belts.'

The way we see it is, everyone is trying to innovate. So as long as we take good care of everyone we do business with, they won't have a reason to do business with anyone else.

There are plenty of core brands that are doing cool things, and they aren't going anywhere because they're sticking with it and refuse to be forced out. And that's what's cool about the current landscape of our industry."
Competing against established heritage brands is a daunting task but Arcade was up for the challenge when it came time to make a presence in-store to prove why their product line is better than the others. To achieve this, the brand deployed a two-sided counter display designed for smaller outdoor retailers.
The merchandiser highlights all of the characteristics associated with Arcade's belt line: rugged, innovative, and high quality. The dual-sided display held 24 pcs of product per side and was designed with a spinner base so products could be easily accessed. The high end-looking unit was constructed using wood, laser-cut metal and plastic.
References include:
Arcade Belt Co.
ASN