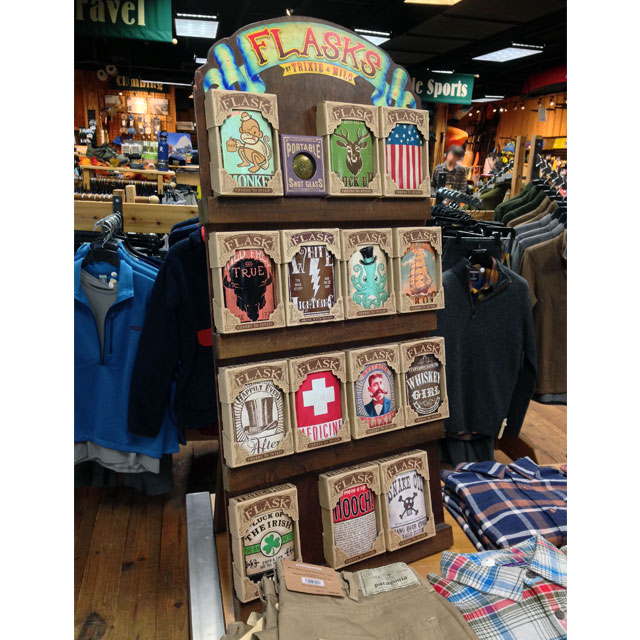 The Story of Trixie & Milo
After working many years for other people, Milo and Trixie decided to chuck it all and move to the north woods to start their own business. One day – after trying, and failing, at many different crazy business ideas – Trixie said, "Why don't we combine three of our favorite things: travel, art and drinking?"
Milo quickly agreed, "Genius!" he said, and TRIXIE & MILO was born!
Trixie and Milo believe that gifts and accessories should be useful, authentic and timeless. With that in mind, the couple founded the company in 2011 to make classic American flasks and drink-ware, and hit the road with their new wares.
They were an immediate hit! It seemed that everyone wanted a cool vintage style drinking flask.
Now, inspired by the hardworking men and women who built America in the last century, Trixie & Milo have expanded their line to include an assortment of vintage styled bags and tools that reflect their love for traditional American craftsmen and their tools.
Trixie & Milo are promoting their products online and in specialty retailers, such as the outdoor store shown above, which is where we spotted this vintage-looking flask display. The angled display showcases the flasks on simple bump-out shelves which offer full visibility. The entire unit was constructed using a dark-stained wood.
Even the packaging takes its cue from the brands timeless approach they apply to their business model. The flask packaging shown here has a nice die cut window, surrounded by lots of old-school-graphics over a light brown background……very nostalgic.
References Include:
TRIXIE & MILO