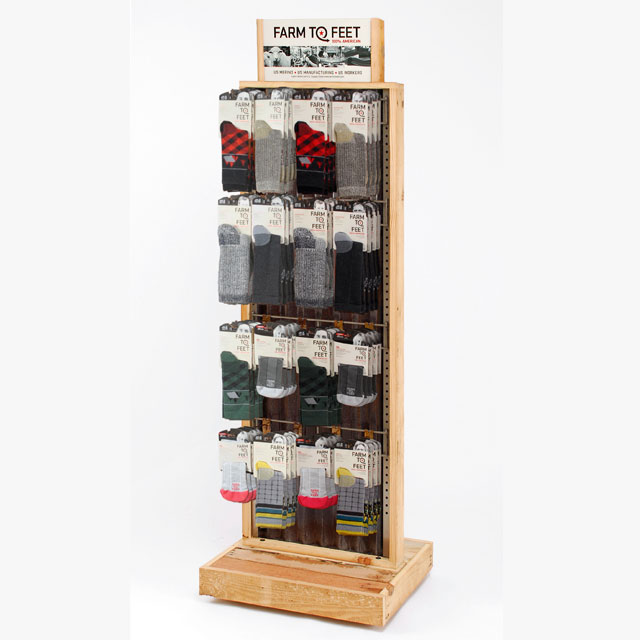 Farm to Feet, makers of 100% American socks, received a Bronze POPAI's Outstanding Merchandising Achievement (OMA) Award at the recent GlobalShop trade show in Las Vegas, NV, for its retail floor display.
"When we set out to design our fixtures we wanted something that communicated our transparent domestic supply chain while highlighting our socks," said David Petri, VP of Marketing of Farm to Feet.
Designed by Ryan Scott Displays of Greensboro, NC, the display showcases the brand's socks in a case made from repurposed tobacco barn timbers and corrugated metal roofing.
"Just like their socks, we knew the materials for the display were a key element in the design," said Ryan Brevda, Vice-President of Ryan Scott Displays. "We felt that using reclaimed wood really spoke to the brand's ethos of sustainability while supporting the brand story of sourcing the materials domestically."
Farm to Feet's wooden display was recognized in the Clothing, Accessories and Footwear category. Other brands recognized in the category were Pebble, Nike and Timberland.
Farm to Feet names all of its socks for locations related to the brand and features personalities associated with them on the packaging. Farm to Feet named its Greensboro multisport sock for Ryan Scott Displays' hometown and features multiple employees from the company on the packaging.
POPAI's Outstanding Merchandising Achievement Awards Competition is the premier award show recognizing the most innovative and effective in-store and point of purchase displays. Since 1958, this competition held alongside the industry's largest tradeshow, GlobalShop, recognizes in-store marketing programs that lift sales, make products memorable, and entice consumers to purchase products.
Related
Thorlos Experia Sock Floor Display
Under Armour Hard Hat Area Sock Display
Under Armour Training Sock Floor Display
Nike Performance Socks Floor Display
Footjoy Two Sided Sock Floor Display
ABOUT FARM TO FEET
Farm to Feet™ is committed to the single, simple goal of creating the world's best wool socks by exclusively using an all-American recipe: US materials, US manufacturing, and US workers. With its supply chain completely within the U.S., Farm to Feet is able to ensure the highest quality materials and end products, while having as little impact on the environment as possible. Once the wool is grown and sheared in the Rocky Mountains, the remaining processes take place within 300 miles of its sustainability-focused knitting facility in Mt. Airy, NC. All Farm to Feet socks feature seamless toe closures, a comfort compression fit from the top through the arch, and superior cushioning for ultimate performance and comfort. Learn more at http://www.farmtofeet.com.