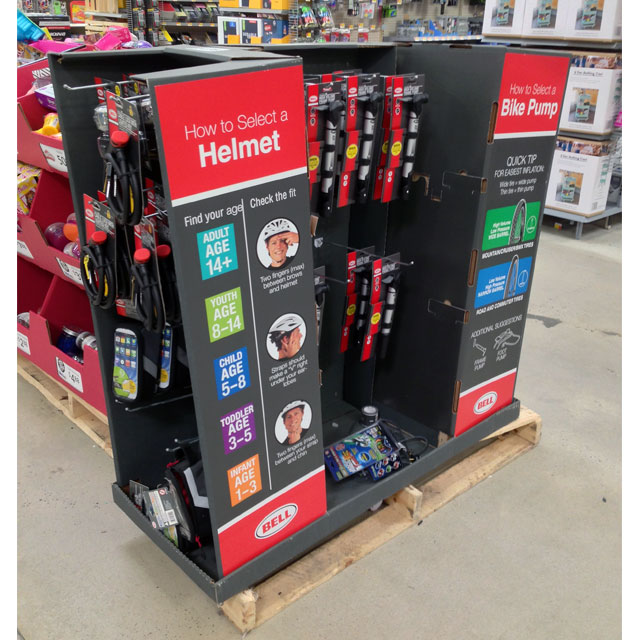 Founded in 1954 by Roy Richter, Bell has established itself as the world leader in protective headgear that is designed and built with purpose. Roy Richter spent his life removing the limits of what was possible — and his unlimited spirit has been Bell's guiding light for nearly 60 years, earning the admiration, trust and loyalty of generations of champions. Throughout those years nearly every advance on the list of helmet "firsts" were built under Bell's auspices.
The brand was recently spotted in Walmart promoting their bike accessories with this half pallet display.
Insight – as you can see from these images, the top portion of the side trays have disconnected from the center tray.
There are several possibilities as to why the twin stick tape didn't stay stuck.
Maybe assembly did not apply enough pressure when joining the sections together
Maybe the twin stick tape was old
Maybe the shoddy pallet caused the display to shift
Maybe the retailer moved the display onto another pallet
Other?
With that said, a simple fail safe solution would have been to use another bottom cap on the top to keep all three trays tightly pulled together. It doesn't appear that adding a top cap would inhibit access to the product……….just an idea!
If you want to view more Insights, click here.
Related
Bell Bike Accessories Pallet Display
Bell Bicycle Flags Tube Display
References include:
Bell