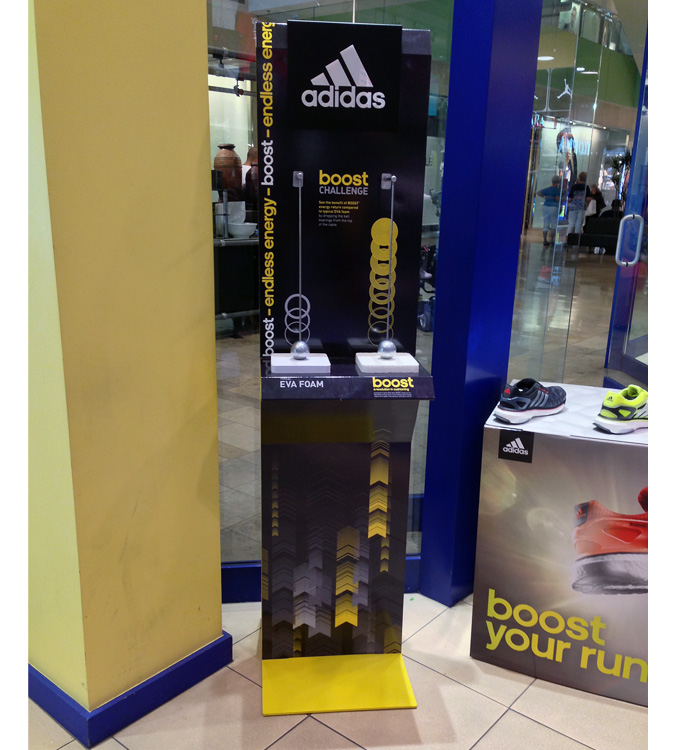 "Change Running Forever" – – –  a revolution in cushioning
Following the launch of their Energy Boost running shoe earlier this year, Adidas re-ups with the release of eight new color schemes for the summer line up. What is Boost? According to the Adidas website, Boost provides more energy return than any other foam cushioning material in the running industry. "There are several reasons that set Boost apart from the rest of the pack", explained Adidas Head of Design for Sport Performance, James Carnes.
Traditional shoes use EVA based cushioning, consisting of one large piece of foam. The Boost platform has taken an entirely different approach – individual capsules. "These little capsules are molded together and they retain their normal properties better than any material out there," explains Carnes. "They're able to absorb energy and then unleash that energy at a consistent rate, over and over."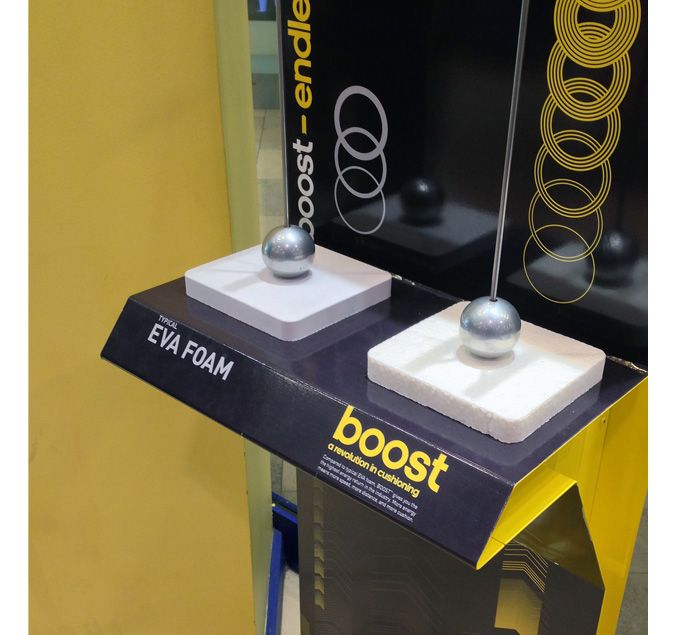 From a marketing perspective, one of the challenges facing Adidas was how to educate runners in store and convince them to shell out $180.00 for a pair of these technologically advanced running shoes. Adidas rolled out an interactive floor display that did just that. Well designed and produced mostly using metal, this durable, two-sided display merchandises shoes on one side and a very cool interactive comparison panel on the other. Besides the attractive bold color scheme, shoppers were also drawn into the display compliments of the interactive component which consisted of two metal balls affixed to metal rods.
So how does it work? The purpose of the balls are to enable consumers to move them up the rods then let go, dropping them onto a block of EVA foam or a block of Boost foam. We tried and were impressed by the absorbing qualities of the Boost foam as compare to the EVA side of the display. This drop test was a great way for would-be shoppers to get the best feel and understanding of this very unique product prior to purchase.
So far the running shoe has received glowing reviews. Earlier this spring Runner's World concluded that Boost had more energy return than any of the other 800 other running shoes tested.