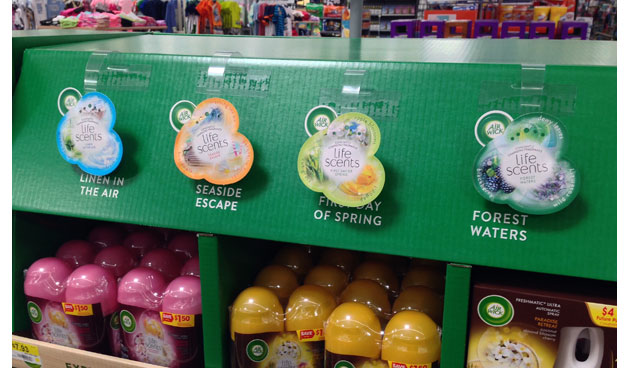 RB, formerly known as Reckitt Benckiser, is the maker of Air Wick branded products and is a world leader in household, health and personal care.
RB recently teamed up with mass retailers to launch four special Life Scents. The Life Scents collection has a unique fragrance technology that delivers each scent note distinctly and separately, allowing consumers to experience multidimensional fragrances at home.
Picture being at the beach, closing your eyes and taking in the scent of the seascape. You smell a fresh spritz of sea air, the warm sun hitting the wooden boardwalk and a sweet vanilla milkshake passing you by. All of these scents are distinctive and yet together, make up the relaxing scent of your favorite seaside escape.
According to a recent press release, "The experience of smelling Life Scents™ is similar to the experience of hearing surround sound," said Maui Valdes, Air Wick Marketing Director. "Surround sound enhances the way you experience music and entertainment by creating a natural, multidimensional sonic environment based on the science of how humans hear. Life Scents™ enhances the way you experience fragrance in the home based on the science of how we smell, delivering multilayered scent experiences you find in nature and life, like the fresh, floral smell of just cut grass, country orchard apples and sweet flowers on first day of spring."
Air Wick recently rolled out this half pallet display with Walmart to promote their multi-layered fragrance collection. The display shopped from three sides with product offerings consisting of several scent delivery options. To help shoppers with a trial smell, the brand incorporated four test pods that were attached to standard shelf danglers.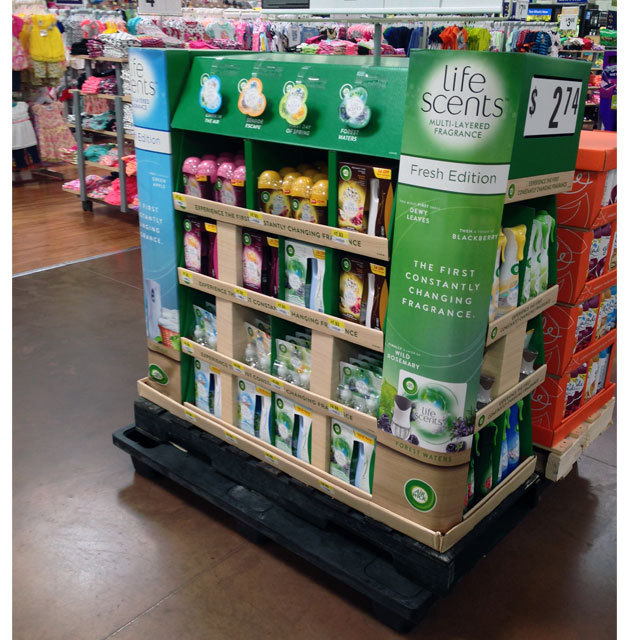 Related
Air Wick Gingerbread House Pallet
1 Spray Fills The Room Pallet Display
Air Wick Home And Away Pallet Display
Air Wick Aisle Violator Smells Like Mom's Baking
Air Wick Color Changing Candle Displays Light Up At Retail