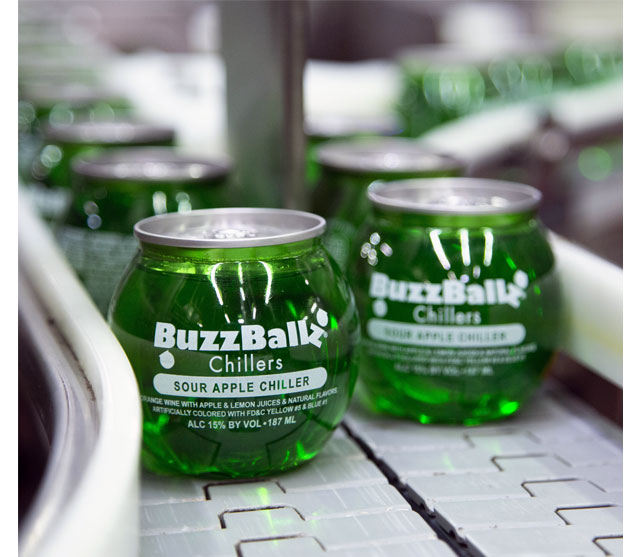 Looking for a new pre-mixed and ready-to-drink beverage…..try BuzzBallz
BuzzBallz, a woman-owned alcohol brand founded by Merrilee Kick in 2009, are ready-made cocktails that come in a number of different flavors that boast up to 15% ABV. Made using premium ingredients, BuzzBallz cocktails have less sugar than other major brands, contain no high-fructose corn syrup and are served in containers made with 100% recyclable materials.
Just don't confuse her beverages with brands like Smirnoff Ice or Mike's Hard Lemonade. "We're completely different," Kick says. "They're trying to fool you with branding into thinking there's vodka in them. Malt beverages are limited and can't go above about 12 percent, or it starts tasting skunky. … They also say they're trying to protect you from drinking too much by keeping the alcohol content lower. Don't believe it."
According to Blair Casey, Vice President of Sales & Marketing, the brand is projecting sales to easily reach four million cases by the end of 2022. Part of this growth strategy includes adding several more variants to its current platform of over 15 flavors and increasing off-shelf promotions.
In addition to social marketing campaigns, BuzzBallz is expanding its national footprint in convenience-store retailers and focusing new growth with major grocers like Kroger, Albertsons, Target, and Walmart.
To help bring attention to their products at retail, the brand is promoting their existing and new flavors with colorful dump bin displays. Simple in design, the merchandisers do a great job of attracting shoppers with bright, bold imagery as well as highlighting all major product attributes.
This display is a fantastic example of the KISS design principle (Keep it simple and straightforward) and serves as a great example that displays don't always need to be fancy to be effective.
Sources include:
Buzzballz
dmamagazine
About BuzzBallz, LLC/Southern Champion
BuzzBallz, LLC/Southern Champion is a woman-owned and family-operated Texas distillery, winery and brewery founded in 2009 as the result of Merrilee Kick's master's degree thesis project. In a little more than 10 years, BuzzBallz, LLC/Southern Champion has greatly expanded its product base and begun to grow into a worldwide brand. As the only combined distillery, winery and brewery in the US that is woman owned, this company has gained significant recognition, boasting distribution in 47 states, several countries abroad and growing. The company maintains a fun brand message as they create high-quality, premixed cocktails, as well as small-batch spirits. Learn more at: http://www.southern-champion.com/ and www.buzzballz.com.