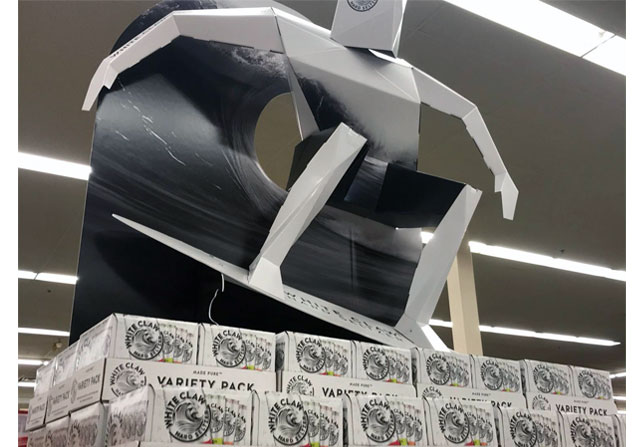 Riding The Wave With White Claw
When the folks at White Claw wanted to create a real WOW piece that was disruptive at retail, they called upon the design team at Baird Display, the POP division for Wisconsin-based Green Bay Packaging. "When the design team at Baird Display dug into it, we knew we needed a strong sense of motion to bring this display to life and achieve White Claw's creative vision", said National Sales & Business Development Executive for the Baird division, Carl Episcope.
According to the brand's website, White Claw® Hard Seltzer takes its inspiration from the legend of the White Claw wave – when three perfect crests come together to create a moment of pure refreshment. We set out to make something as purely refreshing as this. The result? White Claw® Hard Seltzer. Made Pure®.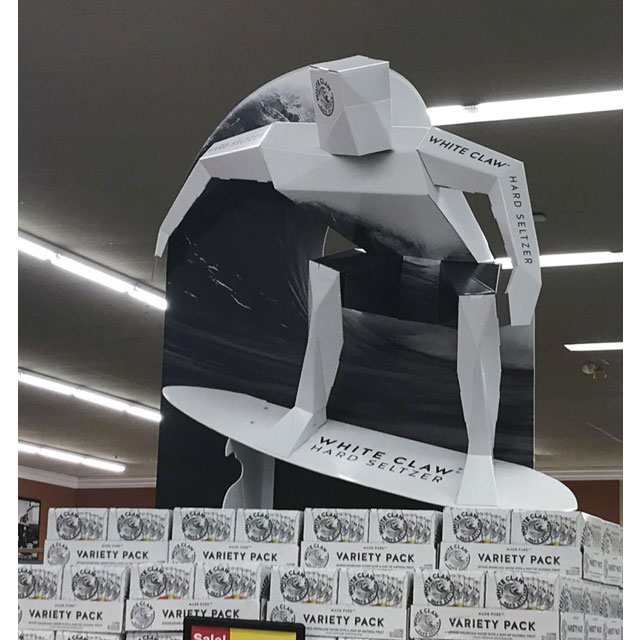 Carl further added, "I always like to say that POP designers are harmonious balances between artist and engineer. The artist half of our designers tilted the surfboard, put the wave rider in a natural crouched position and then added the White Claw wave in the back to tie it all together. The engineer half of our designers then needed to get to work to make sure it remained stable, assembled quickly and executed at retail with longevity."
This is definitely a display that grabs the consumer's attention and embraces a win at retail for White Claw, who controls roughly 60% of the hard seltzer category.
Carl Episcope
National Sales & Business Development Executive
Green Bay Packaging – Baird Display Division
630.290.0296 (mobile)
cepiscope@gbp.com
www.bairddisplay.com
www.gbp.com