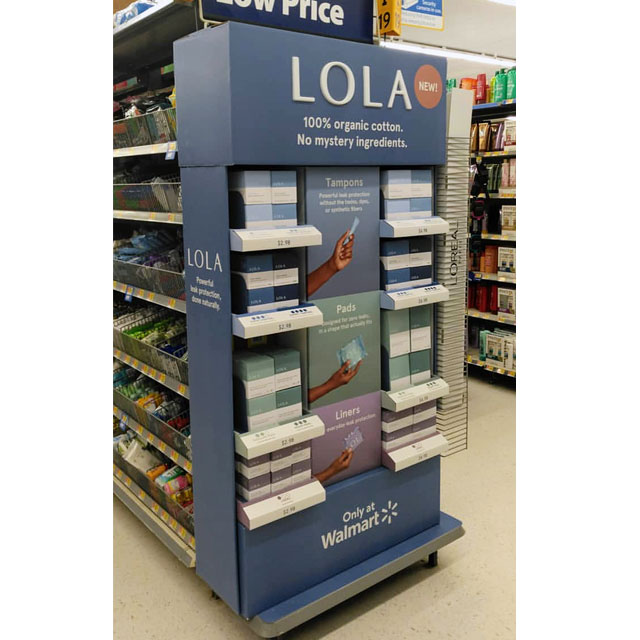 Reinventing Feminine Care
LOLA is a feminine care brand that offers high-quality period and sexual wellness products with ingredients you can feel good about……made by Women, for Women.
"We founded LOLA with a simple and seemingly obvious idea — as women, we shouldn't have to compromise when it comes to our reproductive health," explained Jordana Kier, who co-founded the firm with Alex Friedman.

"Like most women, we'd been using the same feminine care products since we were teenagers. But when we found out that brands — including the same ones we were loyal to all those years — aren't required to disclose exactly what's in their products, it made us wonder: What's in our tampon?" Kier said.

"If we care about everything else we put in our bodies, products for our reproductive health shouldn't be any different," she continued.
LOLA recently partnered up with Walmart to launch their feminine care products using this feature end cap display. If you take the ingredients that make for a successful POP display, this one has them all…..color relationships, consistency and clear communication.
Simple messaging on the header along with a dimensional logo flow right into the center copy panel which does all the heavy lifting by separating the variants with product shots and great color blocking. The center panel also informs shoppers that the brands tampons, pads and liners are made using organic cotton and contain no mystery ingredients.
The overall execution and attention to details on this display are top notch…….all the way down to the colored pad that covers up the shelf ! Check out the links below to view other products in the category. It's interesting to see the different graphic approaches these brands employ to get noticed and capture market share.
Related
Kotex Bodies In Motion Side Kick Display
Tampax Radiant Side Kick Display
Sources include:
LOLA