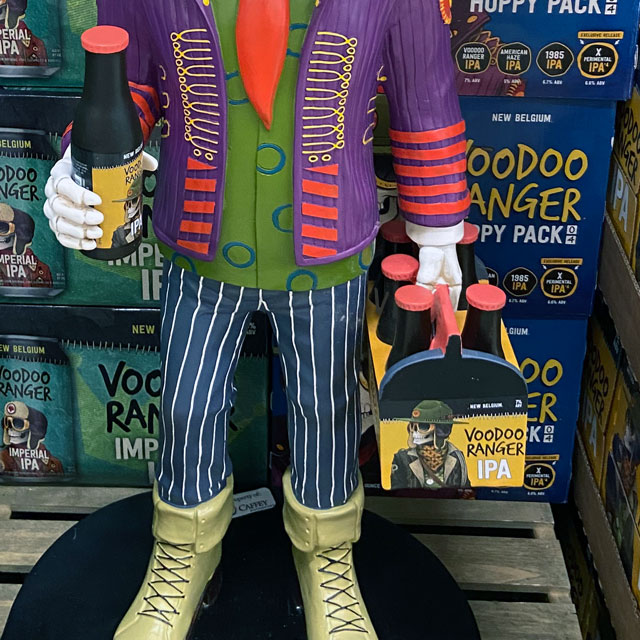 What is Voodoo Ranger?
Founded in 1991 by Kim Jordan and Jeff Lebesch, New Belgium is considered a pioneer in bringing Belgian style beer influences to the American beer scene. Located in Colorado and North Carolina, the brewery was first known for its Amber Ale called Fat Tire, which has become the brewery's flagship beer.
Who is The Voodoo Ranger?
The Voodoo Ranger is the brewery's iconic mascot which was developed by Frost Motion in their digital art studio back in 2017. Check out the creative evolution of the mysterious Ranger.
Frost Motion……'We started with the selected name, Voodoo Ranger. Initial sketches and brainstorming sessions had a focused intention, yet we kept everything open-ended visually as we began to look at a range of options. One crucial milestone came when it was decided that our character would be a skeleton. This was a call that would allow us to portray him in larger than life situations. He could now exist with the ability to operate outside of the realities of this world. This would allow us flexibility in the animation and production stages.'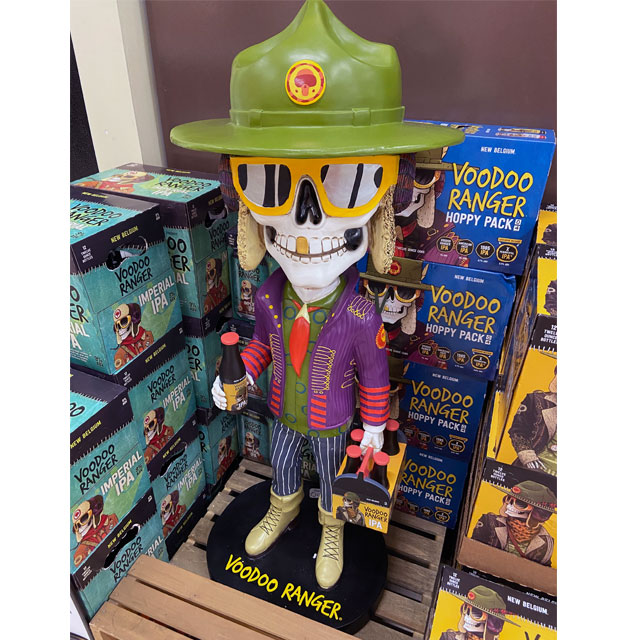 With over 67,000 Instagram followers and 13,000 plus Twitter followers, the Voodoo Ranger has become quite a social media influencer…..and this isn't by accident. New Belgium has developed several campaigns over the years that help fans engage with the brand with the most recent being a collaboration with Chaco Footwear to help celebrate New Belgium's 30th anniversary.
The brewery has elevated their marketing tactics for the well-dressed skeleton with this three-dimensional replica which can be found at several retail locations across the US. Complete with a bottle of IPA in one hand and a six pack in the other, the level of detail is amazing on this promotional piece. Designed to promote case stacks of New Belgium IPAs, the Voodoo Ranger replica will serve as a silent salesman for beer fans looking to find the brewery's latest IPA release.
About New Belgium Brewing
New Belgium Brewing is recognized as a leader in sustainability and social responsibility. Founded in 1991 in Fort Collins, Colorado, the company expanded to Asheville, North Carolina in 2016 and Denver, Colorado in 2018 and is now the 4th largest craft brewery in the U.S. Dedicated to proving that business can be a force for good, New Belgium is a Certified B Corp and was the first brewery to join 1% for the Planet. The brewery has donated over $26 million to charitable causes since 1991. New Belgium is famous for its flagship beer, Fat Tire Amber Ale, along with year-round favorites like Voodoo Ranger IPA, USDA certified organic The Purist Clean Lager, and La Folie Sour Brown Ale; as well as an award-winning wood-aged sour program and innovative limited release beers. To learn more about the full product lineup and New Belgium's Human Powered Business model, visit NewBelgium.com
Sources include:
Gear Patrol
Craft Brewing Business