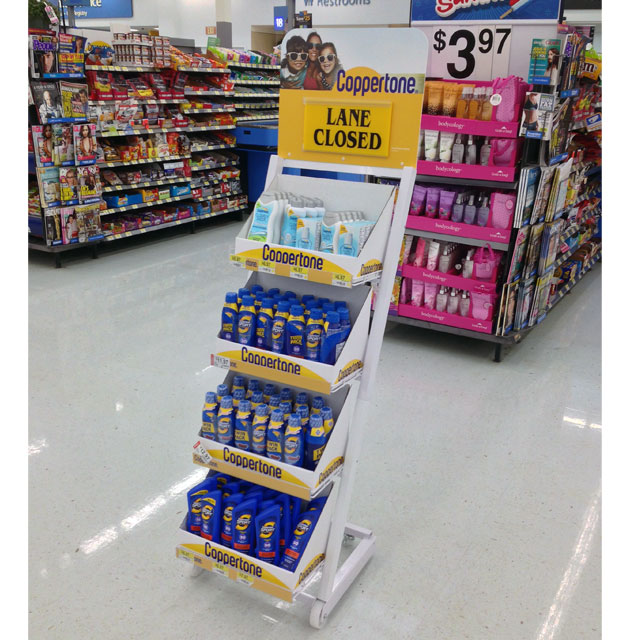 Coppertone Display Makes Sales In Closed Lanes
Bayer's Coppertone brand recently rolled out this 'Lane Closed' floor display at Walmart stores across the U.S.. The versatile mobile merchandiser was designed to roll into closed lanes to serve as an additional vehicle to promote out-of-category sales for the brands skin care products.
Featuring a durable wire and metal framework, the display was easily pushed into place with stationary wheels in the front and 2 lock-out casters in the back. The shelves were designed to hold pre-packed trays that could be changed out to accommodate different promotions.
Related
Coppertone Bonus Floor Display
Coppertone 70 Years End Cap Display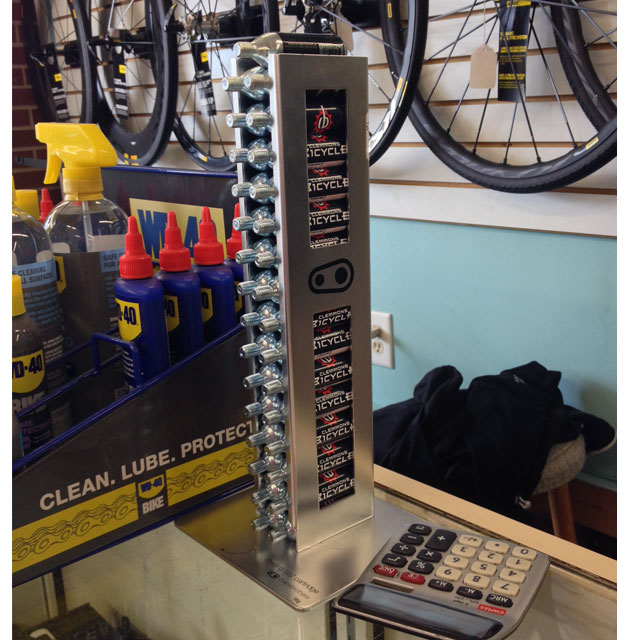 Crank Brothers Inflates Sales On The Counter
Known for high quality mountain bike products, Crankbrothers is a proven brand tested and used by world-class athletes. We spotted them at a bike shop promoting their CO2 Inflators with this sleek, tower counter display.
Constructed out of brushed aluminum, the display neatly merchandised store-branded CO2 cartridges in two vertical columns. Cut-outs on the sides offered more product visibility.
Related
Reflect Sports Hoo Ha Counter Display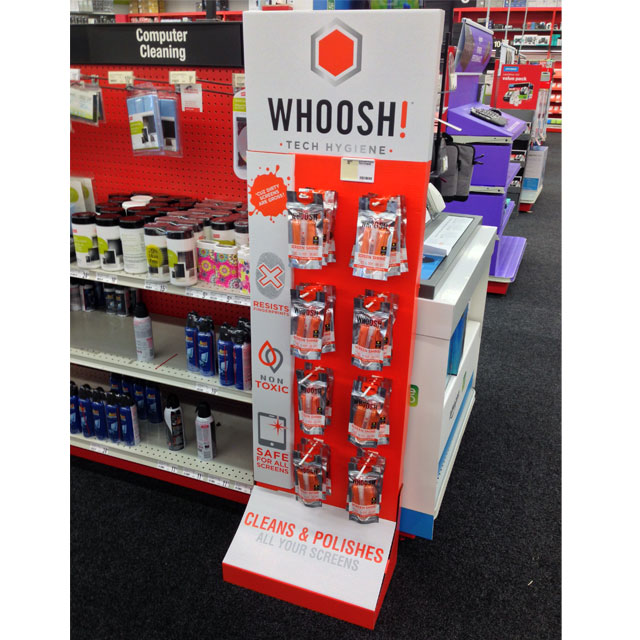 WHOOSH! Floor Display Cleans and Polishes
Award-Winning manufacturers of screen cleaning products, WHOOSH! hit office retailers with this clean-looking floor display. According to their website,
When we learned that our phones are 10x dirtier than a public toilet seat, we knew we could make things better. The challenge is we all love our phones and tech devices, but we don't have any kind of routine to clean them. Our campaign to create a #TechHygiene movement is all about a clean new habit: you brush your teeth; you wash your hands – and now we believe you should Whoosh! your screens.
This display is a very solid effort at balancing brand assets. The orange and white work well to make the product hero and deliver quick messaging via the side lug-on copy panel.
Related
Logitech Power End Cap Display
Stylus Ink Pen Counter Display
Samsung Galaxy Note Pallet Display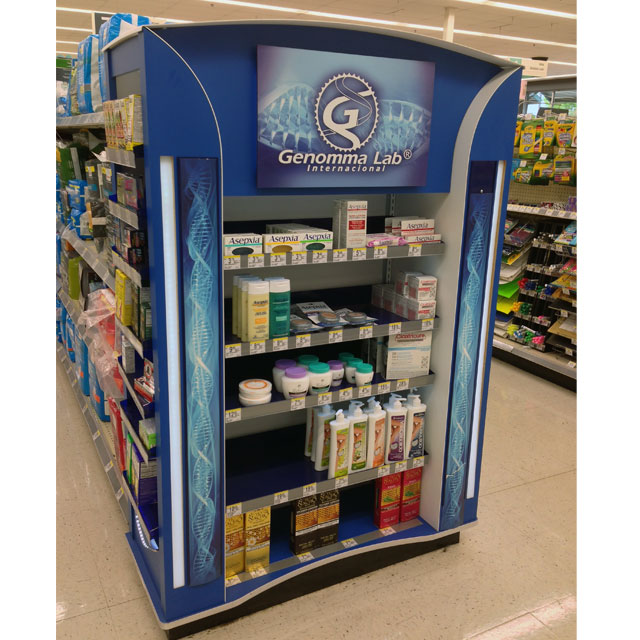 GLI Secures Permanent Space At Walgreens
Genomma Lab International, the Mexican seller of remedies for acne and baldness, is winning back shoppers at Walgreens with this dedicated end cap display.
Manufactured using mostly heave gauge plastics, the sturdy display merchandised the brands entire skin and hair care lines from three sides of the aisles. The two end panels and large logo on the front of the display were back lit, creating visual interest.
Related
Sturdy Snack Bin Display Disrupts Action Alley
PepsiCo and Walmart teamed up to deliver discounted snacks to shoppers. This large bin display was an instant eye-catcher with its brightly printed graphics and overall size. The bottom of the display housed several bags of their variety 20 packs. Above, individual bags of Cheetos and Lay's were dispensed in divided wire bins.
Related
Lay's Party Pack Floor Display
Lay's 75 Sunny Stacker Displays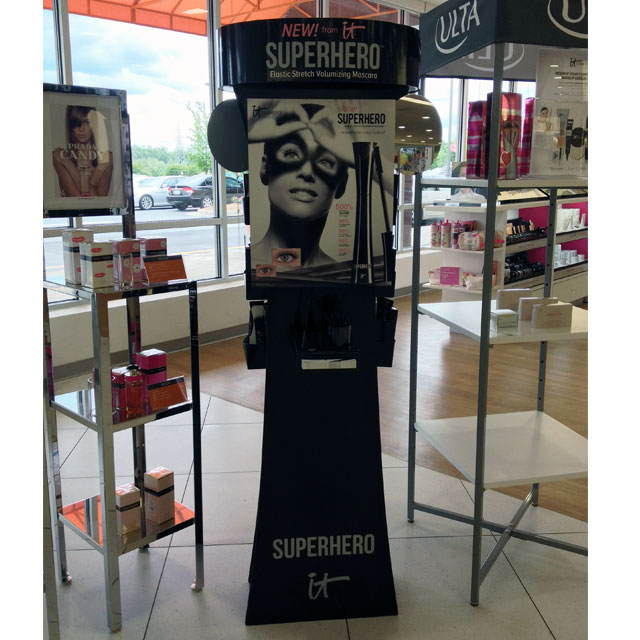 Superhero Mascara Transforms Lashes In One Coat
it Cosmetics rolled out this floor display to promote their Superhero Elastic Stretch Volumizing Mascara at Ulta Beauty stores. The four-sided unit was designed as a standalone, on-site salon that enabled shoppers to try their new mascara and check out the results in the mirrors located just below the round header. The overall shapes of the display complemented Ulta's high end product lines.
Related
Pink Armor Nail Gel Floor Display
Dior One Essential Floor Display
L'Oreal Paris New Innovations Floor Display