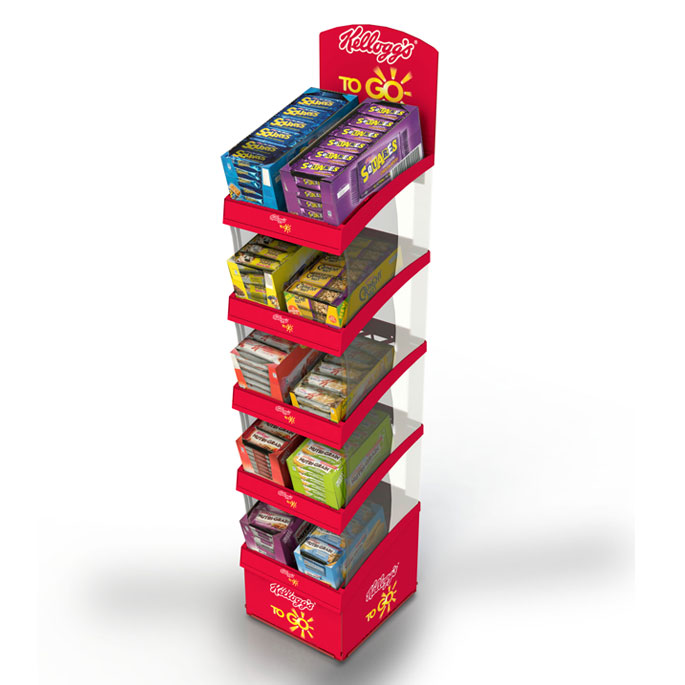 Kellogg's in conjunction with Creative Instore Solutions (CIS) have produced a point of sale display showcasing the consumer 'To Go' snacking option and providing an iconic option for retailers. The striking unit creates high Kellogg's brand visibility utilising show stopping Kellogg's Red to cut through the retail clutter. The polished clear sides both protect the Kellogg's product whilst ensuring high visibility for the consumer.
CIS understand that engaging customers and unlocking growth opportunities in retailers across the UK was the key driver for Kellogg's and the design led approach focused on achieving this result for the client. The stand is a perfect fit within the store environment and sized to fit well with associated off premise locations which remind consumers about the snacking occasion. The display unit has been designed to hold shelf ready packaging which makes stock replenishment much easier for store staff and merchandisers, removing the need to decant product.
CIS and Kellogg's also ensured the long-term return on investment by forming adaptability based on the modular design which can be varied in height, hang off a wall or placed as a single cell on a counter. Additionally, all graphics are updatable safeguarding the brand and promotional strategic changes can be made with minimal effort. Speed of assembly is guaranteed due to minimal parts with the unit being flat packed for merchandising and transportation ease.
CIS pride themselves on designing and delivering truly iconic point of sale displays for customers to ensure their brands stand out in the cluttered retail environment.
The display can be seen in over 3000 high street stores across the UK.